How do to add automatic page numbering to a InDesign file
Daniel Walter Scott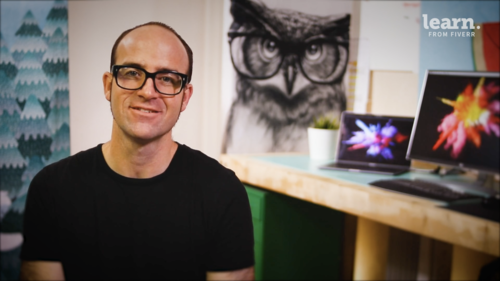 How do to add automatic page numbering to a InDesign file
Daniel Walter Scott
Lesson Info
31. How do to add automatic page numbering to a InDesign file
Lesson Info
How do to add automatic page numbering to a InDesign file
Hi there in this video, we're going to look at automatic page numbering where we can jump to any page and it automatically knows what page. We don't have to manually type it in. We're going to use the automatic page numbering feature and master pages. So let's go and do that. Okay, so first up we need to make sure we're on our A Master because we want to do it once and it appeared on all the pages. So double click any of these two spreads. Okay. And I'm going to zoom in and just double check that you can see down here. It says a Master. If it's not just keep hitting this double click, double click until you get in there. And what we'll do is we'll start with the bottom, right? So I'm gonna zoom in a little bit. Okay. And we're going to grab the type tool and we're gonna draw a tight box anywhere in this white area because there's nothing here, it's a bit safe to be drawn on the white now it's fine. Okay. And let's type in page. Okay. I'm going to use the web page space. Okay. And I am ...
going to now put in my automatic page numbering. Okay. So we're gonna go up to type and we're going to go insert special character. There's one in here called markers and then it's called current page number and a horrible shortcut. Sure why they decided like yeah, that's the one they use all the time. So we're going to use this, you have to use your two hands and your nose to get that one to work anyway. Okay. And it says page a which is a bit weird. You're like, hmm, that's not page one. Okay. It's because we're on our A Master. Okay. It means that we're on this page Master a Master. But if I jump to page one, look double click, Hey, I'm on page one double click pastry. Hey, I'm on page three. So that's the automatic page numbering. Okay. It puts in a, because I'm on my A Master but a little just for every page. So let's go back to a Master and let's style it a tiny bit. I'm gonna select the text now. 12 is the default font sizes too big. Okay. 10 point is a nice good body copy size for page numbers in terms of the font, I'm just going to put an aerial, we'll look at some fancy fonts later on. I can't even spell aerial aerial bold and I'm going to make it white. So have the text selected. Let's go up here and I'm going to pick up paper. Okay. What I also might do is I'm gonna do, I'll grab my black arrow. It's gone. Okay, so click anywhere in the center. It's a little bit hard when you've got nothing to click on. Just click anywhere in the center of this box If you there he is. Okay. And what I'll do is highlight the text again and I'm going to get it to go to paragraph and I'm going to get it to write a line just means that when I get up to say double digits, maybe you know 10 it will start pushing away from the side that way. Okay I'm gonna get to line up with that margin there. Alright, you margin Now if yours is not lining up, I'm like why is that lining up? It always lines up. Get a view, display, performance, no extras, No, this one here. Okay, grids and guides. Smart guides has turned off, I have no idea why it's been on for the rest of the course. I must have accidentally bumped that shortcut but if it doesn't you'll see smart guy smart codes are amazing. Okay there those little lines that appear, can you see now? It lines up perfectly. Okay, so down here lining up nicely, you can use your arrow keys just to push it down a bit further and there's my page. Okay, so what I want to do is copy it, say I've used command C. And over in this page, I'm going to get command V. And I'm gonna put it over here, I'm gonna get to line up but what I'd like to do is highlight text. Them, boom, boom. Is it lining up across spreads? Probably not. It does do it by accident, You can see the lines, I'm kind of dragging it zoomed right out and those green lines kind of try to line it up and it does work okay most of the time it works but it's a little bit hard to do I guess. So I'm gonna click both of these and align them to select more than one object. Okay. Black arrow, click on this box. Once, hold shift, click on this box will zoom in a little bit. Okay? And at the top here, I've got a little kind of shortcut version there, but you can get a window and go to object align and let's just get them to a line. Double check. Okay? So let's double check. Page one, page 26, page two, page three says page three and that my friends is automatic page numbering. Let's get on to the next video.
Ratings and Reviews
I think Dan is very good at explaining and breaking down complex content. I like the way there are lots of small sessions which is good for keeping focus. I would advise anyone who does this course and is taking notes to label which session the notes are referring to as I have struggled to find a few looking back and this helped me. It really made me realise how much I didn't know and had been fudging. Thank you Dan I will be taking plenty more of your courses in the coming months it's been a great help.
Student Work