How to draw an arrow or triangle or star in Adobe InDesign
Daniel Walter Scott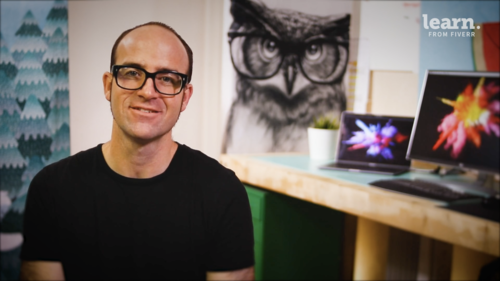 How to draw an arrow or triangle or star in Adobe InDesign
Daniel Walter Scott
Lesson Info
62. How to draw an arrow or triangle or star in Adobe InDesign
Lesson Info
How to draw an arrow or triangle or star in Adobe InDesign
Hi there in this video, we're going to make all sorts of different shapes. Sabbath, stars, triangles, I think polygon, some sort of male symbol. Okay. But really just looking at arrowheads, perfect squares and perfect circles in the next video, we're going to stick images inside the mall. All very exciting. Let's get on with it actually, before we get on with it. I apologize for the design. I couldn't think of a really good exercise. That looked cool. That also showed every single shape possible in in design. So we're living with this, this design choice. All right, let's get on with it. Hi there. If you're following along, what we're gonna do is we're gonna jump down to page double click page 10. We're going to put it in here. So we're gonna put in a blank page because we don't want this text to be covered. So what we're gonna do is the little pages fly out menu. We're going to go to insert pages. I'm going to say after page 10. I would like to insert a page that has no master applied...
. Okay. And what I meant was after page nine. Okay, you can click hold and drag it see this and put it on the right side. Yeah. Do it after nine. Okay. And the first thing we're going to do is let's look at putting a background color in. W so I can go from bleed to bleed. Now. Again, this is not my best design. Okay. But we're learning how to make shapes and I couldn't think of a bit of exercise. So rectangle tool, I'm going to make this one red. And what we do is when we're drawing shapes, any shapes, if you want it to be the same width as height. Okay. Like a circle, Perfect square is you hold down the shift key so I'm going to draw a bit of a rectangle here. I'm gonna give it a feel of my red. Where is he? There? He is there and I'm gonna give him a stroke of none. Easy. The circle click and hold down the rectangle tool underneath. It. Is the ellipse tool okay with your lips still selected? Okay, I'm going to draw out if I just don't hold down shift. I get I kind of I can do a custom shape. Okay. Any old weird saved ellipse if you want a perfect circle. Okay, just like the square. We hold down the shift key. Okay, I'm gonna do one. I'm gonna get mine to kind of like go across to the edge here, we're gonna practice our text wrap once we're finished. So that's a circle, give it a random color. Okay, random color because we're gonna replace this one in a second with an image. We're going to crop it inside the circle. Let's look at some of the other shapes we can make. So this one here, the polygon tool does quite a few different jobs to click on it by default. If I drag it out, it does not do stars if I click on it yours probably by default. Does that Okay. It does a pentagon I want to say ah yeah. Anyway, and so that's what it's going to do by default if you want one of these shapes. Okay, I'm gonna put one here. Okay, I'm going to give the fill color. I'm going to fill this with an image as well. So I'm just gonna pick a random color. I'm not going to use one of our lovely colors. Okay, so there's our pentagon. I don't know. So next thing I want to do is I want to do a triangle. Okay. And you do that with the exact same two of the polygon tool. And what you do is you just click once, Watch this, click once, anywhere. Don't click and drag, you can tell it to do things, you can say. Actually I wanted to be a polygon heightened with, but actually I wanted to be the size of three. Okay. And it's going to be polygons that has three sides, which is our triangle. I'm gonna make them a bit stubby you and stick them over here. So polygon makes the shapes and triangles and it also makes stars. So, same tool. Okay, polygon tool, click once. What I'm gonna do is I'm gonna have five sides, but instead of getting this pentagon, okay, I'm going to do this thing called the start and set and if you do it just a lot. If you do it a lot like 50% you get this kind of traditional star. Okay, so I'm gonna undo and just drag it out now holding shift to get a perfect star. Okay, what color is this gonna be? I'm running out of colors. Okay, so and that gives you that star if you wanted to do something like um like more of a star burst or those, I'll show you what they look like. If you buy any wine, if you buy wine like me at the store, you look for cheap wine that has lots of these like gold label, won lots of prizes, stuff. That's how I buy my wine cheap with lots of stickers that said it won an award. I never checked the awards. Just buy the wine. Okay, so what we're going to do is click once, click ones and instead of five sides we're gonna do 50 and instead of the starting set being really big, if I leave it like that, you end up with this like really big star thing, which might be cool and that's what you want. But what I want to do actually is I'm gonna click once is I'm going to have the starting set only at like 10% and then you get this kind of more like a foil sticker thing. Okay, so I am going to do that. Move it down here. Okay, so we're getting through the shapes and one of the other ones I promised you was arrowhead. Okay. And you just start off with a line. So we've kind of moved away from these tools, grab the line tool and click hold and drag a line. My line unfortunately by default doesn't have any a stroke. So you have to have a line, you have to have a stroke around it. All these other shapes, we're working with pills, lines, okay, like the straight line here needs a Stroker on the outside and I'm flummoxed to think what color now. Alright, Let's just pick this one. No, it can't be that one. We'll pick dark. Okay. And the thickness okay. Is just here or you can use your stroke panel. Okay? They end up doing the same thing. The reason we're going to keep the stroke panel open is because of the arrowheads now yours might be set to this. Okay with your stroke panel is quite small. I picked 20 points. Go to the little hamburger menu here and click show options even okay. And where it says start and end. These are where the arrowheads go. So I would like it to I'm never sure if it's starting or ending, but we'll just start with it. Let's go this. I wanted to have a pointy arrowhead that works for me. Okay. And the end of it is going to be a circular thing. We're gonna do the male symbol Austin powers like Okay and the scale down the bottom here, you can see it's where the circles, a lot bigger than the arrow. So you can play around with this scale here just to get that arrowhead. I'm just smashing away at it, holding it down, holding it down. Okay? You need to get up quite big. Okay? To kind of maybe make them proportionately. Obviously you don't have to have the big circular thing at the end. You can have nothing or you can have a bar. Okay? And that my friends is how you do arrows. So, stars, triangles, polygons and circles and squares. Let's get on to the next video where we start cropping in images inside of them.
Ratings and Reviews
I think Dan is very good at explaining and breaking down complex content. I like the way there are lots of small sessions which is good for keeping focus. I would advise anyone who does this course and is taking notes to label which session the notes are referring to as I have struggled to find a few looking back and this helped me. It really made me realise how much I didn't know and had been fudging. Thank you Dan I will be taking plenty more of your courses in the coming months it's been a great help.
Student Work