How to Create the 3D Glasses Anaglyph Effect in Adobe Photoshop
Daniel Walter Scott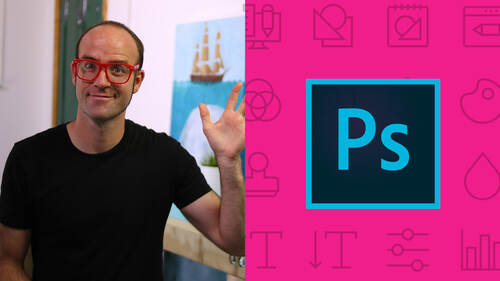 How to Create the 3D Glasses Anaglyph Effect in Adobe Photoshop
Daniel Walter Scott
Lesson Info
73. How to Create the 3D Glasses Anaglyph Effect in Adobe Photoshop
Lesson Info
How to Create the 3D Glasses Anaglyph Effect in Adobe Photoshop
Hi there, it's this effect. It's actually called an angle if nobody can remember or at least I can't, I can never google it. I always have to type in the three D glasses effect. You can see there's a mixture of this red and science side by side making it give it that three D. Look. We'll deal with. Images will also show you how to do it with type. I say this in lots of videos but it is super easy. It's a cool effect. Let's jump in now and learn how to make it. Let's open up our images file, open And in 11 Visual Styles. Open up on a Cliff one and 2. Alright, so that's the second one. We're gonna work on this one. First for this to work, we need to unlock the background and we do that. We know by just double clicking the word background and giving it a name. We're going to call it red, we're gonna right click red, duplicate that layer and call it science. Cool. For the way this to work is you slipped on red and you come down to this affects Okay. And go to blending options. And what we ...
do is under advanced blending. This is one called channels for the red one. Turn off green and blue. We're just leaving red channel on channels can be complicated but for this effect we don't need to know anything about them. Similar process for cyan. Okay, click on it. Go down to effects blending options. And in here we want to turn just read off. That leaves us with the same color, mixing green and blue click. Ok now we just need to offset them basically, we need to move 11 way and one the other way and it really depends on how advanced you want this effect. So I'm going to undo put it back, you can just be super subtle. Okay, and with the move tool it's easier with your keyboard. Okay, just use your right arrow. So I've got science selected. Use your right arrow and just kind of tapping it to the right. And now I've got this kind of like subtle effect. Can you see it's kind of you see it all in there, right? Or you can go a bit further and just kind of really drag it out there and going for subtle, move it across a little bit tappy tappy tap. Now one thing you might notice is you see there's a red band that appears. Okay, depends on which way you went with it left or right or you might end up with a cyan band, you have to just trim that up using the crop tool so make sure you get a little bit of extra space. I'm just gonna trim that up using my crop tool to return your away. Let's go a little bit further. Let's jump to life. Oh to now we could just do this image. Now you don't have to but I quite like it when it gets either black and white or quite low colors. It really accentuates the cyan and the red so you could go to adjustments and do black and white. Okay, this little option here, we did have a million years ago, way back at this course I'm going to edit step backwards. What I often like doing is under adjustments using vibrance and just lowering the vibrance rather than like making it completely black and white. I like to have their little bit of subtle color still in there. Cool. Now the one thing we need to do is we've got this like very nondestructive, vibrant slayer that we can turn on and off and that's very good. It doesn't work for this effect. So what I have to do is click vibrance, hold shift click background, right click the two of them and say merge layers. It's bad and destructive but we just need it for this effect to work. Let's double click this first layer, let's call it red, it's right, click him, duplicate him and let's go to science and the same principles here, cyan layer selected, I'm going to go to a fix. I'm going to go to blending options and I want to read off gives me sign and the red layer and everything but so I just want everything but red not everything but it's just want red. Okay, so cyan is red off and red is just read on that's not helping you at all is it. So I'm just going to move it left and right and just kind of see where we get now in this case you can kind of see the cropping going on over here. Okay, so crop tool, Tidy it in, it should snap to the edge nicely. Let's look at doing text that has the same principle. So let's grab my type tool and I'm gonna click once while it's a big font. Okay, I'm going to go down to I don't know, maybe and let's type in still too big at all. Find an appropriate font. Does not 500, not even 200. I think mine is dealing with because I transformed it last time I'm just going to scale it down using command or control t come and I'm going to pick a font color. That's not red, you can see it's actually white. It's because I'm in between these two layers, so the ticks has to be on top for this to work. Okay, And I'm gonna lose my scotch, shoes, scott shoes to your horror. I'm going and picking fonts now, instead of just getting on with it scanning it down again. Alright, so I've got I don't even know where this is going to go there. It's gonna go return. So it works the same principle from now on. We'll just duplicate it and then play with those advanced blending modes. So right, click it, I'm going to duplicate this layer. So it's going to be shoes red, this is going to be that look like the word shoes, This is going to be shoes science. So this one here, click on effects, plenty modes. Cyan is red off the red one, it's just read on, go away, go away, boom. And then we can just offset it again using my arrows again. It depends on how I'm gonna stick both of them together so I can move them around and that is the antagonistic effect. If you're like me, you'll never remember the word and megalithic, I always have to google what is the three D glasses affect 19 eighties. Generally something will pop up called animal. If if you do have some of those glasses nobody does. I couldn't find the need to make it work. But apparently this actually works. Get some three D glasses, order them from Ebay or amazon, put them on and apparently it's already three D. Watching Ghostbusters in three D. So super cool and frightening. I so got nightmares from one of those early Ghostbusters movies, the one with the painting and it came out. I was young, I'm babbling now let's get on to the next video
Ratings and Reviews
Adobe Photoshop Fundamentals is very useful for a photo editor. I learned very important tricks from this course.
Student Work