How to Make Blended Scrapbooking Layouts
Traci Reed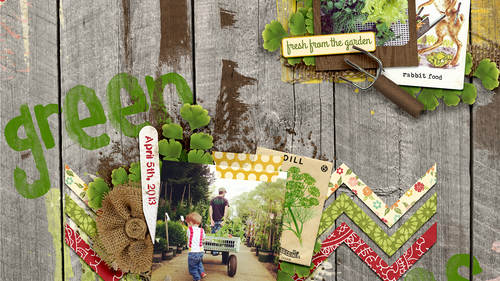 How to Make Blended Scrapbooking Layouts
Traci Reed
Lesson Info
13. How to Make Blended Scrapbooking Layouts
Lesson Info
How to Make Blended Scrapbooking Layouts
Let's talk about blended layouts and the issues that we have with blending layouts. I am going to re create this layout and again with the underwater photos I obviously love them. Where do we go from here? What if we're going to blend the layout? How do blend of photo? How do we make a scrapbook? Page is interesting and shows off our blended photo well, we can do a few things, so let me open up a paper I'm going to use that same water race paper that I used before, since we're gonna be underwater and then I need tio open up the photo so the key to blending effectively is first of all, I'm going to make sure that it fills up the hole page where I wanted to be. So I want to see a rather large photo that's blended in, but not all the way to the top. You don't have to dio the entire page when you blend a photo um, but you can see that these two colors are different, so we're going to talk about making sure that it really works with the background paper. If you wanted to be the same color, ...
I wanted to be exactly the same, so first of all we need to blend and I'm going to blend with the grady in't tool again. So I'm gonna create a layer mask and I'm going to click on it so that if you option, click on the layer mask now I'm just editing the layer mask and I'm going to open up my grady and tool and I wanted to be a black and white radiant and of course I want the white to be over where I want the photo to be in the black to be fading away because black means transparent and white means completely opaque, so we don't want a radio radiant let's try that again we want a linear grady and in this particular instance so we're going to click and drag from the right side to the left side because that's where the photo is but you can see when I do that it's actually black on the wrong side so justice controls the command z and just switch these oh actually switch these make this one white and this one black and now we should be good to go okay let's see how that looks felt too much that's okay, we can go back, man click and we'll make it farther up that is the beauty official scrap booking the controls he actually still don't like that very much so what we can dio what the problem is with this grady and actually is not that I'm not dragging it far out enough the problem is is that it gets too faded too quickly because he's so close to the edge of the photo we actually need to stop that from happening so what we can do is we can actually come in here and edit this grady in and we can make this white come farther out so there will be a lot more white in your radiant than black and it will if you move this if you go this way it will create a harder edge and if you have this way it will create a harder john the white so we're actually going tio create a really hard edge for the fayed on the black so that it it starts really far out there and creates a really hard um grady in't on the side so let's see what that does see how how less faded or how quickly it fades into black and said so let's make sure that we cover him enough and there we go that should be good good enough for now okay, so we can still see that we have like a hard edge in here so we're going to do is we're going to open up the a brush palate and we're gonna have a completely soft brush and we're just going to make it a really big and we're gonna paint on the mask a little bit with black and we're just gonna soften up that line really click so you can if you use the grady and tool on your mask you can still come in with brushes and edit it later you can see we have a hard edge up here so what I'm actually going to d'oh is I'm going tio use my brush and a race up here as well but you can see it doesn't actually blend in very well still so I'm going tio duplicate this layer and I'm going to drag it above the photo layer and clip it to it and then I'm just going to go over here to color so that it blends in a little bit more I think I don't want it that drastic so we're gonna reduce the color the layer opacity a little bit so it now it's bluer and it blends in just a little bit more but where do we go from here like these? This blend looks like it should be the center of attention it should be we did so much work on it we should we should just leave it as it is and at a title and go but that doesn't mean that we have that we have to do that we can actually add tio blended layout and create a little bit more balance and just this crazy photo down here in the corner and I have a couple more photos from this session that I want to include on this play out anyway so these air some crazy we were trying really hard to get an underwater photo, which I don't know if you've ever done it before, but doing this underwater and getting a decent photo does not turn out well, so the point of this is that we took these crazy pictures that look so silly and I wantto scribe with them all even though we have one that came out really well, so I'm going to add these photos to this layout and I'm actually gonna put them right here in this area because what is going to do is it's going to create a visual balance because there's a lot of visual wait over here, so if we put more visual wait over here in this s warner as well, it'll create a nice balance layout. Um, whereas if we put it down here, it would have a lot of too much visual wait on the bottom, so we're gonna go diagonally across and I'm going to start by dragging in these photos he's crazy photos and I'm going to make them a little bit smaller just to start with. It was the silliest photo ever. Now I'm going to open up my kid and in the kit that I'm using, there are frames and by using the frames instead of just using the photos directly on the background it's going to because the blue is so monotonous, it's going to break it up and it's going to really draw attention to these photos and not let them blend into the background? So I'm gonna resize it smaller so that it fits within the photo frame and then I'm going to duplicate this photo are this frame and I'm going to drag it down on top of the other photo, and then I'm going to move these up into the corner just to get it out of my way for a minute, and I think it's going to need to be a little bit smaller, skomina resize it, then I'm going to repeat the process again with this photo and move him up way got to get that whole picture in there, and then you can see when I do that. It, um, moves the photo up from underneath the frame is no longer hidden, so I'm just going to use my rectangular marquis and select all of that photo that comes out from underneath the frame and rast arise the photo and just delete it now, if you don't want if you think that maybe down the line, you're gonna want to reframe it, you can instead use a layer mass, but I know that that is the exact problem when I want on that photo because his crazy face is all that matters.
Class Materials
Bonus Coupon - Sweet Shoppe Designs
Traci's Photo Workflow Actions
Ratings and Reviews
Great series of classes! For anyone from beginner to advanced Photoshop user, you will get something from these classes! Traci is a great teacher and easy to understand why she works the way she does. I would highly recommend these classes to anyone wanting to learn tips and tricks from a great scrapbook designer!
I'm currently halfway through the courses, and I am so glad I decided to watch these. I haven't been scrapping for very long, and am mostly self taught through tutorials found on the internet and youtube. I found that various concepts weren't explained to me (how to really use a template, designer intentions, how to use other layouts for inspiration) and so I sort of hit a wall trying to get further in scrapping digitally. This course basically broke down the walls and provided me with so much info and inspiration that I feel really comfortable in taking my efforts further. Whereas before I was thinking that I might always be stuck with a mediocre result :) thank you Traci!!
Student Work