Altered Books: Book Boxes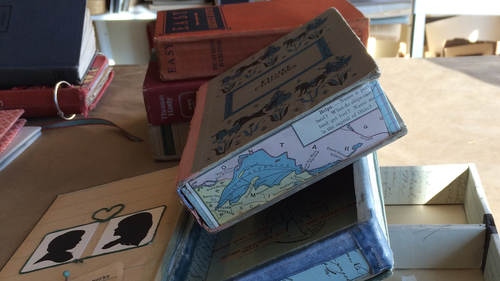 Altered Books: Book Boxes
Class Description
Book boxes are a classic way to store small treasures, and making boxes is great way to upcycle old books. In Altered Books: Book Boxes with Molly Meng, you'll learn how to collect, convert, and add new function to hardbound tomes. 
Molly is an artist, teacher, and storyteller. She owns and designs cards for the hand-crafted greeting card company 8mm Ideas. In this class she'll share her expertise in repurposing antiquated books. You'll learn how to: 
Select the perfect book to convert  
Gut the book, break the spine, and create a simple box frame  
Use collage to create color and story  
Create both simple and more complex book boxes  
You'll also learn about the tools that will make the job easier and Molly will share future project ideas for the paper you remove.  
Book boxes are infused with an air of mystery – learn how to make your own magical repository in Altered Books: Book Boxes with Molly Meng.