Behind the Podcast : Aran Goyoaga on We Are Photographers
We Are Photographers: Interview With Drew + Kenna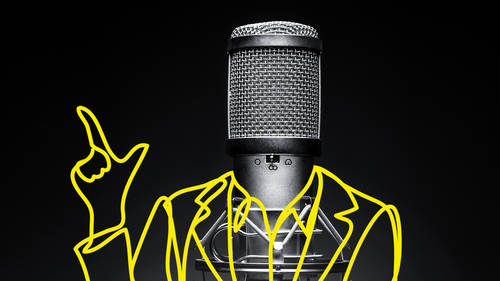 Behind the Podcast : Aran Goyoaga on We Are Photographers
We Are Photographers: Interview With Drew + Kenna
Lesson Info
We Are Photographers: Interview With Drew + Kenna
(applause) This is fun. This is super fun Drew. Yeah. We never do this. Yeah, we're always, it's either you or me. That's right, that's right. It's kind of inception right now. So tell us about, tells us about the CreativeLive podcast. Alright, so the CreativeLive podcast is called, "We are Photographers". Okay. And it is a CreativeLive podcast. Yes. What do you want to know? Well how did you come up with the title? The title, actually shout out to Danielle, Danielle Elliot. I went through, probably, I looked at words that were related to photography. I looked at all kinds of terms. I researched probably 50 different existing podcasts that are around photography. And came down to something that was photo stories. Okay. And that was kind of like what we thought we were gonna use, photo stories or creative podcasts. But it didn't really have like gumption. It wasn't really memorable, and then we were done with the meeting and Danielle said, "We are photogr...
aphers". And we all looked, we were like that's it. Nailed it. That's it because it's very, me. It feels very inclusive, which leads to what the podcast is all about. But it's not even just about me and the guest, we are photographers, all of us. And that's what we believe here at CreativeLive. We like to say there's a creator in all of us, and so it kind of added on there's a creator and a photographer in all of us. I love that. Yeah. I love that. At what point did you sort of realize that like, you were gonna do podcasts? So... How did that come about? Sure, so I've been wanting to do a podcast for probably over 4 years. Really? Yes. I didn't know that about you. You didn't know that? No. Did you keep that, was that sort of like a secret goal? No, no. Or was that talking about... No, I put it out there. I actually went out, we say a lot here at CreativeLive, just like go and do the thing. Just go do it. Don't just talk about it, go do it. And so I bought a Zoom, and I went and recorded 4 episodes... Yeah. With people, and there was straight... What was that process like? Just like the first ones that you were doing? Oh I didn't know what I was doing. I didn't even know how to use the Zoom. Yeah. (both laughing) You know? I was at WPPI for a couple of them, which is a photography conference. Yeah. Started with my friends, people that I knew, Dan Fitzmorris. And so, that was just kind of playing around. But nothing went forward with that. And so it was, now over a year ago, that our head of content, Amanda, came to me and said, "You know what? I think it's time, I think it's time to do a photography podcast." And I was like, "Okay I'm ready!" (laughing) I'm in. I'm in. So you thought for 4 years, I wanna do this. You captured some content. What did you do with that content? Did you take it home and sort of, I think part of the, part of the fear that everybody has that keeps us from doing new creative things is like, "Well nobody's gonna wanna listen to this". Right. Or "Nobody's gonna wanna, like.." So was that part of your process? Was it sort of, you bumped up against fear, and then all of a sudden there was need for one? How did... Of course I bumped up against fear. I also wasn't, didn't know how to edit or anything. I still don't. Yeah. Luckily, Laura Finnerty, who is our amazing producer and editor, she's the one who's editing the current podcast. But I think, I didn't, I was afraid to try to do it on my own. I really wanted it to be a CreativeLive podcast, and so when it didn't go anywhere at that moment, I let it go, and I wasn't trying to, kind of, I didn't think I could learn all the things... That I needed to. Now during podcasting week... (both laughing) I'm learning so much. Yeah. And that's one of my questions, is sort of like, what, what things after podcasting week, like this is the first time you've ever done podcasting week... Right At CreativeLive so, what have you learned that you're like, "Oh that" are there sort of things that stuck out to you, that are like oh my gosh that's gonna change what we do? Absolutely, and I think what's been exciting is there have been a couple things. First of all, you still, I even though were doing this as part of CreativeLive, we are still having to prove the podcast. Totally. And, and, and... 'Cause it's brand new. 'Cause it's brand new. So it was a very scrappy team. (Drew laughing) Putting it together, and so, so I was really doing a lot of it on my own after being guided as to how to record audio and those types of things. And so, so I've totally just blanked on what the question was. It's all good. (woman laughing) You just put your hand on this beautiful piece of paper right here. I wanna know how you prepare for interviews. This looks like it's part of the process right here. Okay. How do you, what is that? It looks like a genius way to record notes. Okay. Talk us through the process. So 'cause the question was, "What have I learned from podcasting work?" Right, so I'm really excited for tomorrow. Which, day 5, where we're gonna learn about the marketing and the distribution part. I've learned that, I do know some terminology. And that I do know some things, that I 4 months ago, it would've all, the language would have gone over my head about audio and recording and gear. And so that was really exciting to be like, well at least I have, kind of a language and that, and so knowing that I could learn that meant like, okay, I can continue to learn... Yeah. As I go. Yeah. Because, just, yeah the fear is definitely there, like it is right now. (woman laughing) Is it getting less scary though as you, like the more that you're learning? Yes. Is it getting, oh like I know it... Yes, it's definitely. And I knew that we would look back and be like, "Oh, yeah, that's funny, when I didn't know how to do xyz." (Drew laughing) And I know we said that today. Totally, yeah. Looking back on this. Yeah. But, but I think what the theme that I've heard through this week is, just have to do it from all the different educators that we've had. And that's the theme here at CreativeLive, is, you actually learn by doing. Yeah. And so, you get the knowledge and then you go put it into practice. And that's when it sinks in. Yeah. I'm grateful for all the people who have been encouraging, me to do that. But the next thing you said was, but my preparation process. These notes. Yeah These notes. How do you prepare for an interview when you've land an artist... Right. Or a guest. Right. How do you, how do you prepare? Make sure you're ready, comfortable sort of... Yes. Going into the interview. Yes. So, of course, as I'm starting I probably, I might be over preparing, but maybe not. I also started with guests who for the first ones that I've recorded, which I've recorded 13. We've edited 4. Over what period of time? Since, so about 3 months. About 3 months time. So you've been working. Yes. Woo. For the actual recording. So for each of those guests, luckily I kind of, for the most part had some kind of relationship with them already. And that was why it was suggested, start with people that you know, kind of. Yeah. And so, I go through scouring everything online, of course. If they have a book, like Erin does that I have here right now, for today. Beautiful book. Yes, then I wanna have that book. I wanna read that book. Yeah. I start a Google Doc where I'm just kind of throwing things in there. Okay. Like other guests have said this week, I put, I look at other peoples interviews. I listen to videos. Erin has a beautiful series on Vimeo, so I've been watching those and re-watching those and taking notes. So you super familiarize yourself with them, their content. I try, I try because in the end, the goal of the podcast, "We are Photographers" is to get behind the lens and behind the lives of these photographers, filmmakers, creatives in the industry. So the podcast is more about who they are as a person. Yeah. Less about their actual work, even. But at CreativeLive, we bring you educators. And they teach you their craft or their knowledge, but we don't always get a chance to really understand where that all came from in the beginning. Yeah. And so that's what this podcast is all about is photography is the the through line, the through push. But it's really about the real stories, the wins, the struggles. Yeah. So as I'm looking at people's stories and what they put out there and who they are, looking at their Instagram stories and you know, trying to get that personal side. If they share it, then creating notes. So then, the day before, I kind of create this little mind map for myself. Okay. And I like... Are you a visual person? Like when you... Yes, I'm a photographer. (both laughing) So having it laid out in a certain way matters. It does for me. And I also like to write things. And my mom's a calligrapher, and so, I like, also, my brain, you make these neural pathways when you write something down versus just on a computer screen. Yep. So this has the person's name, their main Instagram handle, I try to make it pretty. And then I put pieces that are themes that I want to create sort of the arc of the story. But, hopefully I won't be looking at it very much... Right. Either, during the thing. 'Cause that's one thing that I heard during podcasting week was... Right. Like, you wanna prepare for your interview, have your questions, and then not actually be looking at it. Right. So my questions are like down here, and I'm like look at 'em, don't look at 'em. (both laughing) You can look at them. Well we're both hosts so we do this a lot. We just look at each other and talk all the time. So then, like how, what do you, I guess, I'm curious, what's worked so far in interviewing people, and sort of building content so far, even though you're really early in the process. And what hasn't worked? Like do you have an example of like, I felt like this one worked really well, and this one, like, we're not even gonna use 'cause? I don't have any that we're not any gonna, that we're not gonna use. Okay. I think there are some that are going to be harder to edit... Yeah. Than others. Okay. Mainly because, I talked for like 2 hours to the person. (both laughing) So... Was that like, you've talked 2 hours to every person, or... No. It's just 1 that you particular very well? So the aim, yes, so the aim of the podcast is to be about 20 minutes as our sweet spot. So some are a little bit more, some might be a little bit less. We chose that amount of time because of the average commute, for it to be something that is, especially 'cause it's a new podcast, we don't want to ask people to invest 2 hours of their life. Right. And so, so then it's the how do you, how do I stop myself from talking, really? Yeah. And from, and with this map that I have, I've learned that I have to let go of things on here, that in my mind I wanted to cover, but if I've hit like an hour, then I need to just cut myself off. Yep. Wrap it up. So you know how that is. Yep. You know how that is. Totally. Here I'm talking right now. Speaking of which... (woman laughing) I wanna make sure that we have enough time to bring our guest out. I'm gonna let you introduce her. Great. She's been here at CreativeLive before. Yes. And we're gonna trade spots. Great. You're gonna do the interview. Great. You're gonna record the podcast. Right. And then I'm gonna come back and we're gonna talk about sort of what happened. Great. So people will be a fly on the wall. Yes. We're gonna pretend that... Nobody's here. That nobody's here. (both laughing) That Erin is just coming into the podcast room. We podcast, we have a room here at CreativeLive. Yep. So... So I'm out of here. Okay, okay. You're on you own. We're pretending that we have earphones on. Headphones on. Headphones. That's right, I'm taking mine off. Alright, thanks so much Drew. Yeah.
Class Description
CreativeLive's podcast We Are Photographers hosted by Kenna Klosterman brings you true stories from behind the lens and behind the lives of your favorite photographers, filmmakers and creative industry game changers. From their struggles to their wins, get the real human stories about why they do what they do. If you're ready to join us in the hustle, listen, get inspired and discover why in the end the creative journey is all worth it. Upcoming podcast guests include Cristina Mittermeier, Brooke Shaden, Dave Krugman, TY Bello, Joshua Kissi and Karen Okonkwo and more.
In this premiere episode launching CreativeLive's brand new weekly photography podcast, Kenna records a live conversation with author, food stylist and photographer, Aran Goyoaga.
Aran is the author of "Small Plates & Sweet Treats: My Family's Journey to Gluten-Free Cooking" and the award-willing Cannelle et Vanille blog. Her work has been featured in many publications including The New York Times, Food & Wine and Conde Nast Traveler. Join the 280,000+ creatives following Aran's images and recipes on IG at @cannellevanille.