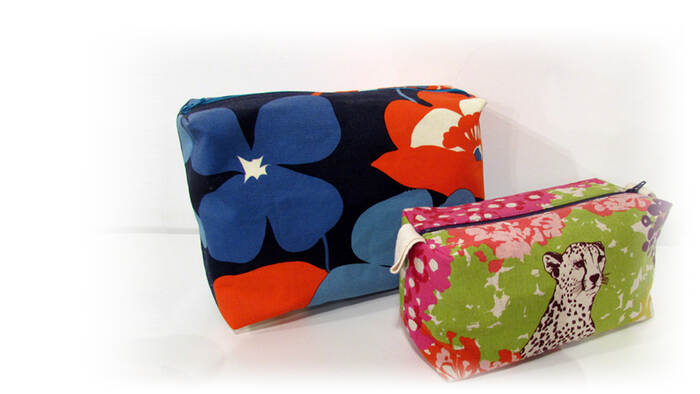 Lesson Info
Sewing the Zipper
Zippers add sophistication to your handmade projects, but they don't have to add complication. Learn an easy way to work with zippers in Box Zip Bags with Shaerie Mead.

Shaerie has been making sewing simple for students at Sew L.A. since 2005. In this beginner-friendly class, she'll show you how to make a travel bag – the easy way. You'll learn about:
Interpreting a pattering

Cutting and preparing fabric

Working with a zipper foot 

Sewing seams and box corners

Turning and finishing a bag
You'll learn how to cut and prep all the components of the bag including the fabric, lining, and interfacing. Shaerie will also offer tips on giving your corners a crisp look.

If zippers intimidate you, don't miss your chance to learn the foolproof method for making them work in Box Zip Bags with Shaerie Mead.

Reviews
I just watched the free version of this class. It skipped around a bit, as it kept crashing and I had to manually restart it. So, I may have missed a few things. This class is not for an experienced sewer. It is very tedious about notions (except never mentions the best type of needle) and skills most beginning sewers will already know. It is also pretty expensive for the length of the class (about 40 minutes), but does include the $12.95 pattern (which is also pretty pricey, IMO). Considering you can find boxy bag tutorials on many, many blogs and also on YouTube for free, I don't really see the need in this unless you like a class format. Unlike other CL classes, this one is filmed in the presenter's studio without an audience. I did like *not* having the distraction of the other people, and it's part of why this class is shorter. But there just isn't a lot of content here that couldn't be figured out just with the pattern itself (if it's a good pattern - haven't seen it IRL). There are areas in the filming, especially on close-ups, where the camera is shaky and zooms in and out. I found that highly distracting and hard to focus on. The presenter teaches this "to the pattern" and doesn't speak about zipper or box bags in general. Therefore, a beginner sewer may have trouble carrying over the skills to other patterns. As an experienced zipper bag sewer, there were several things that were not discussed and others that were a bit "off" from what I have learned making many patterns from different designers or following various tutorials. First, while there was a discussion of getting the pattern on the straight grain, it assumed the fabric was on the straight of grain. Very rarely is my fabric, even from a local quilt shop (= high quality) on grain. I always find the need to get it straight first. Just folding with the selvages together doesn't guarantee that...or that a printed pattern will line up or be on-grain, either. The method used to cut out the woven interfacing did not take into account the grain of the interfacing as each version of the pattern was cut on a different grain (crosswise and lengthwise). This can matter with patterns and how the grain of the interfacing and fabric line up. There was no discussion of zipper widths, which can make a big difference in a project. A "normal" zipper is narrower than one such as a long-pull one (which I really prefer for bags & purses). It is also not discussed that you can avoid the danger of sewing over the metal stop on a zipper end, by buying a longer one than needed and sewing new stops to both ends (she does discuss closing the open end...do this on both sides). You just center the zipper (or so) and get rid of the metal all together. Also a very short, very wide zig zag over the zipper ends does a much better job of closing them than a straight stitch perpendicular to the teeth as shown. There is no mention of watching out for not melting a zipper when pressing. This is very important and someone who has never sewn with zippers may need to be told this! The method of "easing in" fabric while sewing is called "bubbles" which I thought was odd. So was the choice for feeding the fabric - the edge of a seam gauge or a marking pen. There are tools to do this job called stilettos, etc. Also, she uses lots and lots of pins which just are not necessary, especially when closing up a 5" turning gap in the lining. I much prefer clips to pins with these as zipper tape is thick and when using decor-weight fabric, it's very difficult. I prefer Clover Wonder Clips and they do not damage or "bend" the layers of fabric. It is also assumed you have to use blue painter's tape to mark your seam guide on the machine. You can use anything, really. A magnet, a sticky note, etc. The pull tabs that are shown are much easier to sew if you first baste them in; they will line up better, too. Also, she does not trim the seams, especially at the corners, before turning the bag out. This makes for much nicer corners, as does a great final press to the bag. All in all, this is good for an audio/visual learner and a beginner sewer, but it is missing some details, is very specific to the pattern (and no mention of how to up- or down-size it if desired), and is very brief for the price. The improvement of no live audience was nice for this class.
I'm a brand new sewer and this was extremely easy to follow. The tips (like the blue tape tip) were very helpful!