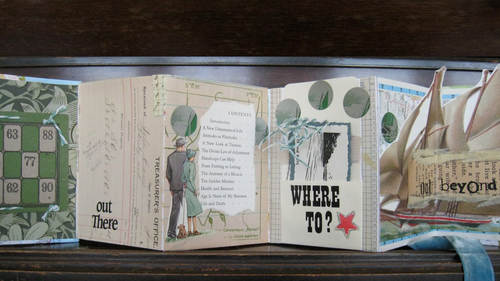 Class Description
Accordion books are a playful way to repurpose old books, greeting cards, photographs, and paper. In Concertina Collage Books, Molly Meng will teach you the tricks to assembling an extensive accordion book with a front and back cover. 
Molly is an artist, teacher, and storyteller who creates one-of-a-kind, mixed-media collage pieces from her extensive collection of estate sale finds. In this class, she'll teach you how to: 
Choose an inspiring theme for your accordion book 
Reuse old greeting cards, artwork, and other paper 
Construct and collage the pages and covers 
Incorporate pop-ups, braided pages, and fold-outs 
Molly will help you plan and gather materials so you have everything you need for a successful assembly. She'll also share tips and techniques for producing a polished and inspired final design. 
Learn how to convert your odds and ends into artful accordion books in Concertina Collage Books with Molly Meng. 
Reviews
thank you thank you! i have sooo many greeting cards that i can't bear to throw away...now i don't have to! great ideas and easy to follow.
I am looking for alternative creative projects to expand my creativity. Molly's class is very well done. She presents quite a few ways to enhance the collage effect of the books and goes through step by step instructing as the class moves along. I would recommend this to others interested in expanding their collage techniques.
Molly Meng has a fabulous teaching technique! She explains what she is doing as she makes the book. Her style is simple which made something I was afraid to try very doable! I have already come up with ideas and my technique has been refined for other projects as well by her visual demonstration and experience.