Add Text Containers to Document
Jason Hoppe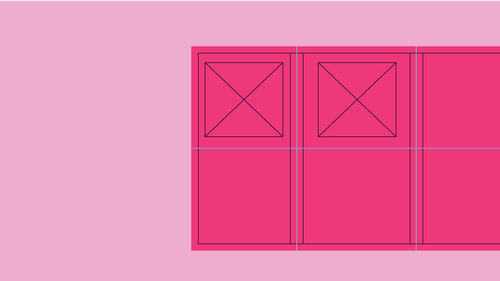 Add Text Containers to Document
Jason Hoppe
Lesson Info
4. Add Text Containers to Document
Lesson Info
Add Text Containers to Document
if I would like to have text in my document on, I would like to have preassigned text areas I can put this into. So if I go to my master page, I can take my type tool and I can draw a text container and there is my text container. Now, a lot of people get frustrated because they're like, you know, every time I type in the text container, I don't like the default thought that you have. How did by going and change that? Because every time I open it up, it's this font. But this is not the font that I use and I have to change it every single time. Well, here's a really interesting thing when you go in and you create any text container, the default font that you have here is actually a style. And if you've never used a style, we have great videos on how to use paragraph in character styles. We're gonna talk about a little bit in here, but there is a default style that basically says, Okay, here's the font, and here's the size and you can set this up. However, you'd like that default font in...
style is part of your paragraph styles. So if you go into a window menu under styles the same place we were pulled up the object styles to create the image containers or the boxes, the filled stroke. We also have our paragraph styles. And the basic paragraph style is just the default that says, Hey, you know, when I start a new text container, it's gonna be this size, this font, whatever else. If you would like to change that, you can create a container, and you can put some type in. If you want to see that, take your attributes, change it to whatever font that you would like to use all the time. Set the size of that font that you would like to be the default, the letting as well, the style. All that. And then we're going to capture this default font as your default fund so that you have this. Now your default is basically dob. Basic paragraph. It's when you create a text container. This is the default doesn't say default. It's just the basic paragraph. You want to change that. Do exactly what we did. Create a text container, put your type in that you want. And then this is what I'd like to make my new default. I go over to my paragraph style I click on the cheese grater and what I'd like to dio is I'd like to redefine my default style with what I've just created. This is my default. So now every time I go in here and type, this is exactly what I'm going to get. So there's nothing special about the defaulted in design gives you. You can create your own text container. Set the font size style, going your paragraph style to your basic style and choose redefined. Here's your basic paragraph. Now, every time that they create a text container, it will always be this style just like that. So I don't have to keep changing it every single time. Now I want to take this one step further, and what I had set up in class before is I have a very particular look and feel of how we would like this brochure toe look. So I had gone in and I had in a separate document, I had just created a text container, and I had created some text for my headline my subhead and my body copy in Here and I had gone in and I had selected the font and the size and the style and everything in here that I'd like as well as my paragraph formatting. It's left justified, and every time I had a return, it's going to give me a little bit of extra space in between here with this. I had then gone in with my type and just like I had set the default paragraph style, I had also captured this as a style as well. So after setting all of this, I went over to my paragraph styles, and I had created a new paragraph style based on what I had done, and I had called that my header. So now I don't have to remember that it's this size that has this font everything. I've basically captured that I did the same thing with my subhead and have done the same thing with my body copy as well. This is all my body copy. So now when I go in, I use these different styles in here, from page to page or panel to panel. I don't ever have to question Oh, what was that? Fought? What was that style? You know, I think it was this big. I have more space here going to make it bigger. I want consistency now. I only want consistency for myself because I'm not concerned about everybody else. A wait a second. That's what I'm building it for. Is everybody else? So I'm trying to make this as simple as possible for everybody because a lot of people are like how I can I can make it work. Yeah, but if you have to give this to everybody, your style of making it work needs to be dead on. So I want to make sure this is absolutely bulletproof for everybody. I could have created this in the document here. I did this beforehand so we could save a little bit of time. So I'm gonna copy this text container over going to my brochure here, and I'm gonna piece this in, and it you can see it pulls in all of my styles so I can copy my text from one to another, and it will bring it all in. I would now like to have my text container right here, and I've set up my guides so that my text container fits right here. And there it is. Fits right between my guides. Wonderful. Now, if I leave text in this container and I go back Teoh my pages panel, I've put my text container in my master page, which means it appears on every page. Now, I'm stuck with this locked text container with the type in here When they see this quite a lot. People like, Well, I wanna have this year so that people could just unlock this and then select this and replace it with the type that I have. I understand the thinking here, but we don't have to do this because I've gone and I've taken this to the next level and then the next level two. So check this out. I'm gonna go back in here, and I'm actually going to delete all of this because I copied this from another document or a created it in this document. Doesn't matter. And it put it in here. It has all the styles in this text container
Ratings and Reviews
Jason always delivers and you can expect quality presentations which are aligned to his class descriptions. Thanks Jason!
Student Work