Making the Title Page
Candice Stringham, My Mind's Eye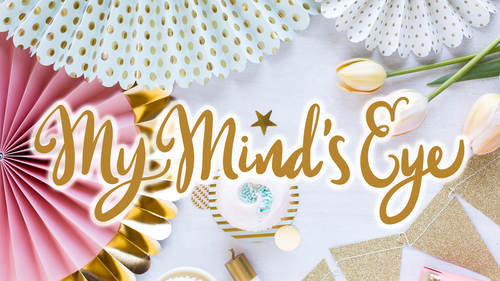 Making the Title Page
Candice Stringham, My Mind's Eye
Lesson Info
22. Making the Title Page
Lesson Info
Making the Title Page
So we're going to go ahead and start, um, all of our students here have everything in this kit as well, so they're gonna be making it along with us today, which I think will be really fun. And I like tio kind of set up the album first, and then from there, I like to cut each individual paper so that we can just start decorating, so we're goingto start by creating the base of the album, so this album comes with little sheep protectors over each one so that you can slide your photos and what we're actually going to be taking those off today. So open up your albums and just ce allied all this, she protectors right off, we're not going to be using them for this. They're really fantastic if you're just adding photos, but we are going to do a fun little technique. So that's the first. All right, now, there are twelve pages in this many album, and we're actually going to combine them to create pocket pages, so if you look at the album, you can see that she has adhered to pages to each other a...
long the inside and the sides, so that they're now pocket pages from the side, and then she's added her journaling to your journaling cards, which you all have, and um you're able to just slide them right in so it's a way that you can keep a lot of memories if it's something really personal and you know on a lot of people to see you want to have it written down but it's also really great for many album because there's just not a lot of space real estate to add in journaling s so that's the first step we're going to be doing so what you do is you just take your first two pages and we're going to be running a double stick it he said closes you can to the edge of the page on the top and the bottom you just need to do that on one side and then we're gonna add here those two pages together and you see now how you've made a packet right from the top they're going to do that with all of the pages just one right along the edge and so we'll go from six are sorry twelve pages to six because we are combining we're just using like regular double sided kind of scrapbooking tape runners for this two more to d'oh super simple all right so now that we've done that for just going to go through page by page and start our album so keep doing that but we're going to be for the front cover using a pack of the my story mixed bag um elements from our my story line and there's so many just beautiful little elements and additions that you can add to your project with this so you guys probably just want to open those up right now, so we'll be using a lot of little pieces from men and we are looking for the little dream tag that you see right on the cover there we're going to be adding that on if you go and I just really love the colors in this line and the gold foiling is just really, really luxurious and beautiful and so we're just going to add that right to the center of the front I'm going to just use the same tape runner you could also use glue dots for this if you wanted tio to be just a little bit stronger since it's your cover we want a nice straight line and we just did hear that right on the front so the other really cool thing about these albums steward that they have elastic bands to kind of keep them closed as well, so if you do just carry it around in your purse, you can keep it closed unprotected um and it's not just going toe fly open and your lipstick gets all over me and said, all right, we're going to go to our first page and we're going tio mostly be using for this album are six by six designer pad from my story really, really beautiful double sided paper, lots of fun patterns um and that just gorgeous luxurious touch so we're going to go ahead and we're going to be using the arrow paper for our first page so just put through until you find that and we're going to be cutting it to four and a quarter by four and a quarter it leaves just a tiny little bit of space along the outside of the page stand up for that and actually, every paper in this is going to be cut to that measurement so it's really simple easy thing to remember foreign ago order by foreign according now on this page you can see that all the arrows sort of pointed into the center so instead of just cutting off the side we are actually going to cut so the arrow's air in the center of our four and a quarter and that's what's really nice about having a clear quilting ruler because I can sort of see where I really want to cut certainly the line that and cut up right there cut off the top and we have nice little cut lines available for you, so we did bleed off the page a little bit in the printing so that it would be gold foiled all the way, every edge all right, so that's what it looks like after you have cut it and it just makes it so all the arrows are kind of going more towards the center as opposed to off the page, and we're going to add that right onto the front cut it just a little bit too long, all right? And actually it was closer to four for me the pages on this as opposed to foreign a quarter so kind of maybe measure your page a little bit to see just gonna term a little bit more off the edges of mine. Ok, there we go. That is what it looks like, so you just have, like, a little bit of the edging of the actual paper behind it, but if you didn't want that, you could just make it the exact size of your page two and we're just gonna in here that down using the double stick tape and if I'm going too fast or too slow, you guys can tell me, ok, next, we're gonna add on an chipboard element, so it should have a twelve by twelve set of chip board on the's are adhesive, so you're able to just sort of pop out the individual pieces that you need and stick them right down, and we're going to be using the large floral piece, so we're just gonna peel off the back of the adhesive and you're gonna put that right in the center. So all the fun arrows are pointing to it so you can see it right there all right? The next thing we're going to add is the little once upon a time a banner which I think is adorable that you confined in the mixed back and we're just going to do that again by just a little bit of double stick tape on the back of each side we're going to tape it right across the flat wears right in the center I feel like oh, so my sister has her masters degree and literacy and reading on dh she is a children's book editor and I feel like I'm her for the day reading stories that everyone at the library she taught me well how to hold up the book all right? And then next we're going to be using we're using so many fun things on this but we are going to be using the my story sticker sheet um and this has a bunch of just little words strips at the bottom and we're going to be using those a lot in this mini album you know? She's added, remember this always but you guys are welcome to change out the words if you want tio to kind of fit whatever you're putting in your own album so we're just going to pick out those letters words and I'm just adding it right on top of the flowers the chipboard flowers I love these stickers because I don't have to use my handwriting could say what I want to say without athletic. So that's, always nice.
Class Materials
Garlands and Banners Step by Step Instruction
Large Floral Banner Templates
Dioramas Step by Step Instruction
Cutfiles for Banner Projects
Surprise Discount from My Minds Eye
Village Step by Step Instruction
Ratings and Reviews
Watched a little of this and was disappointed by her frequent mumbling, making it impossible to understand quite a bit of what she was saying. I didn't find her ideas very innovative but didn't watch the whole thing.
Student Work