Fairlight: Basic Workflow
Casey Faris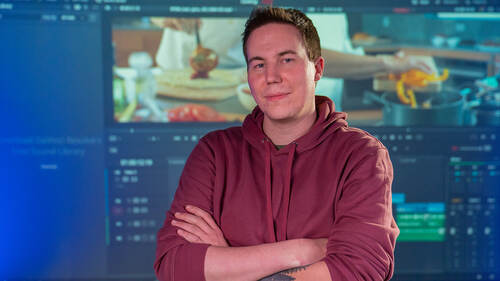 Fairlight: Basic Workflow
Casey Faris
Lesson Info
29. Fairlight: Basic Workflow
Lesson Info
Fairlight: Basic Workflow
Let's explore some of the basic workflow for adjusting your audio in the Fairlight page. I'll switch back over to the edit page here for a second. And anytime that we're ready to start mixing, start getting a little more detailed with our audio, all we have to do is just switch to the Fairlight page, and that will open up our timeline here in Fairlight. Now we can get really detailed with everything that we want. We can open up our tracks a little bit, zoom in a little more than we can in the edit page, and we can adjust all of these little key frames that we added here in the edit page. We can hold down Alt and add more if we want to, and adjust them, And t's just a lot better interface for making those adjustments. And so usually what you do is you go through and make sure that all of the clips are where you want them to be. Make sure that things are generally the levels that you want them to be. You can do that by either grabbing this white line, and moving it up or down, or you can...
select it, and open it up in the inspector, and adjust the volume that way. You can also adjust track volume by going down here to the mixer, and moving this fader up or down, and that will adjust the volume for the entire track. And you kind of get things all set basically where you want. And then what I like to do is add effects and add some dynamics to it. So we'll get into this in a second, but if you double-click on this square right here, that's next to dynamics for whatever track you want to adjust, that will bring up our dynamics panel. And this is a way that you can, that can automatically kind of turn down the louder parts of your dialogue, and boost up the kind of quieter parts. So it kind of balances everything out, and makes it all level without having to do necessarily all of this work here. You can certainly go through, and adjust all these things manually if you want to, but you don't always have to because you can put on something like the dynamics to kind of level everything out. You can also add an EQ to a track, which we just double-click on this little cyan line, and this will bring up the EQ, which lets you selectively either boost or cut the various frequencies within your sound. You can also group tracks together that might be a similar thing. Like let's say you had two different people talking, you can take each of those tracks, and run them through something called a bus, which is another track that just takes the output of multiple different tracks, and you can apply something like dynamics or EQ to multiple tracks at once. So that's really how it works inside of Fairlight. You can open up your timeline, and make your detailed adjustments. You can add effects, dynamics, EQ to each of your tracks. Make sure that they are all balanced out together. And it's just a really great interface for doing that. And again, once you're all done, once everything sounds great. You can always go back to the edit page to continue editing or you can just render from there.
Class Materials
DaVinci Resolve - 17 Shortcuts.pdf
Ratings and Reviews
I'm glad to see the DaVinci Resolve courses have been added to Creative Live. Casey Faris does a great job with his teaching. In this course he clearly explains the layout of each page and shares example workflows for each. It's really good as an intro to Resolve.
Helpful class if you are interested in DaVinci Resolve. Casey Faris presents the information clearly and doesn't waste time. Looking forward to his Color Correction and Fusion classes.
Made navigating through Davinci an exciting thing to do! Great work!
Student Work