Desk Therapy
How-To Approach This Class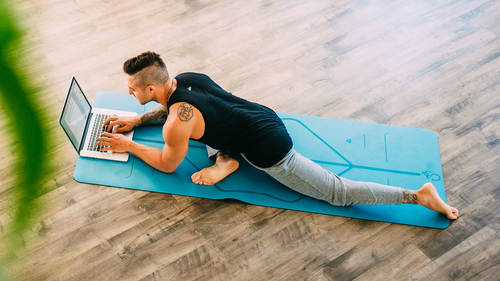 Desk Therapy
How-To Approach This Class
Lesson Info
How-To Approach This Class
welcome to death therapy. I designed these videos to be used after a long day of work in the evening before you go to bed because they really call me down. But you could use them however you like. They're designed to make you feel good, So if you want to use them in the morning, you could use them in the morning. Use them with other workouts. Adam on. There's really no wrong way to do this. Just as long as you're moving and you're feeling good. You don't need much for these. If you're a more flexible person, you really don't need anything if your little less flexible than a strap and a block or two blocks could really help. If you don't have a strap, you could always use a belt. Sometimes a couple pillows will replace a block really could use what you have around the house and make it work for you. The more that you do these videos, the better you're gonna feel. So I recommend doing them every day, or at least a much as you can. It's been a pleasure to share my practice with you. I hop...
e you really enjoy him now. Must a
Class Description
Skill level: Beginner
Classes: 5
Time: 30-45 minutes
Cycle: 5 days
No matter what your hustle looks like, the grind can take a toll on your body and ultimately hamper your creative pursuits. It's important to take a break from your desk, drafting table, dark room or studio to restore and revitalize your body. Yoga for desk jobs can help limber you up, ease tension and stress, promote greater flexibility, and energize you so you can continue to create for hours at a time. This series of classes focusing on these stretches will help you:
Relieve tightness, soreness and tension
Increase your mobility and flexibility in areas impacted by long periods of sitting, crouching and hustling
Learn therapeutic techniques to rejuvenate your mind and body
Improve your creative output
Instructor Dylan Werner grew up in the mountains of Southern California and became interested in fitness, movement, extreme sports, photography and nature at an early age. Dylan travels extensively, teaching at workshops, instructor trainings, festivals and retreats. He has taught more than 400 workshops and events in more than 60 countries. He is passionate about spreading his love for yoga and helping others by sharing his journey. In his yoga for desk jobs class, Dylan will instruct you in:
Releasing tightness in the hips, hamstrings, shoulders, neck and back
Relaxing mentally and physically after a long day
Dynamic stretches, neuro-flossing and static holds
Workout Descriptions:
Recover
This class will show you how to release tension in the chest and upper back, improve the mobility in the shoulders, and open up the leg muscles, which can become extremely tight from long periods of sitting.
Release
This full-body restorative class utilizes neural flossing techniques. This is an incredibly effective restorative technique to alleviate compression in the nerves in the hands, wrists, elbows or shoulders that can come from typing at a computer all day. We'll also work to release tension in the hips and hamstrings, as well as strengthen the ankles and lower back.
Repair
This full-body repair class will help increase mobility in the wrists, working our way to the shoulders, chest and back before continuing down the body to the hamstrings, hips and ankles.
Revive
These spine lengthening exercises target the spine and gently move it in multiple directions. We'll work to release tension that can lead to hunching and create space in shoulders and chest to improve posture.
Restore
It's important to set aside time to actively restore the body and mind after a day of accumulating stress and tension. This class will warm up the body dynamically, getting the blood moving and incorporating some wall yoga poses. 
Reviews
This class was the gateway to yoga for me. I was surpriced to find something sport related in creative live - thanks for that! Because of the name "Desk Therapy" I gave the course a try and loved it. The first course was a tad fast and challenging at the beginning but that motivated me and showed me an other side of yoga which deleted all my prejudice. The obvious benefit of "Desk Therapy" was the stress relief after a work day sitting in front of the computer. Dylan is an excellent teacher with very good instructions and tips. Thank you!