Bonus Video: Think Tank Gear Bags
Deanne Fitzmaurice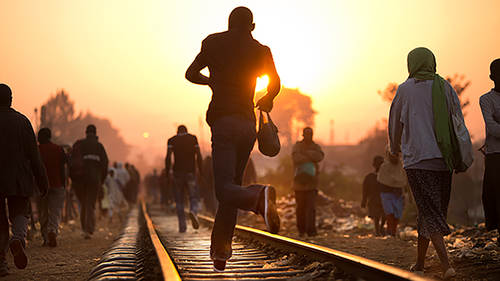 Bonus Video: Think Tank Gear Bags
Deanne Fitzmaurice
Lesson Info
2. Bonus Video: Think Tank Gear Bags
Lesson Info
Bonus Video: Think Tank Gear Bags
Hey, everyone. I'm Dan Fitzmorris, photojournalist and also co founder of Think Tank Photo. And I have my bag here, and I'm gonna show you what I carry in it. Today. I have my airport security rolling case, and I use that quite a bit, so it fits overhead in domestic flights. If I'm going over overseas, I'll use the slightly smaller airport International. So but this is the security a little bit bigger, and I'm gonna show you what I normally carry in my bag. Okay? All right. So a couple of camera bodies here, I usually have to with may at least two. All right, this is my canon Mark four. And I use this mainly for sports, you know, because look, frames per second fast. It's great camera. So that's one of my body's that I usually have with me. But this is the camera that I used for most assignments for most everything. And it's a five d mark three. I love this camera. I use it for for still photography. I also use it for motion, and it works out for me for just about anything that I'm pho...
tographing. Except for sports. Okay, so let me show you what else I have here. So this is a zoo. Kudos, E finder. And I love this thing. It's great for when I'm shooting motion and it's just tricky to see, appear and focus or not. So this thing works out really well and love it. If I'm doing multimedia, I'll bring these multimedia things. So sometimes I'm just going on a still shoot. Okay, this is my beloved 50 millimeter one to love this lands. If I could only have one lens on a camera, it's this one, you know, just walking around with one another lens that I don't have with me. That's a favorite. Is the 85 12 Okay, another lands I love. This is the 35 14 Great. It's really about as wide as I go. I try not to use anything wider. Once in a while, I'll use a 24. I have a 24 1/4 and I like and you notice I use primes. A lot of love primes, and I love fast lenses, and I love shallow depth of field. That's why his promise All right, Cannon Strobe 500 and e x 5 80 e x to, um good. I mostly shoot with available light, but I always like to have this with me because you never know Thistles my canon 72 200 zoom. It's a to eight. And use this thing all the time. And so I was with me. Okay, let's see what else I have here. I also have ah, hood men loop that I use if I if I'm working with two different bodies shooting video, I might have busy find around one. And this is another one that I don't attach to the camera. Um, we have charger battery charger. Okay. And, um, we have these think tank battery holders that I use so great little cases, you know, hold my whole my double A batteries. Um, and I have This holds my memory card. This is a This is, like one of the special edition, but I'm think tank pixel pocket rocket holds my memory cards. Um, so we have Ah, we did some fun patterns, but most of them are playing. All right, Let's see. What else do we have here? Let's move over to the other side. This is my road video. Mike and I use this when I'm doing multimedia shooting video and put it on camera. It's a great way to just pick up some Ambien audio can see. And this is a zoo kudo target rig. And I use this just as another point of contact when I'm shooting motion. It's great. It's really lightweight. I don't like these big rigs where, you know, you just look like you taken over the room. I like to work as low key as possible. And so this just gives me another point of contact on the Z Finder. Another point of contact so I can slow things down a little bit. What else is down here? Okay. Clean the sensor. Oh, yeah. And this is my, um Okay, this is my video head, and this is great. This is a man, proto. I'm 701 HTV. And it's just great. Great video head. I take it apart to put it in my bag, and that's also for shooting motion. You know, if, um, if I'm not shooting any video, I get I go lighter than this. You know, we'll have two bodies and probably four lenses, but this is kind of more of, Ah, multimedia kit and and this is my tripod. I love this. It's some three legged thing. It's a great It's really lightweight. And it's it pulled up so small that I could put it in my bag. I brought this with me to Africa in July, and it I'm also this turn This leg turns into a mano pot. It's got some great features that goes really tall, really low. So I love this on Ben over here. You know, I just have a few accessories put in the pockets. Neutral density filters on that I carry with me when I'm shooting video to get that nice shell of depth of field. Um, he announces for color balance, X right color picker, extra batteries for my camera, extra batteries for accessories, business cards here. And I think that's about it, you know, But this bag, it's great kind of does the trick. It has, you know, lock so I can lock the outside of the bag, and then there's also a built in lock so I can lock it to something. So I'm showing you what I carry in my bag. This gets me to the location where I'm shooting now. When I get there, I need a bag toe work out of. So I usually carry an extra bag with May, depending on what I'm shooting. Sometimes I want a belt pack. Sometimes I want a backpack. Sometimes I want to shoulder back. So I'm gonna show you just a few of our think tank bags. This is the retrospective seven. And it's a bag I absolutely love. I carry it with me. A lot of this thing is probably my go to bag for a shoulder bag. I mean, I like that. It it looks rugged, and it looks kind of cool. And it's the right size, and it really doesn't look like a camera bag, which I love. Now it has a pocket in the back. You know, I can put my IPad in there. And, um so this is this is one bag that I carry quite a bit. Another one is the city Walker 20. And the real difference between these two is this is much lighter weight. So, like, sometimes I need to squish this thing down. And with my closed toe, take it to my location. So thistles. Great kind of a real low key lightweight back, and this is a new line of bags that we just came out with their called my second brain. We have four different sizes, this'll ones for the tablet. We also have an 11 inch of 13 inch and 15 inch to fit laptops, comes in three colors green, blue and black. So that's the story. This is my think tank bag, and this is what I carry.
Ratings and Reviews
Great course. I love how candid Fitzmaurice was about the awkward parts of photojournalism and her techniques on access, which can be tricky. I have some limited experience as a photojournalist at smaller publications and it was inspiring to hear about her career and the stories behind great stories. More of a lecture than a lesson, but I picked up some helpful tips and feel inspired to go create some new work.
Another awesome course by Deanne. I really enjoy her enthusiasm and love for the art of Photojournalism. Her technique for build relationships and humanizing the topic of her photograph really makes me want to jump in and push myself. Clearly the uncomfortable feeling of pushing yourself pays off!
Good class. Great photos and stories. Not sure I got too much pragmatical info and process help that I was assuming I would get out of this class..
Student Work