Interview with Deanne Fitzmaurice
Deanne Fitzmaurice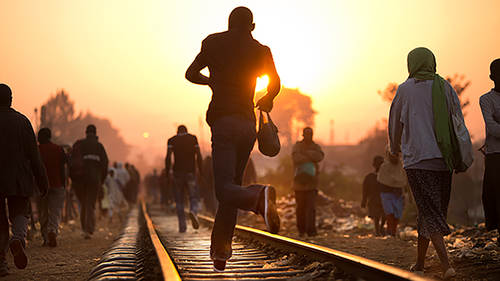 Interview with Deanne Fitzmaurice
Deanne Fitzmaurice
Lesson Info
3. Interview with Deanne Fitzmaurice
Lesson Info
Interview with Deanne Fitzmaurice
I am going to bring on the wonderful and delightful Miss Deanne Fitzmaurice, who is going to be teaching. You're going to see her segment called Storytelling and photojournalism. Deanne, how are you doing today? I'm doing great rest. How you doing? I'm fantastic. It's really exciting to have you here. Always good to see you and chat with you. Uh, so tell us a little bit about your photo week course. Storytelling and photojournalism. Yeah. What I talk about in this class is my approach. Um, I tackle a lot of really difficult subjects. I worked with athletes a lot, and and I really like to tell their story in an authentic way in a way that hasn't been told before. And so it has a lot to do with putting people at ease, getting them to relax, and Jeff's going into their lives and capturing moments. And as you can imagine, it's a little bit tricky. It's tricky in terms of getting access to them, first of all, and I don't approach it in the ordinary way that most people Teoh, which is to ask...
permission. Um, you know, normally, when you're going to approach an athlete or a project like that, you have to go through the team. You have to go through the agents. And I tried that and just had a lot of walls. So I started to just make connections with the athletes. Tell told him why I want to do these stories and and was able to make access and and get into their lives in a in a real way, on DSO. From that point on, my work is about making a real connection with my subject about building relationships. And there's a lot of perseverance along the wet, so they may agree in the beginning. Let then think my start backtracking mid project. So, you know, how do I handle that? And this play a fine line that you have to walk there because you have to be persistent, but you don't want to be the pain, right? Right, cause that's not going to get the best out of the subject. For sure, I love that. So we're really excited to be able to actually watch the segment coming up, so we're gonna learn a lot about that. But I'm sure I mean, you you're a Pulitzer Prize winning journalist. What are the questions that you get asked a lot from people who either want to do what you're doing or just interested in what you dio. Um, besides, would you review my portfolio? Um, you know, I think they really want to know about storytelling. And how do you do that? How do you sequence these images together? Because, you know, there's a lot to understand about transitioning and pacing, and, you know, I'm doing that with still photography. I'm also doing that with multimedia, you know, adding video and audio at times. So I think you know, most of the questions are about storytelling. And so I think it's just a matter of breaking it down and taking it piece by piece. And it's a lot of fun building these stories that it's challenging to as fantastic. So that is really cool. So you've been doing this for a while. What are something that you what are some things that you wish you had known when you got started? I mean, it sounds like you've kind of gone through a process over your career of like, how do I approach this way? Does this work, or should I approach this way. So what are some things that you wish you had known when you got started? I mean, the thing that I'm so surprised at is how important relationships are and not only with your subject with the person that you're photographing, but everybody around you, whether it's the doorman, the elevator guy, the security guy, those relationships are so important. Um, you know, in addition to that, I think the relationships that we make in the industry, the community that we build is huge. You know, when I think about a lot of, um, shoots that I'm doing these days, I'm working with the people who I have built relationships with over 10 years. So I do think that that's a big part of it is some relationships pawn all on all aspects of what we do. That's beautiful. I mean, that's something that I think a lot of people get into photography because they kind of want to hide behind the camera. But it sounds like one of the ways to be successful is to really just get out there and meet the people and talk to the talk to the people that are around you and formed those relationships. I love that. So you did mention some of the things that you're doing these days. What are your What are some things recently that you've done that you're proud of or what have you got going on these days? I'm a lot of different things. I did a recent shoot for National Geographic, and it's on their website today, just nationalgeographic dot com, and it's see it there believe it's on the front page. And it's a story about this. A teen wonder. He is a child prodigy, and at the age of 14 he built a nuclear reactor. Whoa! Beyond Brilliant. And he's using this knowledge for, you know, I'm thinking about energy thinking about ways toe, um, you know, address. Um, he's just He's a riel in latent kid. He's out, but he's 19 now. His name is Taylor Wilson, So he's brilliance. It was a riel honor to be able to photograph him. Wow, that sounds like it would be really cool. Yeah, so that's up on the website now, and and a lot of different projects have been doing some projects for ESPN. The magazine. I did recent project that I can't talk about it yet because it hasn't been published. Okay, uh, and, um, some work for NBC and men's Journal and, you know, various different publications. Fantastic. And if people do want to see these as they come out and follow you, where is the best place to find you online? Um, different places. I have a block. You go to my whips by Dion Fitzmorris dot com. You can find my blogged. They're also on Facebook. I'm Deion Fitzmorris Photography. Twitter at GM fits. So yeah. I usually try toe post things that as they come up. Beautiful. So, Dan, I want to say a huge thank you for joining us today for taking the time out of your schedule to say hi to us and just chat for a little bit. We are really excited. Teoh. Watch your course. Great. Thank you so much as I was great working with you while that creativelive. And it's a big honor to be part of foot a week. Absolutely. Well, it's an honor to have you so thank you again for your time.
Ratings and Reviews
Great course. I love how candid Fitzmaurice was about the awkward parts of photojournalism and her techniques on access, which can be tricky. I have some limited experience as a photojournalist at smaller publications and it was inspiring to hear about her career and the stories behind great stories. More of a lecture than a lesson, but I picked up some helpful tips and feel inspired to go create some new work.
Another awesome course by Deanne. I really enjoy her enthusiasm and love for the art of Photojournalism. Her technique for build relationships and humanizing the topic of her photograph really makes me want to jump in and push myself. Clearly the uncomfortable feeling of pushing yourself pays off!
Good class. Great photos and stories. Not sure I got too much pragmatical info and process help that I was assuming I would get out of this class..
Student Work