Developing Themes in Your Drawing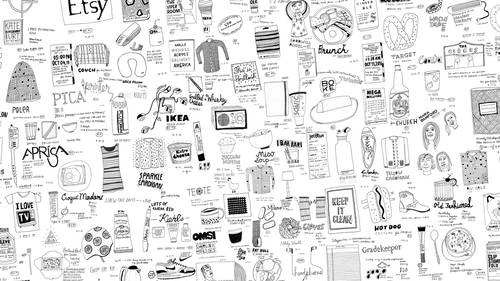 Drawing the Everyday Every Day
Lesson Info
Developing Themes in Your Drawing
So what do you want to drop? Well, the stuff that's in front of you, the stuff that is within arm's reach is always a really good start because the every day is actually really, really interesting, especially through your filter. The everyday isn't generic because you're telling your own personal story and you're putting your own spin on it. So I'm going to show you a couple different prompts a couple different ideas to kind of help you kick start a quick drying, so maybe you're waking up in the morning and you have the newspaper in front of you, draw the newspaper, you could draw ads in it, you could draw type, you could draw headlines, you could write down different things that you want to remember from the newspaper that's a really good idea? Maybe you want to draw your breakfast, you can draw your breakfast but really pay attention like if you are, if you're like looking at that piece of bread or that muhsin that you're beginning to eat, like pay attention to the crumbs, pay attent...
ion to the little nuts that might be stuck in there, like really like look and and see your breakfast don't think about what you think your breakfast looks like, really see and just kind of go with the lines in the contours of the shape get lost get lost in your breakfast so you can draw your trash that's one thing that you could dio again that tells the story of you the stuff that you're throwing away you can also draw stuff that's in your front yard maybe you are more drawn teo nature you can drop the weeds that air in your front yard you khun draw the random things that are falling out of the tree that's in your front yard again that's a picture of your yard on that day and that makes it you and that makes it really interesting draw family photos draw found photos you khun draw rocks from a walk that you take this is all about documenting your experiences in a very quick and easy way and again it's very much about you and yes, it is every day but every day is so interesting so what's the big idea um some people think that they need toe have this amazing theme or idea before they even put the pen to the paper and I am here to tell you don't do that. The most important thing is to just get started, okay? Themes well develop after you start the process of making eye before I started any of my long term projects, I have lots of kind of like shorter projects that maybe necessarily didn't grow into a huge project, but I got ideas of what I was going to do for the project, the big project that actually, you know, turned into something large because of maybe some people would see it is like a failure, but actually that's where I got the idea from so it's, really easy to over think this but again, the most important thing to do is just to start drawing. So, for example, from a daily drawing project, um, I had done several projects prior to this big drawing project that was touching on themes of consumption, about the stories behind the objects, where we buy the things that we buy before I landed upon me, making the rule for myself, that I was going to draw something that I purchased every single day on dh so once I started that project, I still didn't really know what my endgame was going to be. And again, that's. Okay, the important thing is just to start generating piles of drawings and the themes air going to emerge, and so this daily joint project that I did when I finished it, I had almost three thousand drawings, disarm it, and definitely themes did emerge. And, for example, like one famous is like all of the plants that I purchased, another thing would be all of the food that I ate in portland, another theme could be oh, now we're going to look at all the drinks so we're gonna look at all the shoes, or we're gonna look at all of the art supplies that I would purchase over time or all the coffee that would come from it. And so these little, many collections and many themes actually would emerge from the bigger theme that was me just documenting my everyday purchases. So again, I want to reiterate, just start drying and don't stop yourself because you don't feel like you have this really tremendous idea, okay? Those ideas they come through making I'm a big fan of thinking through making and you got to make in order, tio, come up with your ideas. So again, so if you're trying to think of what it is that you want to draw, start thinking about stuff that you're interested in, okay, maybe you love to read books, start drying your bucks. Okay, maybe you love teo cook, start illustrating your recipes. Actually, those air really beautiful think about your favorite meal that you make for ah loved one or for friend and start illustrating all of the items that it takes to make that recipe happen, maybe you love going on walks. Make sure that maybe you draw something. Every single time you go on a walk. It starts with really kind of thinking about what is it that I do in my everyday, anyway? And then how can I incorporate drawing into the habit that I do every day? And then you're on your wife?
Class Description
Get off your computer and play! Drawing the Everyday Every Day is your guide to exploring your creativity and integrating a drawing habit into your daily routine.

In this class, you'll learn:
How to develop themes for your drawings

Options for presenting your content: zines, prints, instagram, etc.

Ways to add color to black and white drawings using Photoshop
Kate will inspire you to explore the everyday by simply drawing what's around you. It is okay if it is completely about your own experiences – in the particular lies the universal.

It doesn't matter whether you think you "can draw" or not, everyone has a story to tell and you can learn how to tell yours and get drawing inspiration from Kate Bingaman-Burt in Drawing the Everyday Every Day. 

Reviews
As an experienced artist, I really enjoyed this class a lot! I found a lot to be inspired by and appreciated Kate's easy, conversational way of presenting the material. I loved seeing her process, her workspace, and favorite materials. I loved hearing about what inspires her. Sure, this was maybe less a "how-to" kind of course, but there is certainly a LOT to take away from this hour and a half or so. I watched course live, so didn't pay for it, but I would recommend this as a good, small investment in your creative toolkit. (I would have just bought it myself except that I just lost my job and trying to save every penny I can!)
I'm writing this review not immediately after watching the class, but a year after doing so -- and the impact on my life has been tremendous. Upon taking the course, I began drawing an everyday object every day, and have kept it up for a year, missing only a few days here and there. At some point, I expanded this to also sketching a great work of art every day as well (usually from an art book I got from the library, and sometimes on a trip to a museum). I don't spend a lot of time at this -- I just do it on breaks from work. The result has been my seeing a lots of things I would otherwise miss -- little details in every day things that I'd never otherwise notice. And that, in turn, has given me a greater appreciation of life, of the the visual world, as well as the amazing art works humanity has created. Looking back, I particularly value this teacher's point that your drawing doesn't have to be perfect. For me, that's been hugely helpful. I haven't fretted or been stuck or given up -- I simply draw, and in doing so, ALWAYS notice and appreciate details of whatever I'm drawing, whether it's my coffee mug, or a painting by Georgia O'Keeffe. PS: The drawing has impacted my editing of photos and doing any kind of visual work. I'm much more tuned in to details than I used to be. I may or may not draw better, but I definitely SEE more. And for me that's a wonderful and enriching thing. Cheers!
I took this class after "28 to Make" because Kate was responsible for my favorite week. I've been drawing everyday since I started "28 to Make" and wanted to explore further the subject of drawing the everyday. I watched the full course in just two evenings. Even though it is divided into sections, you can actually watch it on just one sitting because it doesn't prompt you to do any "home work" for the following section. Kate is a very funny and engaging communicator, and her interest for drawing is quite visible and contagious. She structures the whole presentation in her personal experience, sharing what she does and why, being always careful to say that there's no right or wrong way and encouraging the listener to try his own way. It actually doesn't feel like a class (this being good or bad depending on your expectation) but more like a presentation intended to fuel your own ideas. So there isn't a very informational aspect regarding techniques, only a brief explanation of the materials she uses. The same thing regarding the digital enhancing of your sketches using Photoshop, she presents an example but actually doesn't guide you through any kind of technique. In the end you may not have actually learned anything new regarding drawing techniques but you may very well be more inspired to draw everyday and to enjoy it immensely. That is a good thing, in my opinion, you just have to know whether it is this what you are looking for.