Myths and Truths About Selling on Etsy
Marlo Miyashiro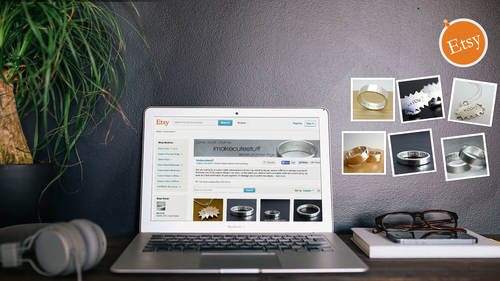 Myths and Truths About Selling on Etsy
Marlo Miyashiro
Lesson Info
3. Myths and Truths About Selling on Etsy
Lesson Info
Myths and Truths About Selling on Etsy
All right. Ready Myths and truths. Not selling on Etsy. Alright. Starting an Etsy shop is easy. Yeah, totally true. Totally true. It's so easy. I mean, really, You don't even have to have everything that we're gonna cover in the class to open an Etsy shop. You know, we'll be pretty. You can start it easy. Easy. Running an Etsy shop is easy. Yeah. No, it is. It is probably one of the most challenging things you can dio. Not only are you making things, but you're putting them out in the world to sell. You're trying to figure out how to best present them and represent them online. And not only that, your job is never done. There is no finish to a Nazi shop unless unless you stop selling things right. But we're gonna keep going, uh, listing guarantees success. Yeah. Yeah, There's no guarantees in life, but you'd be surprised. There are There are a lot of beginning at sea sellers who will start their shop, and they'll come to me for consulting and they'll say, You know, I've had my shop ove...
r for a month and I haven't had any sales. And it's like you know it takes time. It takes patience and really there are no guarantees. The best you can do is the best you can Dio. It's hard to get noticed on, etc. Um, I think this is the trickiest part about anybody who's been on Etsy is just the idea that I'm this tiny needle in this giant haystack, among other haystacks. And, uh, it is hard, but again, if you concentrate on who your ideal customer is, if you understand where your market is, the people who buy your work, then you can focus your efforts on that small segment rather than the giant everybody. And that is a much more effective way in a much more streamlined way to get your business noticed. Everything is under priced on, etc. No, it's not. But there are a lot of underprice things. That's that's no, you know there's no covering that up. But one way to do some research on pricing, especially in your category, is Teoh. Look up a search for a specific specific type of item and then reverse sorted from highest to lowest. What you'll do is you'll take all those you'll see some crazy numbers out there really high numbers and really note low numbers and just ignore them. They don't. They don't have anything to do with your business because that's not what you're going for. What you're going for is realistic numbers that are based on what you make, what you sell and how much you are paying for your supplies and how much time you're taking. That's really all that matters. You have to be true to yourself and what it is that you're making. Oh, my goal should be lots of sales. E kind of tricked you a little bit, so we want to make lots of sales, Sure, but the sales number is not the the Oh my gosh, I'm I lost the word, But it's not the gauge that you're comparing your business, too. You know you can have 10,000 sales on etc. But if everything you're selling is a dollar, OK, but you know you could you could have a higher price point and have a lower sales number. It's all about revenue. It's all about the money that you bring in after afterwards. So try not to worry too much about the whole numbers thing when you're running your Etsy shop. I should sell owls. Mustache. Is Fox's, um Woodlands Really anything? Not that I don't love those things because I still dio, but you don't have to follow the trend in order to be successful. Sometimes it seems that way because trends air trendy for a reason. They're out there. They're in your face, Um, but the better thing as a creative person to do is to make the thing that your heart is in that your you enjoy making because you're gonna be spending a lot of time with it, so you might as well do something that you really enjoy. And if you want to insert the megatrend into the things that you make, then that's totally fine. Do it in your own style. Hey, that's the most important thing is to do it in your own style. All right. Pros and cons. It's free to join, okay? It's low cost and trusted by shoppers, meaning sometimes people would would rather give their their credit card information. Teoh, a large website rather than an individual website, so you'll capture that market as well. It's definitely easy way to get online, and it's great for your brand s CEO And what I mean, search engine optimization. Um, it means that you're taking your business, the idea of your business and your putting it in a place that is getting a lot of attention. And that's he has, ah, whole department just focused on S CEO and making sure that the Etsy seller is getting out there. You could take advantage of that by having your brand associated with etc. There are some cons there. There are a lot of shops. Okay, Seems seemingly a lot of competition. Remember, we're being very focused about the things that were doing ever changing. Okay, as I was putting this class together as I was writing, that, um at the listings manager totally changed completely. Change. I really like it. Actually, they put a lot more functionality into it, but it was it was kind of funny, you know, because that's kind of Etsy's track record is to just sort of throw things at the sellers and really try things out. But that's who they are. And we just have to be flexible and roll with it because you know where we are renting a space in their venue and they get to do what they dio and we need to do what we're going to do with our business. It is time consuming. If you've ever talked to anybody who has an NC store, it takes, you know, anywhere from maybe 15 minutes for somebody who really has a process down to list something all the way to an hour if they're, you know, taking all their their time, taking their time, their photos and everything so it can take a lot of time for listing. And so all of that, including the photography. It's a huge learning curve. You know, if you're taking your own photography than, um, you have to get to know a whole other creative side of running a business and, of course, perseverance. It's probably okay. I put in the cons I just realized I put this in the concept shin because it's hardest stick to stuff, you know, like it's hard to to dedicate all of this time to something that seems like it's never gonna pay off. But like with anything, the more work you put into it, the more you learn about it, um, the better you will be because of it, and hopefully that will result in selling your work as well
Class Materials
Etsy® 101 - Class Workbook
Etsy® 101 - Handmade Value Ebook
Etsy® 101 - Tag-Keyword Brainstorm Mini Workbook
Ratings and Reviews
This is an an amazing class. It is great for beginners as well as those who have had their shop up for while. There is something new to learn for everyone on Etsy. Marlo's powerpoints are concise and clear. I was so glad to also get the ebooks so I can go back and review the course while I make changes to my store. I am able to bookmark and work through all the changes. Thanks for this course, Marlo and CreativeLive.
Marlo's live presentation was terrific! I learned a lot and was motivated to buy her materials. Looking forward to reading her materials in greater depth. Much thanks!
Student Work