Navigate Your Etsy Dashboard
Marlo Miyashiro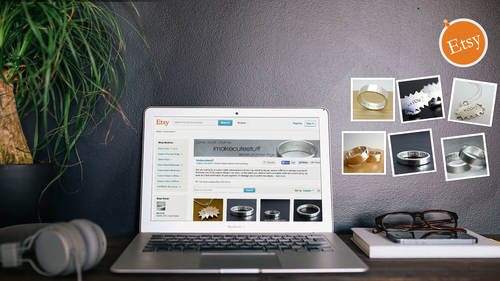 Navigate Your Etsy Dashboard
Marlo Miyashiro
Lesson Info
12. Navigate Your Etsy Dashboard
Lesson Info
Navigate Your Etsy Dashboard
So I'm going to walk you through the dashboard, your admin dash board in here, you're admin page just so you're a little more familiar with the way etc lays things out because you're going to be clicking on these things a lot, especially when you first start. I encourage you to click around and just kind of get get a feeling for how it's he lays things out for you so quick links you get two dash board, it shows you top level stats, how many people are looking at your stuff? And you can switch that two different time frames last month this month, that kind of thing. It immediately shows you all of your financial information a top level financial information you can click on any of those links to go directly to that. So if you wanted to go to your soldiers, you can just go right to your sold orders. Um, I like to click on shop settings when I'm doing admin things for my page, because it brings up the full list of the tasks that you can that you can perform in your shop, this top area her...
e. So you have everything from your stats, you can get right to your orders, you can do enlisting right from this. List instead of having to go to the hole big page this urn free listings is just the code that you can use tio invite somebody to create a shop on etc and if they do I think you get twenty free listings or something around there um and then you can check out your reviews hopefully they're all five stars okay, so this is this is where the shopping engine adds area was this is where the etc many is that we talked about promoted listings I'm not going to really get into that because it is sort of an advertising choice it's an experiment that you can run with your shop or not, I think it depends on who you're in your ideal customer is and what category you're in whether or not it's successful or not um I have experimented with it mostly around holidays s o you know, it could be something to check out at the very least check it out so that you know what it is and then you get to all of your your financial stuff there and then yes, there is I love that they have the links to like the seller handbook and all the terms and everything right there because, you know, sometimes you're like, you know, should they be doing it this way, you know, you can just go straight to that the forums are the online chat rooms that you can ask for help, or just kind of get more information. Um, one thing that is not on here, but it's on the bottom of every etc. Page there's. A team's link. And that goes to the full list of all the teams that are all over the world. And they are either location based, medium based. They could really. Anybody can start a team so you can have any number of topics within a team. And it's. Basically, the teams are focused on talking about these certain types of subjects.
Class Materials
Etsy® 101 - Class Workbook
Etsy® 101 - Handmade Value Ebook
Etsy® 101 - Tag-Keyword Brainstorm Mini Workbook
Ratings and Reviews
This is an an amazing class. It is great for beginners as well as those who have had their shop up for while. There is something new to learn for everyone on Etsy. Marlo's powerpoints are concise and clear. I was so glad to also get the ebooks so I can go back and review the course while I make changes to my store. I am able to bookmark and work through all the changes. Thanks for this course, Marlo and CreativeLive.
Marlo's live presentation was terrific! I learned a lot and was motivated to buy her materials. Looking forward to reading her materials in greater depth. Much thanks!
Student Work