FAST CLASS: The Power of Habits
Defining The Problem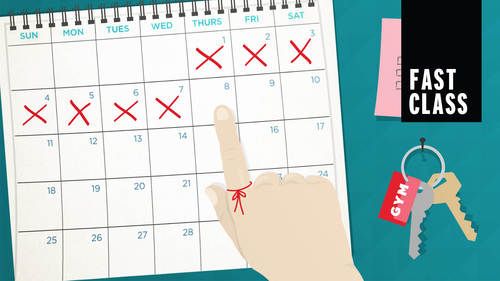 FAST CLASS: The Power of Habits
Defining The Problem
Lesson Info
Defining The Problem
Now we're going to do something that feels like stepping backwards. So it's odd, right? We're gonna end this by thinking about how you define problems you're trying to solve. You would think that since defining the problem starts at the front end of the problem solving process that that should have been the first thing we were talking about. But the funny thing is, until you really understand the way you solve problems the way you use your knowledge to solve problems, you actually can't do a good job of defining problems because you're trying to define problems in a way that is going to maximize the information that comes out of memory. That's gonna help you to solve those problems. So until you understand your memory, understand your habits, understand causal knowledge, understand analogy until you understand all of that, you can't actually think about what is the very first thing you should be doing When you solve problems when you are trying to solve a problem, what in the world are...
you actually trying to accomplish? How can you get some consensus if you have a group that's trying to solve a problem and then I'm going to give you a couple of tools that you can use whatever you're trying to solve, a problem to see whether that will give you some insight into how to solve that problem in a different way. And then after we go through all of those tools, then we're gonna make a grand summary and think a little bit about how to make sure that we're going to start actually using this information. When you are in any kind of a situation in which you need to think effectively, you need to be able to define problems in a way that is going to maximize your ability to get the knowledge out that you need when you need to get it out. Okay, Now, the problem definition is really crucial to your success in that both because it determines what knowledge you're going to be reminded of, as well as because it determines how you're gonna figure out whether you succeeded or not. So when we're defining a problem, there's several things that we need to worry about. We need to worry about exactly how to characterize the central problem itself. We're gonna give you a lot of tools for doing that over the rest of this time period. But along the way there are two other things that you need to think about. And these relate to the kinds of things that we thought about back when we were talking about the abstract goals that you want to achieve in your life. You know, See, it all connects together. It all connects together. The problems that you solve our like these abstract goals when you are trying to make a decision of Is this some abstract thing that I should be doing Then? Part of what we asked ourselves was not just what is that goal, but also is this important enough for me to commit to it? Should I be doing this? And the same thing is true. Whatever you're trying to solve a problem. If you really decide that you're going to engage in a serious problem solving process, you are committing to do some really hard work. It is well worth asking the question. Is this something I should really be doing? So if you look at page in your materials, if you've got this, you don't have it. You know where to get it at this point, so I'm not gonna repeat that. But there is enough. There is a really nice tool. It's a kind of a three by three grid here, and it's called an ambition analysis. And the way that this grid works is that along the top, it's got timeframes, right the near term, the midterm in the long term, and then along the ah, along the left side. Here, it's got three different possibilities for what it is you might want to accomplish. One possibilities. You're trying to catch up with your competition, another possibilities. You're trying to do something that's a little bit incremental. 1/3 possibility is that you're really trying to disrupt on entire industry. And whenever you start the problem solving process, it's really important to figure out where you're trying to do this. Where what is the scope of your ambition? And it turns out that that any one of these cells here can be possible. So when you're trying to do something interesting, are you really trying to accomplish something today? And this is true for habits too, right? If you want to just think about this in terms of habits, I might try to do something in the near term. Right? Is this something where I want to change something over the next few months? Do I have a year? The medium term dive each six months, eight months a year? Or is this something where I'm looking five years down the road? Now, another thing you want to do is to figure out OK, if I'm trying to define this problem. Have I set up the problem I'm trying to solve in the right way? And one of the one of the issues with that is we often take problems that we get sort of as they're given to us. We use the languages they're given, right? Right. So are there aspect of the situation that could be changed in ways that would remove or alter elements that didn't think that that may not have obviously been removable or altera ble
Class Description
FAST CLASS:

Try a Fast Class – now available to all Creator Pass subscribers! Fast Classes are shortened "highlight" versions of our most popular classes that let you consume 10+ hours in about 60 minutes. We've edited the most popular moments, actionable techniques, and profound insights into bite-sized chunks – so you can easily find and focus on what matters most to you. (And of course, you can always go back to the full class for a deep dive into your favorite parts.)

Full-length class:  The Power of Habits with Art Markman
Subscribe to CREATOR PASS and cue up this class and other FAST CLASS classes anytime.

Setting a goal is one thing, but actually doing the work to achieve that goal is a totally different endeavor. If you want to hit your targets and make lasting changes in your life, join author and psychologist Art Markman, Ph.D., to learn what it takes to build and maintain healthy habits that will last a lifetime.
This course won't serve up superficial self-help tips; instead, you'll dive into the latest cognitive science behind behavior change. You'll learn how to build new, positive habits and break the cycle of existing negative ones. You'll explore what it takes to sustain healthy habits over time and increase your chances of maintaining new habits by empowering your friends and family to make positive changes, too.
Don't waste another day simply wishing you could make a change that really sticks — equip yourself with the techniques you need to transform your life in measurable, powerful, and positive ways.