FAST CLASS: The Power of Habits
Experiences & Brainstorming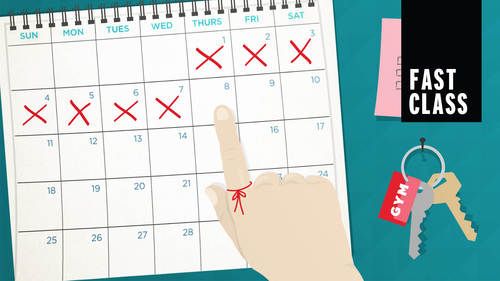 FAST CLASS: The Power of Habits
Experiences & Brainstorming
Lesson Info
Experiences & Brainstorming
the fourth dimension is the dimension of emotional stability. Back in the day, when Personality was first being different in personality, psychology was first being developed that called that neuroticism ous. Far as I could tell, nobody knows what the word neurotic means. Andi just it makes it sound like like somebody on a movie set. So So they changed it to rightto Woody Allen. So they changed that Teoh emotional stability because I think that makes it a little bit clearer. What this means again. This is one where it seems, it seems clear to people that one end seems better than the other. It just seems better to be emotionally stable than it does to be neurotic or unstable or something like that. Emotional stability reflects much mawr How much energy is flowing through that motivational system. Okay, the last of the of the dimensions is a really interesting one. It's one that's called openness to experience openess. To experience is more or less what it sounds like. It's to what degr...
ee are you interested in willing to try new things on for size, all right, It doesn't necessarily mean you're gonna accept the new idea or try a new thing, but you're willing to consider it. So if you're open to experience, you know you hear about a new restaurant, you think, Let me check that out. You know, you read new books. You goto a genre of movies you've never seen before. You're willing to listen toe music that's a little bit weird. You'll engage in a conversation with somebody who disagrees with you on something just to see how that conversation goes. People who are closed to experience they they don't like new things simply because they're new. They don't like deviations from the routine. And in fact, those deviations from the routine can be really stressful and anxiety provoking for people who are on the close to experience. End of things. Remember that you are most likely to be comfortable in situations that match your personality characteristics, because your personality characteristics are a reflection of how your motivational system wants to approach the world. Okay, and, uh, and it's developed a lot of habits in you, and so you need to recognize the influence of those habits on your own life, but also begin to use this to understand the people around you understand why it is that the people around you differ from you so that you can begin to understand why it is that not everybody does the things that you expected them to dio because they actually differ from you along these particular dimensions.
Class Description
FAST CLASS:

Try a Fast Class – now available to all Creator Pass subscribers! Fast Classes are shortened "highlight" versions of our most popular classes that let you consume 10+ hours in about 60 minutes. We've edited the most popular moments, actionable techniques, and profound insights into bite-sized chunks – so you can easily find and focus on what matters most to you. (And of course, you can always go back to the full class for a deep dive into your favorite parts.)

Full-length class:  The Power of Habits with Art Markman
Subscribe to CREATOR PASS and cue up this class and other FAST CLASS classes anytime.

Setting a goal is one thing, but actually doing the work to achieve that goal is a totally different endeavor. If you want to hit your targets and make lasting changes in your life, join author and psychologist Art Markman, Ph.D., to learn what it takes to build and maintain healthy habits that will last a lifetime.
This course won't serve up superficial self-help tips; instead, you'll dive into the latest cognitive science behind behavior change. You'll learn how to build new, positive habits and break the cycle of existing negative ones. You'll explore what it takes to sustain healthy habits over time and increase your chances of maintaining new habits by empowering your friends and family to make positive changes, too.
Don't waste another day simply wishing you could make a change that really sticks — equip yourself with the techniques you need to transform your life in measurable, powerful, and positive ways.