FAST CLASS: The Power of Habits
Finding Causes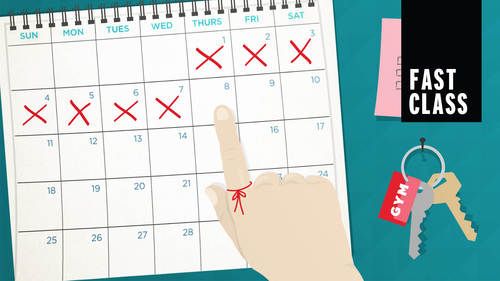 FAST CLASS: The Power of Habits
Finding Causes
Lesson Info
Finding Causes
one of the habits that a lot of us would like to have is we'd like to be more creative, more innovative. And sometimes I think people have this idea that the only way to get more creative, the only way to get more innovative is to be that kind of creative, innovative person, you know, is that, you know, is that just a talent? Is that something I couldn't possibly learn to do? And and obviously they're gonna be differences between people, right? Some people really are just gonna nail it every single time. They're gonna do something innovative. They're gonna do something really creative. And you may be the kind of person where you think every once in a while I show those flashes, but I don't always get it. But the thing is, it still is a skill. It's something you can get better at. But you got to practice the right kinds of things. You got to develop the right kinds of habits. Now, the thing about this concept of a cause is that human beings love to ask and answer the question. Why the t...
hing about this? This this ability to ask and answer the question wise that human beings may be the only species on the planet that does this regularly. We know this because if we look at our close cousins, the chimpanzees, very smart animals, chimpanzees don't have bed, bath and beyond. And that's how we know that they don't have causal knowledge. And I probably ought to explain that now when we have a causal explanation. That causal explanation normally involves some set of preconditions. That is what must have had to exist in order for this to happen, a set of relationships among those preconditions that leads to a triggering event that causes an event to occur, and then a set of consequences that emerge from that as a result of all of these relationships. An important element of our explanations is that when we give these causal explanations that Zack those explanations are nested inside of each other like little Russian dolls. What that means is that every time you ask the question why there's always another explanation underneath it. That's what allows five year olds to play that game, where they keep asking why? Because there's always another explanation. Now the reason that are explanations are important are because our ability to it to understand the way the world works, is what enables us to answer questions in new ways. But on Page 40 there is a sheet that's labeled constructing explanations and what you're going to do on this sheet. Is there some common household objects and devices? I want you to take those household objects and devices, find one you think you understand and try and explain how it works. You know, it's funny. What you just did is a version of an experiment that got done by a guy named Frank I'll, who's on the faculty at Yale. And he actually did on experiment with the Yale University undergraduates. He brought him into the lab and he showed him these objects. He said, Okay, which ones you think you understand? Okay, here's one that you think you understand. Go ahead and explain it. And what he found was systematically, people were unable to explain things that they thought they understood. And this is this is interesting. This is what's called the illusion of explanatory depth. It's an illusion because I believe I understand it, but I don't actually understand it, right? The real problem with the illusion of explanatory depth is not the gaps in your knowledge per se. We all have things we don't know about. The problem is, if I believe I know something and don't actually know something, then I have no opportunity to learn it before I might need it. So it's the calibration of your knowledge. That's the really important part. We are mis calibrated now. The interesting thing is, we are mis calibrated about causal knowledge, but not about every kind of knowledge that we have. So, for example, we're not mis calibrated for lots of facts. You're just really bad at things like causal knowledge. Now, why is that? Why are we bad? A causal knowledge? There are actually two big reasons for this. The first is Remember I told you that explanations air nested inside of each other like these little dolls. The problem is ask yourself, How do I know whether I know something or not? Well, what I do is I asked myself, Can I get started? Can I get started giving the explanation and then you feel like if I could get started, I can probably get all the way through. Unfortunately, just being able to get started means you could get that first level of the explanation, but not necessarily any of this stuff underneath. And so, as you dig down, which you need to do when you really want to understand something, you realize you know what? There's nothing underneath this. There's a first layer, and then there's nothing underneath that. Okay, so that's the first thing. The second reason why we have trouble with our causal knowledge is because we have words whose meanings we don't understand and those words paper over the gaps in our knowledge and in business, we sometimes call those buzzwords right. You know, it's a word everybody uses. Nobody really understands. So what have we got so far? What we've got is this idea that we have these gaps in our knowledge in our causal knowledge that these gaps are a problem, because if I don't understand the way something works, I can't solve any new problems using that knowledge and that the that the fundamental problem is not just that I have gaps, but that I am unaware of those gaps
Class Description
FAST CLASS:

Try a Fast Class – now available to all Creator Pass subscribers! Fast Classes are shortened "highlight" versions of our most popular classes that let you consume 10+ hours in about 60 minutes. We've edited the most popular moments, actionable techniques, and profound insights into bite-sized chunks – so you can easily find and focus on what matters most to you. (And of course, you can always go back to the full class for a deep dive into your favorite parts.)

Full-length class:  The Power of Habits with Art Markman
Subscribe to CREATOR PASS and cue up this class and other FAST CLASS classes anytime.

Setting a goal is one thing, but actually doing the work to achieve that goal is a totally different endeavor. If you want to hit your targets and make lasting changes in your life, join author and psychologist Art Markman, Ph.D., to learn what it takes to build and maintain healthy habits that will last a lifetime.
This course won't serve up superficial self-help tips; instead, you'll dive into the latest cognitive science behind behavior change. You'll learn how to build new, positive habits and break the cycle of existing negative ones. You'll explore what it takes to sustain healthy habits over time and increase your chances of maintaining new habits by empowering your friends and family to make positive changes, too.
Don't waste another day simply wishing you could make a change that really sticks — equip yourself with the techniques you need to transform your life in measurable, powerful, and positive ways.