FAST CLASS: The Power of Habits
Goal Satisfaction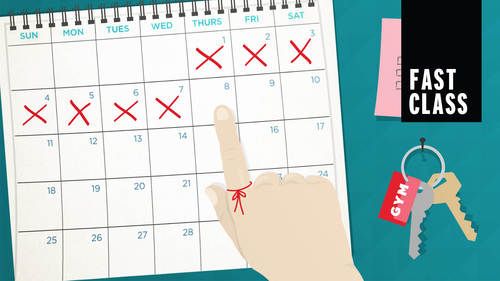 FAST CLASS: The Power of Habits
Goal Satisfaction
Lesson Info
Goal Satisfaction
If we're gonna talk about changing behavior, then you know we really need to set the problem up and then help to solve that problem. And so we've set the problem of we figured out how habits work, right? We've talked about this idea of these consistent mapping and repetition. We've talked about how the motivational system works, that we have this ghost system that creates habits that engages goals that pushes us towards doing behaviors and then a stop system that will sometimes help us to stop a behavior that's gotten along the path. And we talked about this idea now of a lining, the short term goals we we have with long term things that we're trying to achieve. So now we need to figure out how do we structure the world so that we can effectively create plans that will help us to make that change in our behavior? And that's what we're gonna do. Remember we talked about There are there are different kinds of goals that we have, so just as ah review right, we have approach goals, approac...
h girls or desirable states of the world that we'd like to achieve. Okay, thes air, things like eating a good meal, making a friend doing something enjoyable. And then we have avoidance goals and avoidance goals are states the world we'd like to avoid. So, you know, historically, maybe that was avoid getting hit by a tiger. In the more modern world, it might be losing weight or stopping smoking or not getting fired. Something like that, right? And I'm gonna make you feel better about failure, too, because it turns out that failure is a necessary part of life. And you know what? Sometimes failure is even good. Here's the best kind of failure toe to achieve. So so sometimes we need to fail just to help us resolve the trade off between effort and accuracy. So if you think about any decision that you make in your life, there's a certain amount of time you might be willing to spend on that decision. And, um, and you have to achieve a certain level of accuracy. Another kind of failure that happens fairly often is is the failure that comes from the limitation in resource is that you have. So the fact is there isn't enough time and money and energy to be able to do every single thing you want to do. When you want to do it, you just can't. And so what that means is that every once in a while, you have to trade your goals off. So someone might skip out on an afternoon of work in order to go pick their kid up and take them to an event. And then they might stay late at work in order to t do something but miss out on dinner with the family. And then they might go to the gym instead of instead of doing something else that they need to do. Those trade offs those air called life okay, and the trick toe life is to fail un systematically. The difficulty that we have is when we systematically fail it. Things okay, that's where the problem comes, when we systematically failed because there's something we like to achieve, and we haven't been able to do it over and over and over and over again. And when there is systematic failure, that's the place where we need to do a better job of working on these goals. That's the place where we need to align the short term actions with long term goals.
Class Description
FAST CLASS:

Try a Fast Class – now available to all Creator Pass subscribers! Fast Classes are shortened "highlight" versions of our most popular classes that let you consume 10+ hours in about 60 minutes. We've edited the most popular moments, actionable techniques, and profound insights into bite-sized chunks – so you can easily find and focus on what matters most to you. (And of course, you can always go back to the full class for a deep dive into your favorite parts.)

Full-length class:  The Power of Habits with Art Markman
Subscribe to CREATOR PASS and cue up this class and other FAST CLASS classes anytime.

Setting a goal is one thing, but actually doing the work to achieve that goal is a totally different endeavor. If you want to hit your targets and make lasting changes in your life, join author and psychologist Art Markman, Ph.D., to learn what it takes to build and maintain healthy habits that will last a lifetime.
This course won't serve up superficial self-help tips; instead, you'll dive into the latest cognitive science behind behavior change. You'll learn how to build new, positive habits and break the cycle of existing negative ones. You'll explore what it takes to sustain healthy habits over time and increase your chances of maintaining new habits by empowering your friends and family to make positive changes, too.
Don't waste another day simply wishing you could make a change that really sticks — equip yourself with the techniques you need to transform your life in measurable, powerful, and positive ways.