FAST CLASS: The Power of Habits
Know Yourself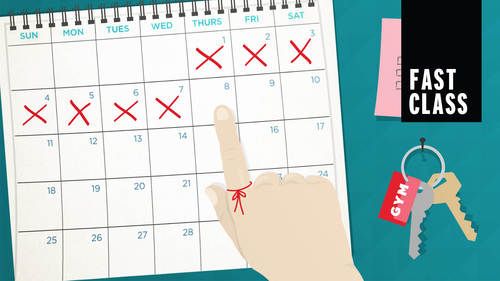 FAST CLASS: The Power of Habits
Know Yourself
Lesson Info
Know Yourself
So we're going to start this morning by learning a little bit about ourselves, Um, as a way of trying to understand how it is that we differ from everybody else, and that's really going to be focused on issues of personality. And so this morning is gonna be talking about a variety of aspects of personality, both some very basic personality characteristics, as well as some some other key characteristics that influence the way that you go about your daily life and why it is that it's so important to really figure out how that personality works and to kind of work within that personality in your life, so that you that you can kind of live and put yourself in situations that feel authentically like you. But here's the thing your personality is we're going to see is really a reflection of the way that your ghost system wants to operate. Okay, so your personality is a reflection of the way that your brain is set as a default. You know, if you think about about the factory settings that come ...
on a computer that you get or a car that you get, you know we may be able to tweak things a little bit, but chances are we sort of leave everything more or less, as as it was started, unless you become a real expert, right? And so those default settings, that's that's really your personality. And one of the things that that does is that that your personality characteristics have actually created a tremendous number of habits in you. And one of the things you may not be aware of is the number of habits you have that are a reflection of the way that your personality works. And so, by understanding your personality more, you can understand the roots of a lot of your habits If we think about this from the psychology standpoint, the way that we talk about personality is to think about our default ways of doing things. What is it that you kind of? How would you like to approach different situations as a result of who you are? All right, That's really what your personality reflect and and really, when we talk about personality, we tend to mean the dimensions along which people are different from each other, and it's important to recognize that because there are some ways that we're all very similar and way think of that is human nature, right? So you could think of the distinction between, Oh, that's just human nature. That means that's what everybody does versus that's a personality characteristic, meaning that's something that is fairly unique to that person relative to everybody else. Or at least it's. There's, there's there's dimensions along which people differ. And this is one of them on page 13 of the workbook, If you haven't, if you haven't done it already, grabbed that workbook and ah, and fill out. It's a very short personality inventory. It's actually one that's in the psychology. Literature was developed by Sam Gosling and Bill Swan or two of my colleagues at the University of Texas, and they call it the 10 item personality inventory because it's got 10 items on the second page of that inventory was a score sheet okay where you could total things up. Someday we'll have an app for this, but right now we just have it on a worksheet and then at the very bottom, starting at the bottom of this on grooving on to the next page, you actually can can put yourself on the various dimensions
Class Description
FAST CLASS:

Try a Fast Class – now available to all Creator Pass subscribers! Fast Classes are shortened "highlight" versions of our most popular classes that let you consume 10+ hours in about 60 minutes. We've edited the most popular moments, actionable techniques, and profound insights into bite-sized chunks – so you can easily find and focus on what matters most to you. (And of course, you can always go back to the full class for a deep dive into your favorite parts.)

Full-length class:  The Power of Habits with Art Markman
Subscribe to CREATOR PASS and cue up this class and other FAST CLASS classes anytime.

Setting a goal is one thing, but actually doing the work to achieve that goal is a totally different endeavor. If you want to hit your targets and make lasting changes in your life, join author and psychologist Art Markman, Ph.D., to learn what it takes to build and maintain healthy habits that will last a lifetime.
This course won't serve up superficial self-help tips; instead, you'll dive into the latest cognitive science behind behavior change. You'll learn how to build new, positive habits and break the cycle of existing negative ones. You'll explore what it takes to sustain healthy habits over time and increase your chances of maintaining new habits by empowering your friends and family to make positive changes, too.
Don't waste another day simply wishing you could make a change that really sticks — equip yourself with the techniques you need to transform your life in measurable, powerful, and positive ways.