FAST CLASS: The Power of Habits
Learning Casual Knowledge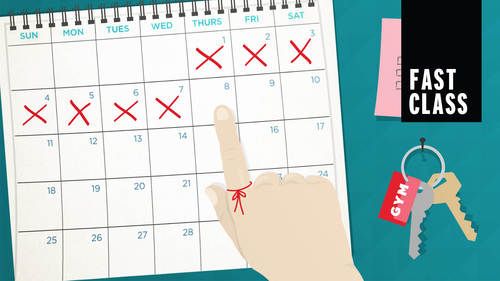 FAST CLASS: The Power of Habits
Learning Casual Knowledge
Lesson Info
Learning Casual Knowledge
one of things that we need to do is to understand how good are we at identifying and filling the gaps in our knowledge? Well, the way that we identify those gaps is by putting ourselves in a situation of teaching things. And we don't have to wait for the opportunity to teach something to someone else. The habit we need to develop see it all comes back toe habit. The habit we need to develop is to explain things to ourselves. When we learn, Here's another exercise. Now Page and this is this. This is, ah, worksheet labeled self explanation. And it refers to a really, really bad explanation of how a four stroke engine works, which is found on page 42. I got this really, really bad explanation off of Wikipedia. So if you'd like to group, if you're at home and you don't have that in front of you if you google ah, four stroke engine explanation, you'll find an explanation like the one on Wikipedia. And what I want everyone to do is just to try this out. Read this over, read that explanation...
over and try and explain it back to yourself. and see how well you dio. All right. And now I'm gonna put you guys out of your misery here because because this is this is probably the least fun thing that I'm gonna ask anybody to do today. So any of you. I mean, some of you may have really enjoyed this, but most of you probably didn't. And the reason that you didn't enjoy it is because this explanation is really horrible. It is. It is horrible, But But I chose this on purpose. It turns out that a lot of the things that we have to learn from in our lives are not the most fluently described things, and yet we still have to be able to get something out of it. We often have to learn things in a new area where we don't have a lot of expertise yet, and you've got to start somewhere. And one of the first things that you should discover when you do this exercise is that it wasn't fun, that it was actually frustrating that if you had had access to your email right now or your Twitter feed, you would have jumped right on that because remember, we don't like negative affect, so we try to avoid it. What does this mean? It means that you probably have habits that promote the illusion of explanatory depth. Because when you're learning something new and you have to repeat it back to yourself when you reach that point where you actually don't understand it and you have to go back and look at it again and then re explain it, it's frustrating. And the easy availability of the smartphone of your Twitter feed and Facebook makes it easy to say, You know what? I'm gonna do something productive. Instead, I'm going to check an email. So if we think about it, Okay, we want to draw things out. We want to identify the gaps in our knowledge. And the most important part about this habit of self explanation is that by engaging this in this, we become better calibrated at the knowledge that we have, and then we can make the decision. Do we want to fill that gap in our knowledge? Okay, I want to be clear. I am not saying all of us need to be world leading experts in everything. All right, we have a limited amount of time. We have limited energy. We have limited. Resource is we can't learn everything about everything but the mawr that we know what we know and what we don't know, The more that we can become effective in situations in which we need to be innovative. And a lot of the content that we're talking about today is related to something that's in a book I wrote a few years ago called Smart thinking. And, uh and really, what that book is about is how do you develop habits to think more effectively? How do you improve the quality of your knowledge? How do you develop strategies to be able to use that knowledge when you need it? And how do you combine all of that? So that you're doing this thing by habit, so that you're now approaching the world in a way that makes you more creative and more innovative. But just to summarize where we've gone in this section and where we're gonna be going this afternoon we talked about causal knowledge right now. Notice, by the way, Right? Three, right. We're still on the three. So, you know, all that stuff from Monday morning is still with us causes the stuff we used to answer the question why those causes air absolutely crucial to our ability to solve problems in new ways because the more you understand the way the world works, the more you can do something in a new way and not just do things the way you've always done them. The problem with causal knowledge for most of us is that we suffer from a persistent illusion of explanatory depth, which is the idea that we don't understand the world nearly as well as we think we dio. But there's a cure, and it's a fairly simple cure. You have to learn to self explain, to teach things to yourself and what happens when you teach things to yourself. It's first that you identify the gaps in your knowledge and those gaps then become invitations to fill those gaps so that you have higher quality causal knowledge. And if you do that, you make yourself smarter by asking the question why you also make everybody else around you smarter
Class Description
FAST CLASS:

Try a Fast Class – now available to all Creator Pass subscribers! Fast Classes are shortened "highlight" versions of our most popular classes that let you consume 10+ hours in about 60 minutes. We've edited the most popular moments, actionable techniques, and profound insights into bite-sized chunks – so you can easily find and focus on what matters most to you. (And of course, you can always go back to the full class for a deep dive into your favorite parts.)

Full-length class:  The Power of Habits with Art Markman
Subscribe to CREATOR PASS and cue up this class and other FAST CLASS classes anytime.

Setting a goal is one thing, but actually doing the work to achieve that goal is a totally different endeavor. If you want to hit your targets and make lasting changes in your life, join author and psychologist Art Markman, Ph.D., to learn what it takes to build and maintain healthy habits that will last a lifetime.
This course won't serve up superficial self-help tips; instead, you'll dive into the latest cognitive science behind behavior change. You'll learn how to build new, positive habits and break the cycle of existing negative ones. You'll explore what it takes to sustain healthy habits over time and increase your chances of maintaining new habits by empowering your friends and family to make positive changes, too.
Don't waste another day simply wishing you could make a change that really sticks — equip yourself with the techniques you need to transform your life in measurable, powerful, and positive ways.