FAST CLASS: The Power of Habits
The Big Picture Goals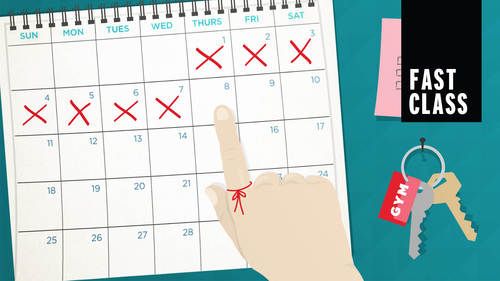 FAST CLASS: The Power of Habits
The Big Picture Goals
Lesson Info
The Big Picture Goals
So we started by talking about the role of three. The idea that things happen approximately in threes in your mental life and in particular that you tend to remember approximately three things about your encounters with things in the world and that that means that you need to seize control of what those are. And you need to take that idea into account both as you're learning new things as well as when you are influencing what other people learn from you. After that, we talked about habits, the idea that habits are created because they there is a consistent mapping between a behavior on the environment and you've repeated that behavior in that environment. Okay, um, we when we when we create habits, they're wonderful toe have because they allow us to do things automatically every once in a while, have it goes bad. In that situation, you change habits by replacing one habit with another, and not by simply stopping something that you were doing After that, I introduced you to the ghost sy...
stem in the stop system. The ghost system is that system deep in the brain that drives you to act to stop system is that system that stops you from doing things. Um, we talked a little bit about how you create good plans. After that, we talked about this idea of creating implementation intentions. When you want to succeed at a goal at the end of the day, you have to take this abstract contribution and turn it into specific actions that you can take on a regular basis that appear on your calendar and the take into account the obstacles that are inevitably going to get in your way and allow yourself to fail. But learn from those failures. Treat failure as a necessary part of behavior. Change on Lee Punished negligence.
Class Description
FAST CLASS:

Try a Fast Class – now available to all Creator Pass subscribers! Fast Classes are shortened "highlight" versions of our most popular classes that let you consume 10+ hours in about 60 minutes. We've edited the most popular moments, actionable techniques, and profound insights into bite-sized chunks – so you can easily find and focus on what matters most to you. (And of course, you can always go back to the full class for a deep dive into your favorite parts.)

Full-length class:  The Power of Habits with Art Markman
Subscribe to CREATOR PASS and cue up this class and other FAST CLASS classes anytime.

Setting a goal is one thing, but actually doing the work to achieve that goal is a totally different endeavor. If you want to hit your targets and make lasting changes in your life, join author and psychologist Art Markman, Ph.D., to learn what it takes to build and maintain healthy habits that will last a lifetime.
This course won't serve up superficial self-help tips; instead, you'll dive into the latest cognitive science behind behavior change. You'll learn how to build new, positive habits and break the cycle of existing negative ones. You'll explore what it takes to sustain healthy habits over time and increase your chances of maintaining new habits by empowering your friends and family to make positive changes, too.
Don't waste another day simply wishing you could make a change that really sticks — equip yourself with the techniques you need to transform your life in measurable, powerful, and positive ways.