FAST CLASS: The Power of Habits
The Motivation System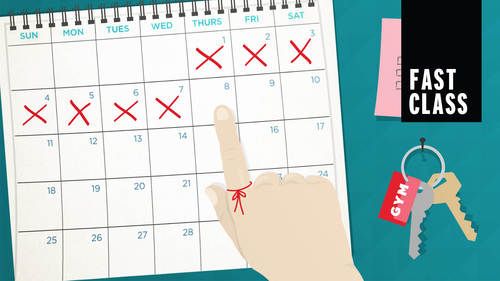 FAST CLASS: The Power of Habits
The Motivation System
Lesson Info
The Motivation System
now where we really want to shift our focus a little bit to start thinking about, what does it mean to change your behavior and in order to think about the behavior change component of this, a lot of what we need to do is to start worrying about how exactly does the motivational system work. So what I'm gonna do is I'm gonna introduce you to two motivational systems, one of which I call the ghost system. And the ghost system involves a set of brain mechanisms deep inside the brain that drive you to do things. And I'm going to contrast that with what I'm gonna call the stop system, which is sometimes what we call willpower. It's a set of brain mechanisms that involves these brain areas in the frontal lobes of your brain that stop behaviors that have gotten started. And so what we're gonna do is to use this structure toe, understand? What are the goals that we pursue? How did those goals get engaged by the ghost system? How does this stop system stop us when we're doing something we feel...
like we're not supposed to be doing? When does that stop system fail? and then to try and talk generally about some overall principles for regulating your behavior. To get started, we have to recognize that that our behavior is fundamentally goal directed. We can't do anything unless we have some goal in mind. This goal could be acting in a particular way, engaging with particular kinds of people, achieving really desirable outcomes or avoiding really undesirable outcomes. Now here's the thing about our goals. Okay, when we have goals, we have lots of things we might call a goal. That is, we have lots of things that we might say. Oh, this is something I'd like to achieve. But behavior is Onley, driven by the goals that gets some amount of activity to them what psychologists would call arousal. So you have to have some level of energy in order to pursue a goal. In the absence of any energy, you just lie there completely inert. What you want to do is to engage your goals by by creating some amount of arousal for them. So we've talked about This is where the goals come from, that this is sort of how your goals influence your behavior when they become active, where does this goal activation come from in the first place? Okay, there are several sources of this. One of them is just internal thoughts. You can think your way into the activity of a goal.
Class Description
FAST CLASS:

Try a Fast Class – now available to all Creator Pass subscribers! Fast Classes are shortened "highlight" versions of our most popular classes that let you consume 10+ hours in about 60 minutes. We've edited the most popular moments, actionable techniques, and profound insights into bite-sized chunks – so you can easily find and focus on what matters most to you. (And of course, you can always go back to the full class for a deep dive into your favorite parts.)

Full-length class:  The Power of Habits with Art Markman
Subscribe to CREATOR PASS and cue up this class and other FAST CLASS classes anytime.

Setting a goal is one thing, but actually doing the work to achieve that goal is a totally different endeavor. If you want to hit your targets and make lasting changes in your life, join author and psychologist Art Markman, Ph.D., to learn what it takes to build and maintain healthy habits that will last a lifetime.
This course won't serve up superficial self-help tips; instead, you'll dive into the latest cognitive science behind behavior change. You'll learn how to build new, positive habits and break the cycle of existing negative ones. You'll explore what it takes to sustain healthy habits over time and increase your chances of maintaining new habits by empowering your friends and family to make positive changes, too.
Don't waste another day simply wishing you could make a change that really sticks — equip yourself with the techniques you need to transform your life in measurable, powerful, and positive ways.