The Plot Problem
Lisa Cron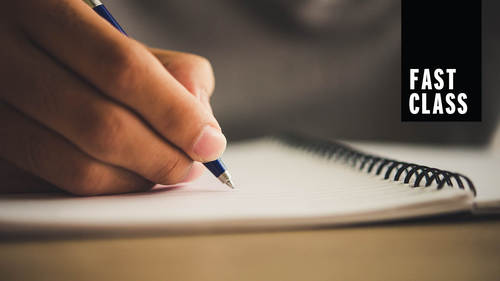 The Plot Problem
Lisa Cron
Lesson Info
10. The Plot Problem
Lesson Info
The Plot Problem
the plot problem. We're finally finally up here. This is immediate threats. We have made it rest on our laurels were here at long last, but that doesn't mean we're going to step onto Page one, kind of, if I could do that each one quite yet because there's something else that we have to think about and that is finally worked something external, right? The plot problem. What is that plot problem going to be? At this point, you might have more than one possible problem that can span from beginning to end. You might not be 100% sure. What I'll tell you now is that chances are even if you have two or three that you're kind of going between like, which one is it? It's not like you're gonna go OK, you know what? It's that one. And these other three. They go into the, you know, delete, delete, delete. They're going to be part of it as well. What you're looking for is the driving plot problem with one that all of the other spinoff of and it gives meaning to them because at the end of the day, a...
plot is that one problem that's gonna grow, escalate and complicate one single problem. And it sounds simple, but my advice always is. Start looking at what you're watching, what you're reading and you'll see. Wait a minute, I can trace it back to It's fun. It's a fun thing to do to go it. What is that one problem? And almost always you can go back and you can find it. The thing is, it's one problem and a problem problem that writers often have is the go OK, I have some idea of what the problem is, and then they write forward, and then somehow the problem gets solved in like the third chapter there's like now what do I do? And that's where you know. And I'm sure you've all had that experience, your writing, and now all of a sudden, you see, I always think of it is a big you're sitting in the middle of a big giant field and you have no idea what comes next, like none like what happens. And at that point, what writers tend to do is start writing really pretty because it's gonna be beautiful. It's gonna be lovely, and I don't mean beautiful, lovely like only beautiful, Lovely things are happening, but I mean, suddenly it's very well written. It's just that nothing's actually happening. So you really want to be sure that you have this one problem that can build. So let's talk now about how to test potential plot problems there, too, tests that you want to run it through to two layers that you want to figure out. The first is the literal external layer. External things gonna happen, and the question is, can it build? In other words, it doesn't start out one way, and it's just going to stay that exact same way from beginning to end. Can it build? Is there a specific impending consequence that we are aware of? Do we know where it's going? We need to know this will discuss also next. When we talk about opening scene, we need to know from the very beginning where we're going. Is there a consequence? Isn't building or is it just you want to be open ended like Well, her goal is to make a $1,000,000. How long does she have to do it? Well, I don't know. Let's see. Shall die when she's 98. So I guess, you know, 98 years I mean, it needs to come toward something where we have some idea of what's gonna cost her if she doesn't. And what is the scope of that novel? And the last thing is we want to know, Is there a clear cut deadline that we are building towards? Because the problem has to also be able to force your protagonists to make that interchange that the novels actually about. It's not enough. Just have a plot. That's how you end up with just a plot and you need toe. Ask yourself, will the problem for sure, protagonist to struggle with her miss belief every step of the way. This is the point. In every scene, the way that you're protected is gets to that. Ah ha! Moment of the end is they earn their way to it. Scene by scene, by scene by scene, in every scene, something is gonna happen. It's gonna make your protagonist struggle internally because I gotta try to figure out what to dio. They're going to do something. It's gonna cause a consequence. That probably isn't gonna be exactly what they wanted it to be or it's not gonna feel like what they thought it would feel like. And now they're gonna have to change a little bit. Your protagonists changes a little bit in every scene. They learn something new in every scene that changes something. It needs to be capable of forcing them to do that and again to be very clear. When I say they've got a struggle with their miss belief in every scene, it doesn't mean that they're just literally thinking, Oh my God, the night So I am to someone, the more they trying to use me scene by scene by scene by scene, it means that the way in which that has been has been personified in their life and in the choices that they're making in the choice that they're dealing with in this story, it's affecting that. It's very clear it's part of what they're struggling with in terms of whatever decision that they've got to make in that moment, and we will, we will get that. And then the next question is if the protagonist can opt out because hopefully it's a situation where your protagonists can't opt out, you know, and so they can't decide. Hey, you know what? I don't really want to do this. I'm just gonna go back. But let's say they can't. Let's say they can go. You know, I'm done. I'm going home with those people who are binge watching, breaking bad. You want it to be that they can't do it without a great emotional cost. In other words, they can't go back to life is normal. Things can't be fine if they just decide not to do it. This has cost them something, and it's cost them something dear to them going to change them. They cannot opt out of this.
Ratings and Reviews
I was introduced to writing tools and techniques, I didn't know existed. Now I feel I have a much better grasp in what it takes to write a truly great novel.
Student Work