Phonemes and Visemes
Tony Harmer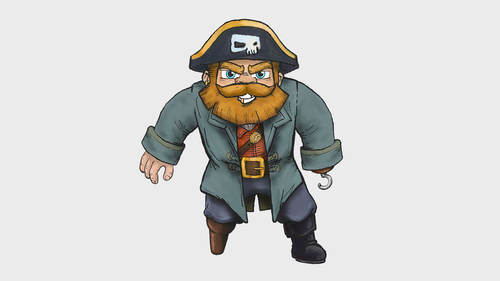 Phonemes and Visemes
Tony Harmer
Lesson Info
5. Phonemes and Visemes
Lesson Info
Phonemes and Visemes
Phonemes are the sounds we make. Those are the discrete, individual sounds that we make as part of our language, whatever language that may be. Visemes are the visual representation of those sounds. Of course, our mouth makes different shapes as we talk. As you're looking at me now, my mouth is making different shapes, disguised slightly by my fabulous facial hair. It's still there and making all of those things. In fact, one of the TVs out in the kitchen area here today I was watching some people talking. There's no sound on the TV. Seeing how much I can interpret, of course lip reading makes that possible. It wouldn't be possible if we didn't make shapes. The challenge you're going to be faced with at some point is actually drawing out the shapes. I tend to work from the set that Dave, the lead designer on this particular product, actually installed in the product. I'll show you those in just a second. You can see here these are the different sounds, 'arr', 'duh', 'ee', 'fuh', 'luh',...
'mm', so 'mm' like that. 'Oh', 'roo', 'ss', 'uh', 'whoo', and then a neutral which is just the shape that the mouth is in when it's not doing anything. You can make that shape wherever it may be. Not everybody has a straight closed mouth when they're talking, for example. And then a smile, it's nice to have a smile which is something that you can trigger. Hi, like that, like so, and smile. A surprised look as well which is a handy thing. You can build out some other things besides. Even variants for these things, you might have variation. Your character might not always be super, super cheerful all the time. They might need to actually maybe be a bit sad about something or maybe being a bit terse and instructional and they might have a slightly different mouth shape for that. The angles might go down. Typically, one of the ways you can do that is pretty much to flip these over. You have to move the teeth in relation to that. It doesn't work quite so well if they're on the underside there. You can pretty much invert some of those shapes but not all, the F sound is however it is. You might just change the top of the mouth, for example. Let's have a look at this inside of the rigging space here. The rigging space is where we stitch everything together that hasn't been automatically put together by bringing things in in the correct hierarchy, which is a thing we'll talk about at the end of this segment. If I just go to the rig workspace here, you can see I've got some controls here. I'm gonna come across to the mouth shape here. If I click on that, moving over to the properties on the right hand side, you can see all of the visemes just there, just in this region here. I'm kinda bringing that toward the top of the screen. In fact, if I bring the head to the top of the screen there as a point of reference, then you can see underneath that, I've got the views. That's something else you can do at a more advanced level is add three-quarter and profile views as well. The visemes are down beneath that. If I get a chance before the end of this particular section, I will show you how I sketch out the three-quarter and profile views as well. I might ask Jim to remind me of that if we do get the chance for a moment or two aside. So here they are. This shows you pretty much what I've got for you in Goldbeard's stuff there. In fact, it's all based on that anyway. Again, makings things nice and easy, if I go back to Photoshop, remember we've got the Catman thing there based on the blank face puppet here. They're actually already in this file. So while you're learning, the best thing is get a puppet done as quickly as you can. Get it done, it will encourage you to do more hopefully and be better at what you're doing with it. My first few puppets made use of all of these default mouth shapes here. I'm gonna cycle through some of those. Neutral is what's on at the moment, I'll turn that off. Here's the smile, just there like so, very winning. Here's the surprised look (gasps). There you go, there's the 'ah' inside of there. I think there's two variants in there for that. Here's variant one and variant two for that. That's something else you can add in, slight variants for those. Here's the D, so I need to turn off the preceding one first. This is the 'duh' sound there. And the 'ee' like so. And the 'eff' there. 'Luh', 'luh'. And 'mm'. And 'oh'. And (laughs) just wanna look at that for a minute, it's fun. And the 'are'. And the 'ess', nice wide. And finally, the last two. 'Uh' and 'whoo', there like that. You can take those and basically you can highlight that layer group. Let me just create a new file here. I'll show you. Here's the best way for you to see this. This is my new file. Let's draw a random default puppet shape, there like so. Let's get it sticking out cartoon ears. There you go, like that. Strange earlobe action going on there but it's just a quick thing. I'm gonna take this layer group and drag it to that tab and just drop it there and it should copy that whole lot in. They're all turned off at the moment but you can see there it is. They're in the wrong place. That's something I can fix really, really quickly. If I go for the move tool here, whoops. I need to get the whole group so I'm just gonna undo that. I'll just get the group and bring that down. I know what's doing that. You'll notice that as I'm dragging, I'm moving just one of the shapes and here's why. Up in the top in the control strip, it's got auto-select on, which is useful sometimes. You can actually click on something and not have to worry about where it is in the layers panel. But other times, when you're trying to move a group like this, not very helpful. I'm just gonna turn off auto-select for a moment and then I can bring the whole group down there like so. If I need to, I could resize that. I'm just gonna get my transform controls. The group is targeted so it'll do all of the different layers in there, holding down the alter option key. See if it's centered. Bring that out and do that. Even if you're only using that as a drawing guide, you're actually getting the content and then creating a new layer, drawing the stuff over the top of that and removing it, perfectly valid way to work. Really, really valid way to work. In fact, that's how I do the majority of my things rather than committing all of those shapes to memory. You should be considering other things, aesthetics things I think really rather than focusing on that particular level of detail. Those are the phonemes and the visemes just there. Once you've got the face all in order and the face is working, which of course it is here because it's rigged automatically and let's have a quick look at the visemes for Goldbeard. I'm just gonna turn off some of these things here. Just click on 'em once. This is all working there like so. Lots to turn off, lots of different shapes. We'll leave it in the smile. I think that's all off. There's the smile just there. If I turn the smile off and turn on the neutral. That's Goldbeard's neutral. Because Goldbeard has a beard and I've done this with my ninja puppet as well because you can't see the ninja's mouth because the face is covered. What I do is I draw the shadows that would be created by the mouth. Goldbeard here, if I can just zoom in on that actually. It's a bit trickier just here. There we go and just bring that down. You can see that it's drawn the shape that you would get from under the lip in this region here. Cartoon of course because it is a cartoon. But it's got that particular shape rather than the gap of the mouth. If I turn on the, you can see I've got both there. I've got the aperture for the mouth and I've got the shadow underneath that as well. You can suggest a mouth and suggest more form by using those small strokes. Just in case you're interested, because I have a class also on mobile drawing, this puppet was actually put together inside of, I actually did this on a plane. I quite often draw on planes because I'm on planes quite a lot. I did this on my tablet. I actually drew this one up on my tablet and I wanted it to be all gritty and edgy and that's why it's got that rough quality. I'm gonna use the Carl-Webster brushes on there to draw that out.
Ratings and Reviews
Great Class! I am just beginning to learn Adobe Character Animator and this class was a great starter for me to learn some of the background on how the program works.
Student Work