Julie Anixter, Exec Dir AIGA
Debbie Millman, Chip Kidd, Marc Ecko, Veronika Scott, Julie Anixter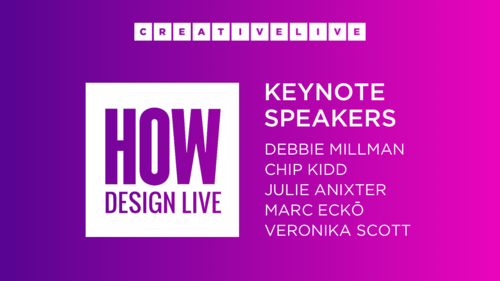 Julie Anixter, Exec Dir AIGA
Debbie Millman, Chip Kidd, Marc Ecko, Veronika Scott, Julie Anixter
Lesson Info
3. Julie Anixter, Exec Dir AIGA
Lesson Info
Julie Anixter, Exec Dir AIGA
Hello, HOW. It is great to be with you. And I, it's great to be with the audience that is receiving this stream, thanks to CreativeLive. Because I have a really important message for you guys today. I'm hoping that by the end of the hour that we spend together, that you will feel more empowered as an innovator, as an activist, and as a visionary because I know in your heart of hearts, you are. Having had the chance to spend some incredible time with the AIGA Atlanta chapter and with many of you over the last day, there are a lot of people in this room who rock. My talk is really about how to help you accelerate what you want to do in the world. What does it actually mean to be an innovator? It's a word that is thrown around a lot and I believe in explanations, I believe in great narratives, but I also believe in telling stories about people that exemplify these disciplines. So, Debbie Millman. I'm standing on this stage today because of Debbie. Debbie is, without question, for me a rol...
e model as an innovator. I know that you all know because she's been here and she's the editorial director and creative director of HOW and she's known for a lot of things but I think of Debbie as somebody who is incredibly generous. That generosity has spiraled from the 11 years ago when she had an idea at Harvard to create a podcast to a million views a year, or a million downloads of Design Matters. That podcast series, which, if you haven't been listening to it, the whole thing is an innovation. It's just one conversation with one innovator, design innovator, after the next. It was acknowledged in with a Cooper Hewitt Design Award and I think Debbie has a funny story to tell about Michelle Obama, which I won't tell you. Innovation comes from the Latin verb innovare, which means to renew or change. Let me just ask you, isn't there a lot in our world that needs to be renewed or changed? A lot, right? There are a lot of people working hard everyday, and I know you're among them, to make those changes happen. This is John Jacobin who is the IRS Design Manager. Who, when he started 25 years ago at the IRS, encountered 200 logos within that department. It's kind of hard to communicate with each other when you have 200 logos. Over 25 years, he took 200 down to one. That's what I mean by change. Innovation is always about solving a problem or finding a new possibility and creating value. When John Jacobin reduced the logos at the IRS from 200 to one, he saved a lot of people a lot of time and he probably saved the taxpayers a lot of money. It's also about solving some of the intractable problems and there are a lot of those, many of those, and creating value in the wake of solving those problems. There are a lot of people in government right now who are trying to improve the taxpayer experience. We all welcome that. There are a lot of people, and probably we should be among them, who are trying to improve our ability to stay safe in the cyber world. I was at an event in New York recently where I saw Edward Snowden on stage via satellite from a safe location, give an award to his lawyer, Anthony Romero, at the ACLU. He gave up his US citizenship, essentially, to try and awaken us to this. We take a lot for granted, that we're always going to be able to turn on the tap and get clean water. Just ask the folks in Flint, Michigan. It's not just a given and infrastructure and the kinds of things that surround infrastructure in our country are going to be important for years to come and you all play a big role in that no matter what kind of designer you are. We need water so we can stay hydrated and there are a lot of consumer brand people and people who work in big companies today who are solving human problems like staying hydrated. In fact, one of the research companies I know did a whole lot of research for one of the beverage companies thinking that what people wanted was energy only to find out that what they were talking about on blogs wasn't energy, it was hydration. We all live in cities, towns, boroughs. What can we as designers, as innovators, do to improve the life in our cities? Really, innovation is about just imagining the future that we want. I've spent the last 20 years, I've been privileged to work with a lot of organizations to help them imagine the kind of workplace that they want. It's something that I think designers can bring so much to. Let me just say a few things about AIGA. I'm still echoing if you can just turn it down a bit. We exist to advance design as a professional craft, which is changing all the time, a strategic advantage, which the biggest brands in the world deeply understand, and a vital cultural force, which the people in this room drive. What we want to do is we want to bring you to the world and we want to bring the world to you. What does that actually look like? In practice, we're really an expert social network of incredibly generous people like Debbie Millman and Hank Richardson and the folks in the Atlanta chapter and all of the people who have mentored and helped me since I started this job in January. I find that designers are incredibly generous because they're creative. I was just talking with Lara from CreativeLive about this. Creating feels good doesn't it. It's so much more fun than fighting. The other thing about AIGA is we kind of help you find your tribe. When people and students move from Albuquerque to Memphis or from Columbus to LA, they often join AIGA so they can meet people, meet designers, network. Networking is very powerful. Networking is just really about building relationships and probably it's my most deeply held value in my role at AIGA and in my life as just a person, I believe in the power of relationships. I think that we have minimized that in the workforce. This is Ashleigh Axios, who's somewhere out here. Hi, Ashleigh. Hi, Nathan. Ashleigh just stepped down from being the creative director at the White House where she served with distinction for four years. I said to her when I met her, she's joining the national board at AIGA, she's been the president of our DC group, I said, you know what's great about the White House and the communications there? They actually really communicated. The websites were so crisp and clean and she told me a story. She got her job at the White House by going to an AIGA event, meeting somebody, who eight months later reached out to her and told her he was trying to fill the role. She introduced him to lots of people and it didn't work out and then at the end of the day she said, well, maybe I'll put my name in the hat. That came out of meeting somebody at an AIGA event. I mean, it's incredible really. Are we ready for a changing world? The world, it's almost a cliche to say that it's changing, but boy is it changing. I was with somebody who teaches at SVA, the School of Visual Arts, in New York two weeks ago and she said to me, what's really interesting about this year's students, they're a different crop. They have craft in one hand and digital in the other and they really get marketing. All of us are noticing that. Then she said something that I found a little scary. She said if by the time you've gotten out of school, let's say three or four years out, you don't have a specialty, you're in trouble because the software's changing so quickly, you can't keep up. You need to have a specialty which is something that my, one of my great mentors, Tom Peters, used to say. He said it differently. He said be distinct or be extinct. Be distinct or be relegated. The world is just going to get more complex, we all know that, so we as designers and creators have a real role to play in simplifying that complexity and making it elegant and consumable. I think it goes back to relationships because it's really hard to make something consumable if you don't know the audience that's consuming it. I want to talk a little bit about the relationships that I have been really privileged to form since I've joined AIGA four months ago. Because I cannot do this job without understanding the stakeholders and that's all of you, whether you're a member or not. I need to understand what's going on in the design profession so we can serve it. This is somebody, Terry Irwin, who runs the design department at Carnegie Mellon University, who has a very interesting framework that I want to share with you. It's open source, you can get all of it online, everything I show you is going to be available. By the way, speaking of Tom Peters, all my slides will be available next week, too, on AIGA/JulieAnixter so you can have all of these slides. Tom used to do that and it's a great thing because then you can take any idea you want and proliferate it. Transition Design is about design helping societies transition. Terry uses the phrase, it's sort of a guiding narrative, I like that term, a guiding narrative, and I think designers are very good at creating those guiding narratives. Or as Tom used to say, she or he with the best story wins. This is Terry's construct and I'm not gonna read it to you but you can see that it starts with artifacts and it ends up with systems and networks. Isn't that the transition that we're going through? I know Doug Powell, yesterday, talked about Sarah Brooks at the Veteran's Administration. I had the pleasure of meeting her on Friday. Sarah said to me that when she first started out in design 15 or 20 years ago it was always about the thing. Everybody's worried about what the thing was. We're going to make the thing and bring the thing to the client. Now she's more interested in all this stuff that surrounds the thing. That's what a system is, that's what a network is. She's got this interesting framework and I love frameworks because they just help you sort out and tell big ideas and share big ideas. In the lower corner you have where I think we all started. My first design project at CCAC, or well called it CCAC then, it's now CCA in San Francisco, was making 100 objects. I made 100 paper mache bird feathers and it was a great, great experience. But that was me doing a design project. If you think about what you're doing in your work, I think many of you are working in interdisciplinary teams where you're working with researchers and web developers and marketers and customers and you're working on things that are not individual projects, you're working on systems. Some of you are working on cultures. If we think about what's really happening in design, and every place is good, there's not a good or bad, and probably you're in many places because you're working on many things. But what Terry says about this is that a new kind of designer, a new kind of mental model is required where we are T-shaped people. Down here we have our competencies and our skills and all this stuff we've learned. But then we need to have a breadth of knowledge so that we can collaborate across disciplines, that's the T. Just think about how much of a T are you. On this example, in the lower left-hand corner, the individual designer, if they were worried about childhood obesity, could design a food tray that had portion sizes on it. If they wanted to move up that ladder of complexity, a group of people could try, probably be pretty hard, to implement organic food standards in our nation. The food supply is actually a really big deal and I know many of you work in food and food packaging and you know that. This is, again, just to show the breadth of kinds of domains and ways that designers are working. There you see the T shape. Down when you're designing the tray, you need graphic and illustration and production skills and up there where you're going to change the way we think about food production in this country, you need political skills and advocacy skills, policy skills, lobbying skills. It's a different game. Just to close out on Terry, her vision is that, I love this, that designers really can glimpse the future and help create a guiding narrative for it. Wherever you are, including the students that are in this room, I want you to feel empowered to bring your vision, you're guiding narrative wherever you are, because trust me, everybody needs it. Don't hold back, be vocal, share it in writing, share it visually, but just let those guiding narratives come from you because we need them. One of their partners in the UK, Cameron Tonkinwise, says whether you like it or not, you're a transition designer. I remember working at Coca Cola 15 years ago and we were talking about sustainable cans. I mean, we're all always helping a company, a client, a product, a service transition to its future. Let me talk a little bit more specifically about designers as innovators. More stories are coming. When I was interviewed for this job, I made the following comment, and by the way, I think design thinking is very important and I think everybody should become proficient in it because it means understanding the user, however, design thinking is not design. Design thinking is not the ability to bring an idea to life materially and visually and introduce it to the culture. When George Lucas was trying to sell a little movie idea called Star Wars, believe it or not, the studio was not all that interested. Kind of hard to imagine, but it wasn't. He went to Ralph McQuarrie, true story, asked him to do some illustrations and Ralph designed Darth Vader. When the studio saw Darth Vader, it came to life, and as they say, the rest is history. Have any Star Wars fans out there? I really wanted to bring a light sword up on stage but I couldn't find mine. The secret sauce of what you guys do in this room and what we do that nobody else can do, and please, if you only take this from this talk today, take this. I don't care how many designers the big four accounting firms hire and that all the consultancies hire, and they are, they're hiring by the thousands, those companies do not have in their DNA the ability to bring an idea to life visually. They may get it but you have it and it is very important that you hold onto that. It is a source of power, it's a source of strength, and it's a source of distinction. Darralyn Rieth, another innovator that I had the pleasure of working with at Campbell's and Kimberly Clark, helped the supply chain at Kimberly Clark get organized to build these. I mean, what do you think the first manufacturing group that said we're going to do wedge-shaped Kleenex boxes said? We know what they said. They said no. But somebody behind the scenes has to organize the design supply chain to make that happen and that's another form of innovation. And communicate up and down the line. I don't know if Dana's here but Dana's a great friend, a former national board member, fellow Chicagoan, and somebody who, over the last 30 years, has built a really interesting independent design firm that combines really branding and design and enterprise systems and technology and digital strategy. This is Dana in his shop in Chicago and you can see all the motorcycle paraphernalia in the background. When Dana first started out, this is a true story, great story, somebody at Harley asked him to design a brochure cover, actually a folder for their IPO. They were going to go public and they wanted a folder. Dana and his crew designed, how many folders do you think they designed, somebody throw out a number. Nine. Nine. Twenty. Twenty, closer. Twenty-one folders. Now, Dana happens to be an authentic motorcycle rider and aficionado. Thirty-one is not the number of folders. Thirty-one is the number of years that he has had a partnership serving Harley. I would suggest to you that the DNA that drove him to create 21 folders is the DNA that has had that relationship go for 31 years. Having a relationship with a corporation today for 31 years, by definition, means you're innovating. Of course, Gideon Kossof, Terry's partner, and Terry Irwin at CMU are innovating because they're bringing these new frameworks. Designers as innovators, I will just say it simply, all of us have to become better strategists and systems thinkers. It comes naturally to us. We look at a store, I mean, one of my friends says designers are heat seeking missiles looking for imperfection. We can always see the system and what we like and what we don't like. We've got to get better at that and own it as a capability and we have to be T-shaped and we have to know our skills and we have to know our client's industries and what's going on in the world and the stuff that we care about is where we should focus. We have to see problems and have the courage to solve them. Of course, all of this doesn't happen without tremendous empathy, which is the heart of design thinking. Let me talk for a moment about designers as visionaries. This is one of my favorite challenges to all of you. What is it that you think should be happening in the world that is not happening? I promise you, and I'm going to go into a direction you might not expect, I promise you there was a moment when somebody said that you could not land a plane at sea. Oh yeah? Tell that to Naval aviation who invented all of the equipment and the systems that allows a jet to take off and land from a carrier. By the way, a lot of other countries have tried to buy and repurpose that system and it's not so easy to make it work. Landing, taking off and landing planes at sea is an extremely, extremely difficult thing to do and there are 22,000 people in this country right now at Navair that do that. I had the pleasure of working there about 10 years ago for the guy in the blue shirt, Scott Williams, who, as he was trying to help the admiral there shift everybody to a more aligned view, used guess what? Posters. Brought posters to 12 Navy bases and had people stand next to them and answer questions about them and helped that organization recognize what an innovator it was. Doing that was an innovation because oftentimes people don't understand how good they are, the assets they have, the equities they have, we have to help them see that. Then he put the shift from the Navy supply chain, past to future, on one page. It's called the five rings. It's what the people at the Navy Supply Command used to brief Congress. The whole system on one page. Catherine Madden, another visionary. She's a designer, she loves to illustrate, she loves to draw and she's doing it all online on her iPad, on paper, and sitting in on meetings like this and coming up with the most beautiful illustrations that actually capture what happens and become artifacts of the conversation. Another visionary way to shift, I'm going from graphic recording on the walls to doing it all online, instantly uploadable, instantly sharable. A couple of quick examples from a world that I know. But if you're going to be a visionary, as one of my mentors said, you've got to look out into the world, observe it, and see what you don't like and assess what's missing. That's my favorite question. What's missing? Imagine what's possible and then be willing to make it happen. So I ask you to think of yourself from here on out as a design visionary who can do just that. These are some of the design visionaries that I'm excited to be bringing to you today. I've got a few more to tell you about. The last part of what I'm going to do here today, is very personal to me, is about design and designers as activists. What it means to activate something is to accelerate it, it's to make it go faster, it's to make it bigger, it's to make it more exciting. You think about democracy, what is democracy? Okay, it's an idea, clearly it's an innovation, nobody else had done it until we did. It's actually a brand that draws people from all over the world to want to come and live here and it's really a human enterprise that we shouldn't, I think, take for granted. I think in 2008, Rick Grefé, my predecessor, started something called Design for Democracy, which was really to bring the design process and design principles to making communications in our democracy clearer. I think if we just take a moment and think about the flag, it's a symbol but it's also very real. It represented a night, one night, in when there was a battle and Francis Scott Key saw the flag flying the next day and knew that we had basically prevailed. It's a symbol, it's visual, but it really means something. Well, so does voting. Let me also say that Kit Hinrichs, another great designer, has spent the last 30 years curating flag ephemera. When you come to AIGA/JulieAnixter next week, you will be able to download and use his gorgeous little video of all kinds of designers' interpretations of the flag to Nat King Cole singing God Bless America. Something else that's incredibly important and incredibly important right now is voter registration. President Obama was just in town addressing one of the colleges. I actually heard it on NPR. He said, look, you don't like what's going on in Congress, vote. Just vote. Have your voice heard. Voting in this country is actually not an easy thing to do because we have so many laws and restrictions and constraints around registration. Each year, each general election cycle, AIGA does a Get out the Vote campaign and I am so thrilled and so proud of what we are doing this year. We're just at the beginning and I really would love to get all of you involved, members or not, and get out the vote. What does that mean? Well, scores of well-known designers are contributing and the first poster that we got for the four exhibitions that we are doing is from none other than Milton Glaser, the famous Milton Glaser, creator of New York Magazine and the I love New York logo. He sent us this beautiful poster, to vote is to exist. When Bloomberg interviewed him two weeks ago, I had the pleasure of being there. They said, what do you mean? He said it's really simple, if you don't vote, you don't exist. We are asking designers to upload, we've got over 150 posters on our site right now, AIGA/vote. Anyone can download them, anyone can post them, and we're actually hoping that they will move the needle and more people will register. It's a non-partisan effort, it's not Republican or Democrat, it's designer. I want to tell you about one really incredible activation that's going on. I don't know if you remember, if you're old enough to remember Edward James Olmos from Hill Street Blues or the famous teaching movie. Well, he's an amazing actor and one of our board members, Agustin Garza knows him and did this poster. They looked at the poster and they sort of said to themselves, a poster's great and Olmos, who's an actor, said posters are actually phonetic, they speak. They got this idea to go to Azteca to make a television spot. They got some very famous Hollywood directors to do it. They made three spots, a five, a 10, and a 15-second. That's the CEO of Azteca. It's going to go out to 43 million Hispanic households everyday between now and election day. It will reach over 100 million households by the time we're done. The CEO of Azteca, who's on my far left, will give it to any television station that wants it to be co-branded. That's what I call poster as meme. Isn't that cool? I mean, really, isn't that cool? Yeah. (audience lightly applauding) I mean, this is the power of design, you guys, and this is your power. Of course, we're not going to stop there. Agustin, who's quite a politico himself, his grandfather was the president of Mexico, and he really knows how to get things done, is not going to stop until this is on bus stations and billboards and is basically covering LA. That's what we'd like to see. We would like to see posters everywhere. If I could just ask you one thing, just one personal request from me to you, take a poster. We brought a bunch of them up here when we're done and post it or download one or contribute one. But let's, what would happen in this country if we really got out the vote this year? What would happen? I want to see these on billboards. If you've got a billboard, please call me. Better yet, post a poster here in Atlanta and get involved with my friend Wade. Where's Wade? Wade, stand up, stand up and wave to the people. (audience applauding lightly) Wade is our president, our AIGA chapter, and that's his email and if you want to get involved in any way, shape, or form, and by the way, we're partnering with the League of Women Voters, we will partner with you at your school, your office, your billboard, your place of worship, wherever you want and get you these artifacts and build upon them with you. I would like to see you, this is a cause that I feel really strongly about. I don't want to see our democracy weakened and I think that a lot of people who are growing up now don't get Civics education and it's the whole Jay Leno thing, where is Arkansas, people don't know. Who was Lincoln, who was Jefferson, people don't know. It's really a shame because what we have is something very special that is profound and it's worth really preserving. As activists, I encourage you to think of yourself as fully empowered to take on the complex problems. You probably can't do it alone, but you can probably do it with some friends. Just like Agustin just made it so much bigger for us. There's no reason we can't accelerate change as designers. We're not just visual people, we're not just makers and people who can do the craft of design. We're great thinkers and we can actually make change happen. Where? In our communities. Why? To create impact. In summary, and I'm going to do something fun in just a moment, in summary I just want to talk about what I'm seeing in my four months at AIGA and really over the last decade that I've been practicing in the design field, I think being a designer today is more exciting than ever. I don't think you have to do all of these roles but I certainly would pick one that you don't feel strong in and get very strong in it. If it means facilitation or leadership or being an entrepreneur, Michael Donovan, who's one of our medalists says that designers are incredibly able to become entrepreneurs because you can designer your website, you can design your marketing, you can create your brand like nobody else. Think about yourself as a Renaissance person, a T-shaped person who can do all of these things for something that you really care about. That's to me what being an innovator, a visionary, and an activist is all about. It's not a lofty thing, it's work we can actually do and we can do it together. Now, speaking of together, I want to introduce somebody. I'm going to bring her up on stage in just a moment. Her name is Jacinda Walker and she's doing some of the most powerful research on diversity in design that is being done anywhere and she's doing it at The University of Ohio. She's also the incoming chair of our Design and Diversity, Design, excuse me, Diversity and Inclusion Task Force. She's going to end my talk by giving her own. And with that, welcome Jacinda Walker. (audience applauding and cheering loudly) I love you. Hello. It's wonderful to be here. Julie, thank you so much for inviting me. As Julie mentioned, my name is Jacinda Walker. I'm a designer, instructor, entrepreneur and I love working for the advancement of young people. Today I'm going to talk with you about the work, research work I've been doing, my background, and the work that I'm going to be doing with the AIGA Diversity and Inclusion Task Force. My story begins with family. I'm the oldest of six children. My dad was a military man and he allowed us to travel the entire world. My mom was a super creative woman but she was a firm believer in academics over art. When you come from a really big family, leadership roles often are dished out by age and experience. For those who know me, they know mentoring is something that comes very naturally to me. While I was mentoring, I never thought about the design industry. It was all about me and my mentees, what we were doing, where we were going. But in 2011 my niece, pictured here in the center, she announced she wanted to be a designer. At that moment it became a very real issue to me. The status of the design industry became pertinent immediate. I started wondering if she was going to have the same kind of experiences that I did. Were people going to say things to her like, you speak so well for a black girl. Were they going to whisper when she went to the interviews? Oh no, did you know she was black? I asked myself, did I do anything to make the industry better for her? Sadly, my answer was no. A couple of years after her announcement and after a lot of deep thought, I accepted a scholarship to The Ohio State University to work on my MFA in Design, Research, and Development. These are my classmates. My research work explores diversity and design disciplines and it investigates strategic ideas to expose African American and Latino youth to design-related careers. Now, the objective of this study is to analyze the design journeys of current African American and Latino designers and what influenced their career paths and then to develop one strategic solution to address the lack of diversity in design disciplines. This solutions-based thesis introduces the design journey map developed to map the distance of designer travels throughout their career. It contains four color-coded bins, foundations, proficiency, influence, and workforce. To date, I have researched 15 effective strategic solutions to expose African American and Latino youth to design and to help close the diversity gap. Now, this research is important, not only because it shows us the path to become a designer but it also provides the characteristics to what the solution is to close the diversity gap in design industry. Now, in 2015, the United States Department of Labor, they report that there are 899,000 designers. That's a lot of designers. Now of the 899,000, 12.3% of the designers are Latino and that's approximately 110,577. But in the three years that I've been researching this work, the number of African American designers has decreased from 5.4% to 3.5%. That deficit is about 16,150 designers just gone. Now this disparity reveals a challenge and an opportunity for designers, business professionals, and educators to address. Now in 2013, Antoinette Carroll, who was working in the Diversity and Inclusion space, she reached out to AIGA about the lack of diversity in the design industry and she asked what could AIGA do as an organization to better discuss the issues? In 2014 at the leadership retreat, several chapter leaders came together to discuss how AIGA needed to lead the national movement around the lack of diversity in the design industry. Now, after learning of the interest in the chapters, the AIGA and Diversity and Inclusion Task Force, with Antoinette Carroll as our founding chair, our mission is to encourage diversity in design education, discourse, and practice to strengthen and expand the relevance of design in the areas of society. Our goals are to celebrate, cultivate, and connect. The Diversity and Inclusion Task Force Initiative it joins other key organization priorities for the design industry including Women Lead, In-house Design iNitiative, Design for Democracy, and Design for Good. Now, since 1989, AIGA has been dedicated to diversity. The main catalyst for the task force effort was an article delivered at a summit called Why is Graphic Design 93% White? Now in the beginning of the task force history, they focused primarily on racial diversity. But over time and under new leadership, the definition has been expanded to include other identities and ultimately focus on the importance of diversity and inclusion. Now on Saturday, December 12th in 2015, the AIGA Diversity and Inclusion Task Force members, we met in Chicago to connect and participate in team building activities and to have discussions to develop sustainable strategic plans for the future. The current initiatives from the meet-up are shown here. Today, I want to ask you to take the first step with me. If everyone could take out their cell phones. Come on, come on, come on, quickly, quick. I want you to Tweet, Facebook, Instagram, whatever, using the hastag #icanimpactdesign and I want you to tell me one thing you can do to impact diversity and inclusion in this industry. If you're not sure, it's okay, because it's a great question to kind of live in for some time. Now, I can't stand here and lie you to and say this is going to be easy and that there isn't a ton of work to do and that it won't be challenging. But what I will say is that when it's done, we will have an industry that reflects the demographics of this country and that includes all of our creative talents and abilities. Designers, we have to use our problem-solving skills to create a more inclusive industry and not after the next project, not sometime later. The time is now. We cannot wait for another tomorrow. Now, I honestly believe we have the power to diversify and change the monolithic culture of this industry because designers are leaders, we're activists, and we're innovators. Won't you join me in taking the next step? Thank you. (audience applauding)
Ratings and Reviews
Debbie Millman is a fantastic speaker and I found her to be inspiring in a fresh way!
Student Work