How to Create Collage Paper
Andrea Chebeleu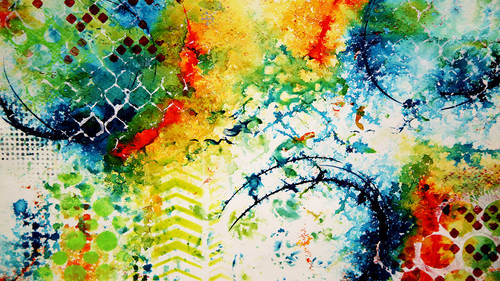 How to Create Collage Paper
Andrea Chebeleu
Class Description
Make your next craft project truly unique by incorporating collage paper made by hand. Learn the tricks and techniques for building artfully layered projects in How to Create Collage Paper with Andrea Chebeleu.

Andrea once made a living selling customized scrapbooks – now she dabbles in a whole range of hands-on art thanks to her flourishing studio, A Work of Heart. In this class, she'll share her love of making as she shows you how to make your own collage paper. You'll learn how to:  
Mix and layer colors effectively
Select the best materials for your project
Hand paint, stamp, and stencil papers
You'll learn about how handmade collage paper can be used as a foundation for a larger collage piece or torn into strips to be used as elements in mixed-media sculpture.
If you want to add a new level of customization to your art pieces or simply have fun creating a versatile craft project – How to Create Collage Paper with Andrea Chebeleu is the perfect class for you.
Class Materials
Single Sheet Mini Book Guide.pdf
Ratings and Reviews
As a proud father looking for ways to share good times with my kids, I'm glad to have found this course. I have tons of ideas that I can now capture on paper using a variety of tools. My plan is to take some time on Sundays to do only ART with my kiddos, especially on cold Winter days. The class is very informative, particularly in the items to get. Since this is new to me, I would not have any clue on what to buy, but Andrea gives you the ins and outs of what works and what doesn't ... a really good time/money saver. I highly recommend this course. Thanks CreativeLive !! You guys are awesome.
Wow, that was SO much fun! Lots of wonderful techniques I hadn't tried before.
This is a great beginner course and is loaded with creative and simple ideas. I love the fact that Andrea doesn't waste anything! She makes great suggestions for reusing items that would normally end up in the trash and she shows you simple ways to cut corners on your crafting supplies. This is about making collage paper, not a final work of art. I can't wait to get started trying out her ideas.
Student Work