Rounded Corners
Daniel Walter Scott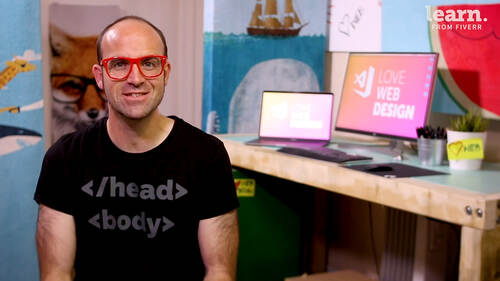 Rounded Corners
Daniel Walter Scott
Lesson Info
56. Rounded Corners
Lesson Info
Rounded Corners
Hi everyone. This video is going to be all about radius is around the corners of buttons but we'll do it two images and we'll do it to div tags as well. We'll do big ugly radius is like this and nice, simple ones like this. Nice and small plus we'll do random ones like this or this or this. You get the idea rounded corners in this video is like four minutes long but really just add border radius to your buttons and you'll be done. But if you want the full load down, let's watch to the end. Alright. To add little rounded corners to the edges of our button or div tags or any sort of box. Okay, super easy and obvious code. We're going to find my button and we're gonna say you have a border border Radius of whatever you want. I'm gonna use pixels and I'm going to say I want it to be two pixels and that will do all four corners. Okay, so let's have a little look and look. We've got a little rounded corners. Let's make them a bit more obvious. Just so you can see 12 giant rounded corners. Ok...
ay, so you can do individual corners. Okay, so I'll show you a couple of things to do with border radius while we're here. First of all, it doesn't matter what you apply it to. As long as it's a box and it's got edges. Let's have a look at what we got these cards cards, 12 and three. They will work Cats 1, 2 and three. You paste it's got one rounded corners. This image a little bit weirder. Okay, it's in a box. Okay, but it is like if I do it to hear a box to which is the box he sits in or as you're here box to Okay, if I do it to this, it's not gonna work the boxes, but then there's this image inside of the box so what we need to do is say where will say if there's an image efforts inside of hero box too then so you actually applied to the image and the only reason I'm making it a compound classes just because I don't want to do it to all images on the document. Okay, you might like that image inside of Harry box too, all images gearbox to is he in here a box to am I just making up names and stuff. Oh yeah, it's going to be a hero too. That's good. Harry box too. There we go. Cool. So that is, it could be anything you get the idea right? And the other thing you can do with border radius is we've just done it for all four corners like we did with petting okay, you can use either one which does them all to which does lift top and bottom left and right, Okay, so I could do 12 and let's say three okay or zero, let's do zero for the top and bottom. So you've got the first one, you get what I mean, how to explain top left is the first Okay then this one gets skipped. So you get it. I'm not gonna explain it, that's what that does. And if you want to do four, Okay. So it's gonna go start on the top left, go round. The next one is going to be three or six even and then the next one is going to be 100. Okay. And it's going to go through all of these. Now. What ends up happening for 100 is that's not actually 100 pixels. It goes as far as it can. Okay so that's as far as it can. It could be 1000. It wouldn't matter. So you can use that to your advantage. Okay. I can just make them all 1000. Okay, pixels and it gives you that kind of pill shaped box because it's it just tries to fit it out until it goes into a circle and then can't go any further. Okay, so you can do kind of neat tricks with it. Okay. You might go zero pixels 1000 and 1000 and then zero. Is that all right? Here you go. Okay. You can do interesting little shapes okay with it. Um You get the idea though, I'm going to put into pixels because I just want this like real subtle like little edge on it and that is border radius my friends. Nice and easy but I've stretched it out for a few minutes. Let's get on to the next video.
Ratings and Reviews
Great tutorial - your clear instructions and concise explanations make learning HTML5 & CSS3 a breeze!
Student Work