Pre-Visualizing Your Final Image
Jared Platt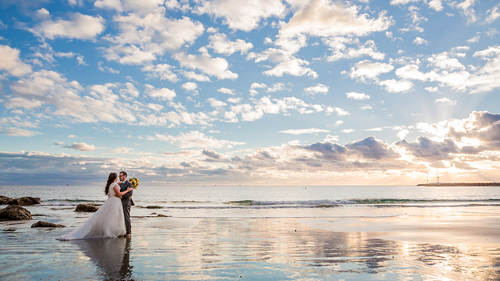 Pre-Visualizing Your Final Image
Jared Platt
Lesson Info
4. Pre-Visualizing Your Final Image
Lesson Info
Pre-Visualizing Your Final Image
Here's a shot that I want to take, but oops, I left my flash at home. Now, what are the important things in the shot? This is where you start to pre visualize what the final image is supposed to look like before you take the picture. Because what the history Graham is supposed to look like? That depends on what you want your print toe look like, right, if I want tohave those clouds in the shot than I'd better not overexpose it like this, right? So if I overexpose it so that she is perfectly exposed like that's good exposure on her skin, that's a great exposure for a skin. But now the clouds are gone. But if I want the clouds, then I've got a problem with her face. Now can I brighten up her face from that dark and make it look OK? Kind of like I can take any shot, especially one that if you look up here in the history Ram, see how that pile right there of that yellow guess where that yellow is her dress and a little bit stuff here in in the in the green. So that's that's where she is ri...
ght now. Can I take her and over, expose her and make her look just like the image that I was shooting that was too bright? Absolutely. I can. But what's the problem with it? What happens? I lose my clouds. But I also get noise. So I'm gonna get noise inside the shadows, and that's going to get worse and worse and worse. See that noise that's cropping up? So I get noise and shadows because And this is the rule that you need to follow if you are in doubt or if you want the best file possible, overexposed over exposed. Now that there's a caveat with that, you were about to ask that, like, which way do you go? Do you under expose you overexpose? I was gonna ask if you believe in the exposing exposure to the right to take a technique with modern cameras. Since technology is evolving so fast and everything looks so good, I don't know, like the whole range of the history Ram. Do you still believe that that's a valid technique to shoot for? Absolutely. Because here's the thing is that your your camera sensor is receiving light and the light that's coming in. The energy that's coming in through the lens is the energy that creates the image. It's what's electrifying the chip and telling it record X amount of information. And so, if you take a photograph of this room and there's people with black shirts on and people with white shirts on the white shirts are reflecting most of the energy. And so the energy hitting that sector on the on the sensor and the chip is receiving a lot of of external energy, right, Whereas the Blackshirts here there's very little light coming forward and hitting the chip. And because there's little light hitting those sensors, the sensors have to provide their own energy, and they have to kind of manufacture what's going on in the black because there's not a lot of light. There's not a lot of external energy hitting that's the chip. And so there's more data in the brighter areas on a chip. There's less data in the shadows now, as cameras get better and better, the shadows will have less and less noise. And someday we'll have so little noise in the shadows that it's just beautiful and it doesn't matter anymore, but we're not there yet. Shadows are still noisy, highlights or beautiful. So if I have a choice and I can still protect my highlights, but I can over expose, I'm going to do that. So I'm gonna push and push my file to the right as far as I can, without overexposing the critical highlights Hair, bald heads, white shirts, things like that. If there's a window that there's nothing out there that I care about, I'll let that blow. And that will give me better detail in the shadows inside the house. All right, so in this case, I have that choice. I don't want to create extra noise in my shadows. I want the best file possible. So I need this expose brighter than this. But I don't want to expose so bright that I lose my clouds, so I have to find that happy medium. So we're gonna go into the file on this shot here on, and I have a lot of files in here to show you, but there we go. Ok, so I am looking at this file first, which is number 8 75 Let me make sure I'm on that There we go. OK, so let's look at this. These two files in connection with each other. Now, when this one seems very under exposed inside of light room and there's very little clipping, there's like two little dots of red up in the clouds. But if you look on the camera, there's actually quite a bit of exposure. Highlights blinking. See that? So I've learned. I've said, Oh, I know that I can still push this a little further so I can get a little bit more out of this than what I'm getting here, right? So I can I can deal with that. But if I go to the next one and over expose it this way, I know I can't recover that sky. That's just from getting to know my camera. I know that that's too much clipping. I cannot recover it. So if I tried to recover it, I would get something like this. So if you go in here and you take that and you bring it down, see how it recovers most of the clouds, But then watch that See, that's the tail tail sign when you come down and it doesn't slowly go away and it just goes, Think, you know that even though it got rid of them, Look at this. It's just a flat, white nothing. It's just ugly. So at that point, you are better off going to there and at least let it transition into that nothingness. So it's a problem, so I don't want to be in that situation. So in said, what I've done is I've gone to this situation here, which is basically I take this exposure. Remember how we have that exposure? It's too dark, but I've captured my highlights. But I can go in and brighten up my shadows. See that And I can take my highlights up, and I can work on her until she looks right. The problem is that now I'm overexposing my sky, right. So then what happens is you go in and you grab a radial filter. Remember, this is if you don't have flashes. I forgot my flashes or I'm just taking a picture of my kid and I wanted to look the best. I'm going to do my absolute best. Don't overexpose it under expose it just enough in order to make sure that your highlights aren't blowing, and then you have to work on it. Post. So then what I'm gonna do is I'm gonna take and a radial filter, and I'm going to go in, and I'm going to tell it to take the exposure back down to where it waas and I'm just gonna circle around her. See that? So you get the idea of where we're going, and in the end, I don't want to spend too much time on it because we've got other places to go. But in the end, it's gonna look like this, and the way it looks like that is simply when you're in the develop module and you have your radial filter. So I'm gonna go into my radio filter and you can see that that mask that I've created, I also painted in and out her face and her legs and things like that. So when you're in the radio filter of you circle around something and make everything else darker, then you can go into the radio filter and hit the brush tool not up here. So we're not going to the brush itself. We're doing the brush section of the radio filter and at the bottom. You can continue to paint mawr or you can erase out. So then what you would do is you take your tablet and you would just come in here. And if I wanted to paint in and out her legs or something like that, see how there's a little bit of red there? So then I would just erase out here and get rid of the mask on. That's hitting her dress so that it's a really accurate edge like this. I'm just painting out all of that mask so that then when we zoom back out and turn off the mask, the burn goes all the way up right to her dress and stops. And then she's bright. Does that make sense? Okay, so it takes postproduction on some images when you're exposing them correctly because a correctly exposed image doesn't look perfect in the camera. It looks perfect on the print in finality. When you're at the print level and you're printing it out where you're exporting it to Facebook or whatever you're gonna do, that's when it has to look perfect, which means you have to be good at capturing the data. All right, so now. The same thing's true, though. If I go into, um, a situation for, uh, let's say with a flash. So let's go to the same situation here and look at that same girl out there. But now I have a flash. This this situation is different because now I actually have her lit right, So I have lighting on her, so I don't have to worry about her as much, but I still have to worry about the trees and the clouds being in control. So whenever I am going out to photograph, the first thing I do is try and get the right exposure for the background. I'm going to get the exposure for the background. Then you'll add the light in to kind of augment the person that's in front. So when you do that, you're gonna figure out what your exposure in this case in order to get the right exposure for the background. I'm a 2/100 of a second and F 56 at eso 50 which gives me the perfect ability to get the shadows of the trees and the highlights of the clouds within the hissed a gram. Then it doesn't matter what she looks like. Just add the flash. And now she's gonna look OK or great, depending on how well you do with your flash. All right. Okay, so now let's talk a little bit more about, um, A like, for instance, here's a really good situation. It's difficult. Eso I'm outside, I'm photographing and bright, bright sunlight. So what are the important elements here that have to be under control? I have to have the hat under control. I have to have the clouds or the sky under control. I don't just want white. I want kind of a nice texture to it. So there's blue and there's kind of a cloudy looking day. But then she's under control. And then right here, that white area of her shirt that needs to be under control. So I'm paying attention to the hissed a gram to make sure you can see that the history rams going up and then it falls down before it hits the right hand side guy. All right, all right. So now that we understand that concept, everybody understand that concept of the history ram and checking things, By the way, when you're looking inside of light room. If you want to understand what the history Ram is showing you, you can also go into the crop tool. And if I just cropped like right under her grey hat, just a tiny little crop like this. See the history, Graham. So now I know exactly what that history am looks like on her hat, so I can also grab it and I can move it down to say her shirt and now say that it's all in the white and then I can move it over to like this pink guitar. You see where the red is now? So if you want to understand what the hissed a gram is telling you, just simply use your crop tool, and that will help you to find what what the history am looks like so that when you're on your camera, you can actually look at it.
Ratings and Reviews
Jared provides very clear, very specific suggestions on how to make the best use of your camera's histogram. The only suggestion that I have to improve the class would be for him to talk about the basics of the histogram first: what it is, what it shows, how it works. He gets there, but you have to wait for it. Overall, a useful class about an important photographic tool. Jared's photos do an excellent job of illustrating his points.
Finally I found a class focused on understanding and explaining Exposure. With so many examples and visual aids, Jared does an excellent job of conveying his ideas and concepts. This class absolutely filled in the gaps of my understanding on how to correctly compensate the camera's exposure settings to achieve great pictures. He also is an awesome instructor. I rate the course 100%. Not an expensive course either.
Great class! Very clear and straight to the point. There is a lot of incorrect information related to histograms out there, but Jared explained perfectly! I recommend doing the assignment he suggests with your own images (third lesson), this really helped me to understand what my camera´s "proper exposure" is. A real game changer! Thanks!
Student Work