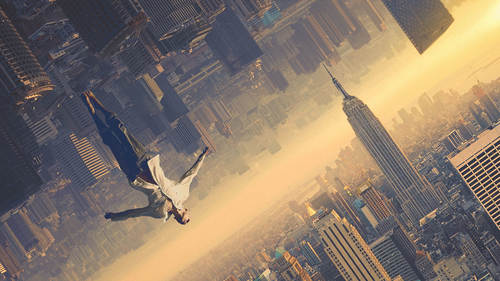 Lesson Info
14. Face Swap
Lesson Info
Face Swap
Does anyone know who that is? Yeah, that's a good friend of mine, Colin Smith, who runs a website called PhotoshopCAFE, and I showed up yesterday, and someone said, hey, did you see Colin's class at Creative Live? And I said, no, they said, oh, he was making fun of you. And I said, really? (laughs) And we're really good friends, by the way, so this is not bad. So I was like, so I figured that I would use a technique that you guys could use on your own photography, but at the same time make a little fun of my friend. So, why don't we do that. So that's my friend, Colin Smith, and, you know, he needs a new Facebook profile picture, right? 'Cause, you know, he needs to make new friends. So I figure that, you know, that would be a good body to put him in. So how could I make a face swap? Now obviously I'm being silly here, but you may be taking, you know, photo portrait shots, and there's multiple people and in one shot somebody's face is not, you know, their eyes are closed or something. ...
You still might wanna do a face swap from a different photo or their face is good, but not everybody else's. So, I'm being silly, but just pay attention of how this technique could be used for something that you use in your real life, and it also, it will point to the fact that I like using Photoshop tools to do things that are not meant to do. So I'm gonna use a tool that's meant for panorama photos, but in this case we're gonna use it for a face swap. So, what I'm gonna do is click on this layer, which is Colin's face and I need to transform it and sort of make it the same size as the face that the model has and I'm gonna rotate it a little bit just to match it. And I'm just tryin' to make sure that the mouth, the eyes, you know, the main facial features match. And that seems to be about right, more or less. I'm not 100% accurate, but that's okay. Then I'm gonna bring the opacity back up. Then I'm going to use the lasso tool, and I'm just going to select Colin's face. There it is. And maybe I'll, I'm holding ALT by the way. ALT and drawing to remove that area of the selection. Holding shift to add to the selection. So I'm basically trying to get just sort of a mask of his face. Just the outline of his face, not the rest of his head. Then I'm gonna create a layer mask, by clicking on this icon and then I'll make sure that it matches the model just a little bit better, like so. And I don't think I need to rotate it. I just gotta make sure that none of the pixels of his hair are covering his face. So I'm just gonna fill with black on that layer just to reveal the hair. Now, I'm gonna make this into, I'm going to apply the layer mask, which means that the layer mask is removed and now I actually deleted those pixels. Usually I don't like doing that, but for this example that's okay. Then I'm going to ALT control, command on the Mac and click on the layer that has Colin's face to make a selection. When you click on a layer thumbnail, holding control, you load the active pixels. Now I'm going to contract that selection. I'm gonna bring it in. So I'm gonna go into select, modify, contract. The number will vary, depending on the size of the image. I'm gonna contract it by five pixels. As long as you contract the selections that you have just some detail outside of the selection of the original face, you'll be good. Then I'm going to disable this layer. Going to the model layer there and just hit the delete key. So now we deleted the original face. We have transparency and we have this layer here. There it is. Then I can select both layers, go into edit, auto-blend layers. This feature is usually used to blend in panoramas. So when you're blending panoramas, you're trying to match luminosity and the pixels and all of that. What I'm gonna do is use this feature to match the skin tone of the model to Colin's face and let Photoshop do all the hard work and I'm not gonna do any of the hard work, and then press okay. And there it is. We have Colin's new profile picture for Facebook. So again, I'm being silly here, but you can use this technique, you know, like on, as I said, if you're shooting a group of people and somebody's face is not the right way and maybe the lighting changed just a bit, you don't have to match the lighting yourself, you can let Photoshop match the lighting for you, and that's Colin Smith from PhotoshopCAFE, a good friend. Subscribe to his YouTube channel. He's got some really good stuff on there. He's written 20 books, I don't know how he has that kind of time, 20 books on Photoshop.
Ratings and Reviews
There are but a scant few who really know Photoshop well enough that are able to teach it with a comfortable flow, thoroughness and a pleasant personality. Jesus hits all the marks and I must say, I enjoy... and more importantly, learn more from him than most of the others. It's a pleasure learning from him. Thanks! (I watched 3 times in a row today LOL)
Absolutely loved this concise and useful course! This was the first time I've heard Jesús teach and I really enjoyed his teaching style. He gets right to the point, no fluff or filler, is easy-going. The tips he teaches in this course are great! I've been using photoshop for ten years and I learned something new in each section. Money well spent!! I can hardly wait to check out his other courses!!!
Amazing! Really cool stuff explained quite well. Loved it!
Student Work