Determine Your Big Audacious Revenue Goal
Megan Auman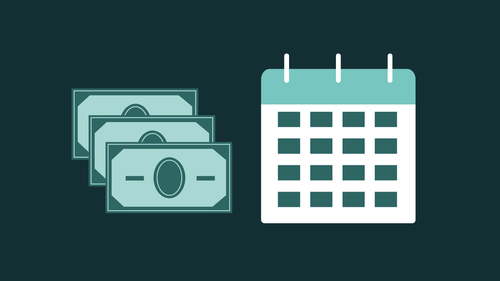 Determine Your Big Audacious Revenue Goal
Megan Auman
Lesson Info
2. Determine Your Big Audacious Revenue Goal
Lesson Info
Determine Your Big Audacious Revenue Goal
But first, I want you to determine your big, audacious revenue goal. This is your eventual goal, and this comes from there's, a book called good to great, and in that book what they look at is the companies that kind of make this leap from being a good company to a great company. One of the things that drives them is they set what he calls a big, hairy, audacious goal it's a lot of words, so we're going to call your big, audacious revenue books. I think the most important things here are big and audacious, right? We wantto be out there and kind of brave with our revenue goals. Now that revenue goal your big, audacious revenue goal it's not going to be your goal for this year most likely there's that gap right between where you are and where you want to be. So it might be your goal for two years from now, maybe a role for ten years, maybe roll twenty years. I personally am a minute for the long haul. I'm in my business for the long term and so I can set goals pretty far in the future, b...
ut it's probably not this year, but you want to know where you want to go eventually there is no wrong answer. Everyone's business has different goals. First of all, we live in different places I haven't a live someplace where the cost of living is very cheap, there are other trade off, then make it not the most desirable place live, but it's cheap. A lot of people in our studio audience live in places that are a little bit more expensive or four to five times more where I live, so you might have a very different goal. There is no right or wrong answer here, you have to think about what makes sense for you. Now the more you say your number less scary, it sounds so some of you may have tuned in to my previous class raise your perceived value, and in that class, you'll notice that I kept talking about my four hundred dollars boots that was intentional because I wanted to warm you guys up to a number that was higher than what a lot of you were thinking about pricing your products because the more you heard me say four hundred dollars, the more reasonable that number seemed, so I wasn't just bragging about my shoes. There was actually a strategy there that I just didn't tell you at the time. So the more you say your number, the less scary it sounds in, the more normal it sounds, so I'm actually going to make you guys. Commit pretty early in the game I told you I was going to push you right away right? And so you couldn't think about your big audacious revenue goal in two ways. How much money do you want the business to make annually or how much money do you want to make annually and ultimately for this one I want to talk about the business because that's the actual revenue goal but you do want to think about how much money you want to make because what you take home for your business is going to be a smaller percentage than the revenue. So keep in mind that if you want to make if you want to get paid fifty thousand dollars your revenue goal for your business maybe one hundred or two hundred or even three hundred thousand dollars depending on the cost operate your business where you are and the profit margin on your products so just keep that in mind as you're thinking about your goal that if you're like meghan my big audacious school is fifty thousand dollars that's not what you're taking home right? So again there's no wrong answer but make sure you think about that the business needs to make more than what you want to make so before we move on to actually figure out we've got our big audacious school we're now we're going to a revenue playing for this year I want to answer a question that has been coming up and this actually came up in our private facebook groups, so if you are a sleepy for this class, you enjoying our private make a living selling what you make facebook group it's a community that formed around my boot camp here creative live over fourteen hundred makers it's a great place to connect and ask questions with your peers and I'm in there answering questions as well, and so this question came up in our facebook group, which is when do I start paying myself? And before we deal with any kind of revenue planning, I want to address this off the top so that it's not nagging you, I want you to get in the habit of paying yourself from the beginning, even if it's small don't wait to pay yourself and this is where if you can, you want to automate. So I'm gonna pick on tiffany for a second because tiffany asked me something yesterday, so you feel like you're kind of stuck in this hamster real place in your business right where you want to make some big shifts, but you're worried about losing the day to day revenue while you make those changes and my answer to tiffany and this is something that I would recommend to all of you is that the best way to give yourself the room to get unstuck is to automate money into savings I realize that this is like super basic personal finance one o one but so many people don't do it that I want to preach to the like preached all of you right now because it is one of the smartest things that I ever did for my business because it means that you're not panicked all the time when you've got that buffer and this is something that you could super automaton so I use an online savings account the interest rates are a little bit higher but it's you keep your money liquid, you can get back to it at any time and I haven't set up so that it takes a certain amount of money every week it doesn't even have to be big I think even as the cost of a cup of coffee or a lot, but start sending money from your business account if you don't even if you're not paying yourself even if you've got another salary or day job or something that's supporting you send a little bit of money to savings every week if you do it every week, you'll never miss it and that starts to build up really quickly. I also use the second method with savings, which is if my business bank account gets above a certain amount I move all of that into my name is account so I'm doing little automated and then big chunks when it makes sense so it builds it a little bit faster but get in the habit of paying yourself and saving right from the beginning because that's what kind of gives you that cushion if you have to make changes and it's also just rewarding so the other thing that you can dio is definitely automate to savings but if you make a great sale don't feel guilty about moving the money into your personal bank account actually paying yourself right from the beginning because at some point you're going to get burned out doing lots of work and never seeing the reward for yourself. So the answer there's no flat percentage there's no magic number but even if it's small do it from the beginning and automate where you can so I wanted to address that right up front so we're all clear that we're paying ourselves now how big is the gap between where you are and your big audacious revenue goal? So this is where you want to look at how much money you made last year if it's a factor and again if it's a factor, how fast did you grow from the year before and how fast do you want to grow and and if you don't have sales data yet, don't worry about it we're not using this to set this year's revenue goal it's just something I want you to keep in your mind so that you couldn't answer the question of how long do you think it'll take to hit your big, audacious revenue goal? You know, so for me, I wanna run that half a million dollar business, but I don't feel like I need to get there in the next three years. I actually want to focus on slow, sustainable growth, so don't burn my business out so you can decide how long you think you want or need to get there, make sense. All right, so then now we have this kind of gap between how much money do you want to make versus how much money can you make? And one of the things that I noticed a couple people mentioned in our kind of fears section is that no, I'm on at sea and I feel very controlled and like at the whim of etc and so one of the things that we're going to talk about is kind of how to get off of that and put yourself in the driver's seat of your revenue. So it's a very different way of thinking about it not I'm waiting for sales, but I'm driving the revenue and that's why this revenue planning strategy is so important
Class Materials
MALSWYM Private Facebook Group Invite
Set Your Income Goals Class Workbook
Ratings and Reviews
This was the best class I've taken regarding revenue growth! I've even taken "entrepreneurship" courses and this class was excellent: Megan makes the information palatable, the exercises are simple and she answers every question with ease and aplomb. If I could, I'd give it FOUR thumbs up. Thank you, Megan; I feel like I can take on any goal now with skill.
This was an AMAZING class! Watched twice today and needed to. So much to absorb but oh so worthy! Great way to start the year...can't wait to create my promotion calendar and move my business forward. Thanks @meganauman and Creative Live! Katherine Carey www.katherinecarey.com
Very valuable 2.5 hours. I appreciate that Megan took her experience and expertise and approached the audience with a lot of respect: condensing a wealth of knowledge into logical and actionable steps. Presenting one's passion is a skill in itself, and it's refreshing to see a speaker so eloquent in their messaging. Have your pen and paper ready, because this course is rich with valuable information. Thank you, Megan!
Student Work