Start, Grow and Scale Your Business on the Shopify Platform
Tara McMullin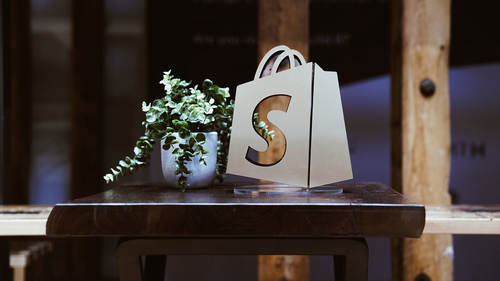 Start, Grow and Scale Your Business on the Shopify Platform
Tara McMullin
Lessons
Class Description
YOU WILL LEARN:

How the Shopify platform can help you get your online business started.

How to grow and scale your business on the Shopify platform.

Recommendations and inspiration from other small business owners who've been there.

Expert tips to prepare for Black Friday, Cyber Monday, and the holiday season.
ABOUT SHOPIFY x CREATIVELIVE EVENT:

A live virtual event hosted by Tara McMullin, featuring a panel of Shopify experts and small business owners. Listen to their stories of struggle, hustle and success, learn useful tips and tricks and get your own questions answered via live chat.
WHO THIS EVENT IS FOR:
Curious creators who have questions about online business and the Shopify platform


Aspiring entrepreneurs looking to start their online business


Business owners and entrepreneurs who want to pivot their business online


Existing online business owners who want to grow and scale their business

ABOUT YOUR HOST + SPECIAL GUESTS:

CreativeLive: Tara McMullin, Entrepreneur/Podcast host @ What Works
While you might know her better as Tara Gentile, Tara McMullin is the founder of CoCommercial, a digital small business community for entrepreneurs serious about making money, impacting their communities, and transforming the lives of those they love. She's also the host of Profit. Power. Pursuit., a podcast that takes you behind the scenes of successful small businesses. Entrepreneur named it one of 24 top women-hosted podcasts for business owners.

She's the creator of Quiet Power Strategy®, a business design system that helps you break through the inevitable earning plateau, and a bestselling Money & Life instructor on CreativeLive. Tara's work has been featured in Fast Company, Inc, DailyWorth, Forbes, and The Huffington Post.

Shopify: Cynthia Loiselle-Séguin, Global GO Program Manager @ Shopify
Cynthia is one of Shopify's jill-of-all-trades. She loves getting hands-on with our Merchants as they launch and grow their businesses, helping them with product related questions along with business strategy and commerce-related topics on all levels. Cynthia's role at Shopify has her working across regions in Canada, the US, and beyond - all with a focus on enabling entrepreneurs through our Partnership ecosystem.  She has helped thousands of merchants begin their journey on Shopify. 

Cynthia began her career in the marketing space and has 20+ years of experience in hospitality, retail, tech, and more, including being recognized as a leading wedding and event expert, having been published in a number of wedding publications. She has hustled her way through her own entrepreneurial journeys, falling a few times but always getting up stronger.  She has been with Shopify for 5+ years and loves getting up in the morning to empower Merchants of all shapes and sizes.

Agency: Chad Fisher, Founder/CEO @ Ambaum
Born in Burien, Chad fell in love with e-commerce, Shopify, and software ever since he left Corporate America. Chad is the CEO and founder of Ambaum, a Shopify Plus Partner that provides development support for more than thirty Shopify merchants. Chad is also a sports fan, avid reader, runner and enjoys spending time with his wife and two awesome daughters.

Merchant: Ashley Johnson, Founder @ Mahalo Eyewear
After researching the eyewear industry Ashley Mariko Johnson found that most eyewear was designed to fit a slender Caucasian face shape leaving out millions of women.  She launched Mohala Eyewear in Dec. 2017 with the goal of creating various nose bridges, widths, and adjustable frames to create a perfect fit for every woman.  After watching the documentary Half the Sky:  Turning Oppression into Opportunity for Women Worldwide Ashley set up a partnership with the non-profit featured in the film and one week of school is donated to the Room to Read Girls' Education Program for every pair of sunglasses sold.  Mohala Eyewear has donated over 70 years of school in 3.5 years.  Ashley was born and raised in Honolulu, Hawaii. She attended Santa Clara University earning a degree in English and a minor in Ethnic Studies.  She has 14 years of experience working in retail operations and leading teams of 1000+ employees, doing $300+ million in annual sales.
Ratings and Reviews
Student Work