Using Composite Photography to Create a Fantasy World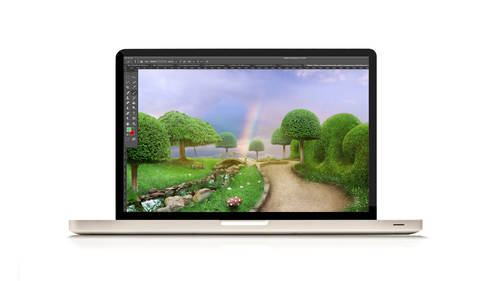 Using Composite Photography to Create a Fantasy World
Lesson Info
Setting up the Studio to Shoot with a Green Screen
Now I'm very excited because we have our beautiful Alice model that has come into the studio and we will be photographing her running after our white rabbit. So before we start though, the studio setup has changed, and we need to make sure that all of our lighting is going to work for our next scene. So you can see I've got a green screen here, or a green backdrop, and a lot of the time, I find that people are scared of green. I talk to people online about compositing, and a lot of people use gray, or black, or white, and are worried that green is going to cause a spill, it's going to cause all these problems with green spill around the edges, and they've probably experimented with it and found that that's the case, but I have some tricks up my sleeve which take all of that away, and if we do all of the steps correctly, you won't have that issue of green spill. But the benefit of using green is it makes it very easy to cut out our subjects, particularly around the hair. Now our model, ...
our Alice model, she's got very beautiful, long hair that we're going to have blowing back in the wind, and I want all of that detail. I don't want to lose that in any way, so by shooting with her against the green, it means that we can keep all of that. So the setup here is slightly different to the black, very much the same with the rim lights pointing back at our subject. So the modifiers are the strip modifiers, pointing back to give that rim light around the edge, but we've got some strobes pointed at the green screen itself, and that is to light it so that it's got an even light. If I don't light that, it's still possible to actually use the green screen, but it does mean it's harder to extract the green out. So by lighting the green, it makes it easier in Photoshop to get rid of it later on. We've still got the same fill light, the big octabox there, and that's the same. So we want to match the rabbit in regards to the light that's around the rabbit, and the light that's on the front of the rabbit, but we want to shoot so that we can cut our subject out, hence the extra lighting equipment here. So we're using five lights, now it's possible to do this with two lights, or it's possible to do this outdoors. I was talking to some of the students here over the break about lighting and sometimes it can be a little bit daunting if you haven't used strobes before, and I will go through some of the techniques, and how we can freeze motion with the strobes, but you can remember that you can do this outside. I've got a big flip out green screen, it goes from green to blue, and I can flip it out, open it up, and I can use that on location in natural light. I also use LED, they're daylight balanced continuous lights, so I can put the same modifiers on them, but they stay on. So basically they're not flashing, they just stay on, so what you see is what you get. It's like putting suns in your studio, and you can light that way as well. So if the strobes are a bit too overwhelming for you, you're not too sure how to use them, keep in mind you can do the same technique with natural light too. So consider that when we're working with the lighting.
Class Description
Karen Alsop is known for creating beautiful fantasy worlds through her unique compositing techniques in Lightroom™ and Photoshop™. Whether you're a wedding, portrait, landscape or commercial photographer, this class will show you how to create beautiful and distinctive images you can offer your clients to expand your business.  

Join us for this class, and you'll learn how to: 

Shoot with your composite in mind: lighting, posing and angles.

Choose background and subject images that will work best in the composite.

Learn Lightroom® and Photoshop® techniques to create a fantastical atmosphere.
Karen's emphasis on creativity and imagination in her process has helped her to make a product that competitors have a hard time recreating. Karen's beautiful, intricate work is not simply the result of vast technical skill, but rather is the careful integration of a number of elements. She puts subjects at ease and inspires them with artful direction; incorporates them into fantasy landscapes using 
Lightroom®
and 
Photoshop®
; and then effectively prices and markets the final product.
Software Used: Adobe Photoshop CC 2015.1.2