The Importance of Effective Communication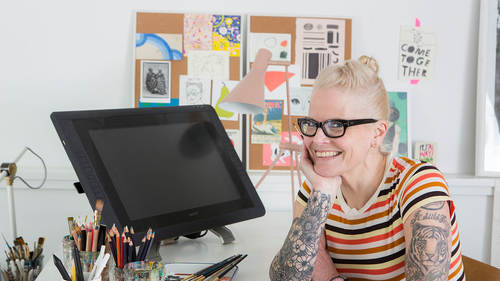 Working Successfully with Clients: A Class for Illustrators and Designers
Lesson Info
The Importance of Effective Communication
The first thing we're gonna talk about today are the basics of effective communication. I'm not gonna spend a ton of time on this because a lot of this you're gonna be like well duh but we do make a lot of mistakes when we communicate over email and we may not even realize it so it's worth mentioning all of the stuff that I'm gonna talk about in the first part of this class. Effective communication skills are at the heart of working successfully with clients. Like you could be the most talented illustrator, designer, artist in the world but if you are a poor communicator, you will struggle in your relationships with your clients. So, effective communication matters. Understanding what it means to be an effective communicator is really important. So in this class, we're gonna cover everything from deciding whether an opportunity is right for you to negotiating contracts to fees, the working process with the client and all of that involves communicating with the client and doing that in ...
a way that isn't going to disrupt your relationship in any negative way. So the basis for all of that is effective communication. So what does that mean? Before we dig into that, let's quickly review forms of communication. So as you can imagine, mostly what we're going to be talking today about is email, right, because even if you end up on the phone, even if the person contacts you through social media because they discovered your work there, most of your communication is going to be over email and that is actually the place where we make the most mistakes in communicating. So I'm gonna really spend the most time talking about that today but every principle we talk about today also applies to phone and video chat which sometimes you will, how many of you have ever gotten on the phone with a client to discuss details? Yep, it happens, it's really actually when things get complicated or there's a lot to discuss that's the place to go. Sometimes if you're lucky you'll have an in person meeting so if you work with somebody in the city where you live. I used to live in San Francisco and I was really lucky 'cause I worked or I still work with Chronicle Books who's based there and I would get to meet with my editor and art director. I would get to go to Chronicle and say "Look at color proofs for things." That doesn't happen in this day and age as often unless you live in a big city but it's great when your clients are in your city and you can have meetings with them. You also wanna pay attention to your communication manners over social media messaging systems. I highly recommend that if a client reaches out to you over social media that you quickly get that conversation onto email or over the phone but oftentimes that's where an initial outreach will happen because that's where we're posting our work and that's maybe where people discover us. I have to admit that there was a period of time where I didn't check my direct messages on Instagram from people who I didn't follow. I didn't realize how important it was and then one time I got an email from an art director at a very big company and he said "I've been trying to get ahold of you "on Instagram" and I had no idea because I was only seeing the messages from the people that I followed and I wasn't checking the messages from the people that I didn't follow and I realized how important it was. Now he thought maybe I better go email Lisa, maybe she's not checking her direct messages but it was really important for me to check them. So always check your direct messages but you also wanna get that communication over to email once you begin a conversation and then text. Again, most of the time you're not texting with your clients unless you're working on a really long term project but manners still apply, effective communication skills still apply over text and in fact in some ways they're more important because texting is like that place where we often misread how somebody is feeling, right, because we use such short sentences, so something to pay attention to. I've been using the word manners because it really is all about manners. You as I said can be the most talented illustrator, designer, artist but if you're sloppy in your communication with clients it will seriously impact the likelihood that you'll ever work with them again. You also wanna think of it as customer service. Those of you sitting here, how many of you also have like an online shop or other ways that you communicate with people, so everything I'm gonna talk about today is centered around this idea of working with a paying client but all of the stuff that I'm gonna talk about is also relevant to your online shop, your wholesale business, your relationship with a gallery, any working relationship you have, any human relationship you have in your business should use effective communication.
Class Description
Establishing yourself as a professional illustrator or designer requires a lot of dedication to building skill, brand and visibility. Equally important, yet often underestimated, is the development of client interaction skills. Working with clients takes practice! It's not easy and it's not always intuitive. Knowing how to communicate with clients clearly and effectively is a skill that will ultimately set you apart as a professional illustrator.
Fine artist, illustrator and author Lisa Congdon has worked with over 75 clients around the world, including MoMA, REI Co-op, Harvard University, Martha Stewart Living, Chronicle Books, and Random House Publishing, among many others. In this class she will share the knowledge she has acquired during her successful career, highlighting time-proven strategies for working effectively with clients. She will also discuss common mistakes to avoid when dealing with clients.
Lisa will teach you the skills you need to enter into client relationships with clarity and confidence.
In this class you will learn:
How to communicate effectively and professionally with potential clients.
What questions to ask when being approached by a potential client
What to look for in a creative brief
How to consider phases and deliverables of a project
How to consider fee negotiation.
How to read through a contract.
How to address change of project scope with a client.
And so much more...