The 4-Hour Life
Closing Thoughts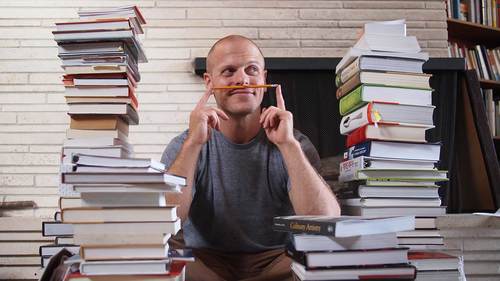 The 4-Hour Life
Closing Thoughts
Lesson Info
Closing Thoughts
We have so many wonderful people have been watching and asking questions and so we have shuffled through and come up with one final last question of the day for you and that is a question that came from mickum adela who asked when you are paralyzed with fear in life's actually came up during the being attacked in the ju jitsu but when you're paralyzed with fear in life, what advice would you give to someone to help snap you out of that fear taking stuff? Well, get the question the question that's the last question of last night's too close okay for me I'm more similar to everyone watching them, then different and custom otto, who was the most important trainer of mike tyson, mike tyson. He was at his best unbeatable, practically vomited or did vomit for every fight he was that nervous he's, afraid and custom otto said the hero and the coward feel the same thing it's how they act that makes him different and I find that precision clarity makes all things possible. So whether you're sett...
ing a goal having a clear objective, having a clear process like dis cafe, whatever it might be and uh it makes it logical unintimidating, easy to reach that goal or at least simple when you have fears afraid of this worst case scenario, bad things happening the way you get past there's just like gold setting fear setting you identify what are the worst things that could happen if I take this decision leaving this relationship changing my job, starting a company training and emma may whatever it might be second column what are the things I could do to minimize this potential? The all of these bad things could happen in excruciating detail last column one of things I could do to get back to where I am now if those worst case scenario things happened and what you realize is that in most cases there's so little to lose and so much to gain by little steps little steps and you know what I would say is that in my life people look at this kind of, you know, back self, self back patting bio that I've written for myself I'm going to write him out by andre look at this big list of things like I got this guys like to tell all this amazing stuff what they miss is most of that has happened in the last few years at all these failures conclude as bad at languages lost tons of money tried businesses, started things audiocassettes business didn't I sold one copy to my mom and I've had all those feelers and only in the last few years and I found a process for creating in our committee's lover forgetting the absolute most out of the hours you have remaining on this planet and so I want to show something you have to move too much so uh uh I don't think you get a shot of this about the author it's about the author photo has a skull down in the bottom right uh his skull that's ah it's not easter egg it's not for fun that's something called a memento mori and momentum mori's were used by artists have been for hundreds of years renaissance you name it everytime they completed a major work consumed three, four, five, ten years of their lives they would put that in the piece ofwork to remind them that they're going to die. Your time on this planet is finite and for me at least the best way to get the most out of yourself to give the most to the world is to become a world class learner to double triple your learning potential impart that to the people you know import that to your kids that's how you create really incredibly powerful creative problem solvers where that's for business whether that's for losing hundred twenty plus pounds where that that's for archery whether that's for language, whether that's for cooking where that's for creativity applied to all areas of your life so I would just say do not waste a moment that you have make the most of it and create that our committee's lover and you are better than you think, like you're insecure. So is the rest of the world. Don't forget that you're better than you think. Take this thing's you feared, like from a basketball, swimming all these six languages. Take them off the shelf, dust them off, go after them because you are better than you think, and you can conquer them. That's it!
Class Description
New York Times best-selling author Tim Ferriss, author of The 4-Hour Workweek, introduces a new holistic life strategy aired only on CreativeLive: The 4-Hour Life: Healthy, Wealthy, and Wise. This business course features the best of mind, body, and enterprise strategies that Tim Ferriss has to offer. In the footsteps of the infamous scientist/sociologist Ben Franklin, Tim presents his best lessons, principles, and hacks for becoming (and remaining) 'healthy, wealthy, and wise.' This CreativeLive course includes never-before-discussed tactics related to The 4-Hour Workweek, The 4-Hour Body, and The 4-Hour Chef. From accelerated learning to investing, The 4-Hour Life is as comprehensive as it is broad.

Reviews
Fascinating interviews. Lot's of useful tips for business and life. It's a bit of a gamble because this style of seminar does not have a clear curriculum (e.g. it's not "how to edit photographs in Photoshop"). I would say that if you have found Tim Ferris interesting and useful in the past (e.g. books, articles, talks) then you will enjoy and find this seminar useful. Try listening to the free portion and see whether it resonates with you.
I loved this class. I greatly enjoy Tim's writing and having him share and interview others on numerous topics that I'm very interested in was fascinating and fabulous.