How do I combine Microsoft Excel spreadsheet in InDesign?
Daniel Walter Scott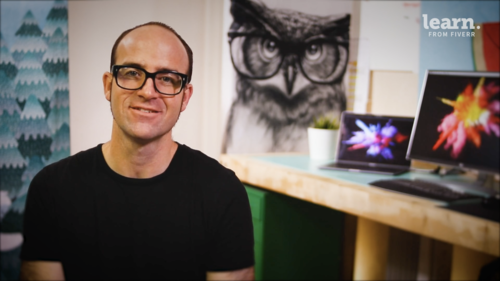 How do I combine Microsoft Excel spreadsheet in InDesign?
Daniel Walter Scott
Lesson Info
75. How do I combine Microsoft Excel spreadsheet in InDesign?
Lesson Info
How do I combine Microsoft Excel spreadsheet in InDesign?
alright in this video we're going to take this boring old Excel file with all this data in it and then make it work in in design by creating these placeholders. Okay, First name, last name company. And then generating a file that has loads of people's names in it, you can see here I met 100. Cool. So let's go and do that now in in design. Okay. So the first thing we need to do is we're going to create a little swing tags. So we're going to go to file new document. Now, the best thing to do for sizes to go down to your local stationary supply store and just figure out what the plastic little sleeve that they go into, the size it takes. Okay. I'm pretty sure they all use inches even if you're not in America Okay, four inches by three inches. But go and check just to make sure sometimes the business card size is just to take business cards. Okay. But we're going to use the 4" by 3". And in terms of this one we're gonna set the margins to zero just because I just don't need them for this c...
ase. And in terms of the bleed k we'll use our eighth of an inch. So point 125. Okay. Or three millimeters all round. Great. And I'm gonna grab my rectangle tool. I'm gonna draw a rectangle that kind of covers this bottom bit. That's where the company name is going to go and I'm going to fill it with our red. Okay, It's not part of that because it's a new document. So I'm going to click it over here. Okay. And I'm gonna make it a little bit smaller. Cool. And the next thing I want to do actually is bringing my logo file place in your 05 dot emerge. There is one called green logo. Bring him in and get them about their w Yeah, it's going to be okay. Maybe a little bit over. Cool. So now we need to connect the Excel file. The trouble is Excel won't actually connect directly. So weirdly you have to open up your Excel file in Excel. Okay. Which is not weird. I guess that's the wrong file. It's open them up. It is. We're going to start with this one here. The garden awards attendees. Okay. And that's what this file looks like. You can see there's lots and lots of data in this one, but the XLs or the sls won't work. You just need to open up an Excel or google docs, whatever you can to open it up and go to file and just do a save as. So instead of our X L S X, we're going to drop that down and go to this one that says CSP that's the one that in design can accept. Don't need to change anything else had saved already done it for us and our examples. So if I connect it now it's going to connect to the C. S. V. But not the Excel file. So let's open up our data merge panel. Let's go to window. Let's go down to utilities. Let's go to data merge and it kind of tells you what to do here. But the first one is the knave sandwich here. Okay. And we're going to click on select data source, remember you can see these ones that are great out. It won't work for these. I'm in oh five data merge and we're going to work with the garden awards attendees. Okay. And you'll see that if I jump back into excel, you can see it's brought through the the hitting names or the column names. If you don't have these go into your file and just add them to it, it's going to make life easier if you're working in design. Okay. You might have inserted row and just type them in. Cool. So you don't have to use all of these. I want first name, last name. I don't want the entry fee. I don't want their email address or entry date. I want the company name. Cool. So you can decide on what you want to have. I'm gonna move that off to the side. I'm gonna grab my type tool. Okay. And I'm going to draw a nice big type box. Okay. And there it is there. And all I need to do is my cursor flashing, I'm going to click the word first name. Put a return in on the keyboard and put in the last name. Cool, so I'm going to style these now to look like it did in the early part of this video. Okay, I'm going to move them so they're kind of centered. I'm going to highlight these guys and make them centered This one. They're both gonna be roboto. So let's go roboto and roboto. Roboto one is going to be bold. It's bold there is there? Okay, I'm gonna increase this one here. I'm going to max out the size. How big Okay, you have to look at your names list and see how many characters that person has. Okay, if you've got somebody with a really big foreign name, you might have to have a slightly smaller font. We can test, it's easy enough. Okay, select it all. I'm going to make it that green color. This guy here is going to be the light version. Now I'm just messing around designing. Okay, now it's hard to work with this first name, last name. So what we can do is see it says preview in the corner. It will pull through only the first entry from your database list. Okay, so Robin Ward not very long so it's going to fit just fine. So I'm gonna select it all and just make it a bit bigger. Here we go and hope you can cycle through them. So this arrow. Okay, I'm going to go through Robin Ward. Mark Rose, little sergio. Okay, so we've got lots of names and none of them are very long. So this is gonna work out just fine. Cool, Now this is not actually done. This is just preview it, you can turn it on and off. Okay, But it's not meant to be the finished one. We've got to kind of the last part to this to export it. This is just kind of previewing it through. So there's one more thing I need to do is my company name. So I've got nothing selected, grab my type tool, drag out a box and I'm going to click in company. Okay, I'm going to do the same thing. I'm going to center it, grab it. Some of the company names get quite long, so I'm going to have it so it's all the way across. Not that far across. Okay, I'm gonna use my eyedropper tool like we did earlier. I'm gonna grab all of this. Okay, grab my eyedropper tool steel, that one. Okay, just so I've got the Roboto thin, make it a bit smaller, maybe make the font paper hit preview. You can see some of these business names are a lot longer so I'm probably going to have to go smaller on the font slept all this. You bit smaller role fits in. Yeah, we might have to do a print as well because this is printing at 13 points. It's not gonna be tiny, but it might be maybe a little too thin to read so I'm going to go up to regular. All right. So let's have a look through a few of these. They look like they're all going to fit. Cool. So that is how you kind of connected to up. Okay. The next thing I want to do is I want to export this thing so I can um yeah, first of all gonna save it. Let's save it. And let's call this one on my desktop and my in design class files. This one is going to be called my Green at Heart Awards night Awards night Um, Tags. Okay, I'll call this one V 1. Great. So this here. Okay, is to save it. I need to turn this off. Okay, save it. Cool. So um this here is like the template. It's not gonna be you're gonna end up with two files. You got this one plus the one you generate with all the names in it and you can click this little icon here. Okay, create merged document, click on this and there's a few different options. Okay, We're just going to leave it all as standard because that's probably what you're going to need to do. Okay, let's click create. And what happens is we've got, I've got two files open at the moment. Okay, but it's generated a third. Okay. A nice little thing that appears here. No over set. Text was generated over set text is that little red cross in the corner that says the text couldn't fit. That's gonna be good. So you're doing business cards and it's for like I've done jobs for 10,000 people, had a big electrical company and You hit that button and you don't want to have to go and double check 2000 names or 10, names to see if any of the names are too long and won't fit. This is just telling you. Don't worry. All is cool. All right. The difference between this one which is my template. Okay. Which has got first name, last name like placeholders and the second one is the naming. Can you see here? Okay. It's called the one that's got a hyphen one. It's not a super like clear. But if I save this one now instead of high from one, I might give it a better name. I might call this one. I can't think of a better name. Don't call it final. Okay, remember that'll kill this job. Okay. We need to call it calling it output because I can't think of a better name at the moment, maybe it's easy just call the first one template and then the next one not template. Okay. So it's saved and what we can do is look at the pages panel which mine has disappeared. Window. Let's go to pages. Okay. And I drag it back in here. I know I dragged that out I was using it for a different project while I was making these tutorials. Okay as you can see I have a page one, page two, page three and you'll see you see all these names here. It's made a document with all of these so I'm printing in the office. I can have print obviously imprint what is it, 100 different names or I can send this to the printer now to get printed and hopefully get trimmed up and then sent back to me so I can put them into their little clear name sleeves at the welcome desk. When people arrive I got my heart set on this gala night. They'll even though I've totally just made this thing up. But anyway I'm sure it'll be the great night that my friends is that emerge
Ratings and Reviews
I think Dan is very good at explaining and breaking down complex content. I like the way there are lots of small sessions which is good for keeping focus. I would advise anyone who does this course and is taking notes to label which session the notes are referring to as I have struggled to find a few looking back and this helped me. It really made me realise how much I didn't know and had been fudging. Thank you Dan I will be taking plenty more of your courses in the coming months it's been a great help.
Excellent course, instructor is great well spoken, clear and a great teacher. I highly recommend this class for beginners and those who learned indesign on their own.
Student Work