Bridge vs. Lightroom
Ben Willmore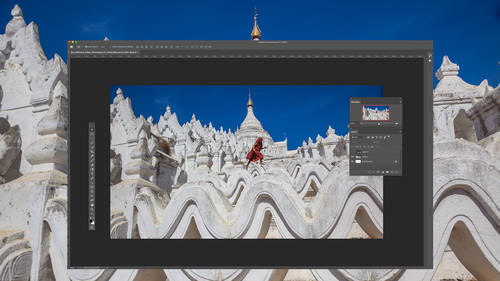 Bridge vs. Lightroom
Ben Willmore
Lesson Info
2. Bridge vs. Lightroom
Lesson Info
Bridge vs. Lightroom
So now let's get into an introduction to photo shop. This is where if you ever want toe read through a Photoshopped technique or watch a video about photo shop, that's not an absolute beginning. One. This will get you started. I'll show you how to do things like open files saved them a navigate around your document and the photo shop interface. So the main thing is, we're gonna learn the big picture before we get into the details of Photoshopped. Now, before we really open Photoshopped, though, I want to talk about where I'm gonna be viewing my images before I open them, because I'll have to be able to compare multiple images and decide which ones worth opening. And I'm going to do that in one of two programs not in photo shop itself, but in either adobe bridge or adobe Light room. Bridge comes with Photoshopped, so if you have access to photo shop, you should be able to download bridge for Free Hunt adobes website or through the creative cloud app that you used to update Photoshopped.
The second program you could use would be adobe light room in light room is different than bridge in that it's a cataloging program. Cataloguing means that if I end up viewing any images and light room, those air images that it's gonna keep track of. So even if I don't have the originals with me later on, I can still view those images and organize them. Anyway. Let's look at the difference between the two programs, so you get a sense for wind. Might I use one versus the other? So first off, Adobe Camera Raw is what we're going to use to adjust images when we first opened about and Adobe Light Room has the same functionality has adobe camera when it comes to adjusting pictures. So if you ever see me do something in a screen that I call Adobe Camera and you have light room, you could do it there instead because the names of the adjustment sliders will be identical. Then both bridge and light room convicts play the contents of a folder, and we're going to use that to preview our images so we can see nice big previews before we end up opening them. But bridges going to show files that light room would ignore, and that would be light room is only going to show you images that means photographs or things that are similar to photographs. If I use bridge, though, I can see illustrations from Adobe Illustrator. I can see page layouts from in design. I can see pdf files and other content that would be totally ignored by Adobe Light Room. And therefore, if I worked with a lot of adobe products, I might want to end up using bridge whenever I'm not viewing my photographs, and I'll use light room when I want to look at my are kind of all the photos have captured but light room catalogues your photos, and that means you're not going to just pointed out a folder and see what's there. That's what bridge does. Instead, light room. You have to import your pictures when you import him. It doesn't actually put them into light room in that it leaves them the original locations wherever you want. A storm doesn't force you to change that, but the main thing is it creates thumbnail images in large previews that its stores and a catalog file that makes it so I can disconnect the big hard drive that contains all of my images. I have one that contains over 200, images that's at home in Florida. Well, I didn't bring it with me, and I can still view all 200,000 pictures. And that's only because light room catalog those files in its stores preview images of what they look like Bridge is incapable of that bridge. Can Onley show me images that I could have active access to where the hard drive that contains the originals is attached to my computer? But that's one of the reasons why I choose to organize my images and light room, because I can view those images even when I don't have the originals with me. So light Room has the potential to completely replace two pieces of software that I'm gonna be using during this class. And that would be Adobe bridge and adobe camera raw. Any time you see me in those two programs, know that if you own light room, I might end up using it as an alternative. But any time I have non photo files or I'm working with files that are not my own, they're not files that I'm ever gonna wanna look out in the future. Instead, a friend just brought up some images, wants me to glance at him and maybe do a quick fix on them. And after that, I'm never going to want to see him again. Well, I wouldn't want those kinds of images to clutter up my light room catalogue, and therefore I would use Adobe Bridge temporarily just for those kinds of images. So just in general, if you unlike room, feel free to use it. Any time you see me in bridge or adobe camera raw and I'll show you what camera rise. Once we get onto the lesson about that, then something you should be aware of before you get into photo shop because you're going to see me doing things and photo shop that might be different than the way you accomplish things if you've already been in there a bit. So there's always more than one way of doing things in photo shop, and you don't have to know them all. Instead, you want to find the one method that you're comfortable with, and it might not be crazily inefficient because you don't want to be going too slow and Photoshopped. But the main thing is, you first find comfort, then if he only is Photoshopped every once in a while, let's say once or twice a month. Then most of the time you're going to do the manual method for things that means if there is ah, menu, you need to go to the top of your screen and choose something. You'll manually do it with your mouse. But if you use Photoshopped daily all the time, then you want to get more into efficiency. And because if you use a feature five or 10 times a day, then you're going to start concentrating unlearning keyboard shortcuts. And so all usually share it with you both. The manual method for those that are not gonna remember keyboard shortcuts. And then I'll feed you the keyboard char cut, and that will end up making it so you might want to review the videos. If you're new to photo shop the first time going through, you're just trying to get a feeling for where everything is located and you're doing everything manually. Second time through, you got used to the manual method, and then you can speed yourself up with the keyboard shortcuts. But over time The goal usually is to discover the most efficient method for doing something so you can be quick in photo shop and to find the method that gives you the highest quality. And it takes time before you can end up discovering that. So you start off with what you're comfortable with, but in the end you end up with what's best.
Class Materials
Lessons 1 - 6 - Handbook 1: Introduction to Adobe Photoshop
Lessons 7 - 12 - Handbook 2: How to Use Camera Raw
Lessons 13 - 18 - Handbook 3: Making Selections
Lessons 19 - 24 - Handbook 4: Using Layers
Lessons 25 - 30 - Handbook 5: Using Layer Masks
Lessons 31 - 38 - Handbook 6: Using Adjustment Layers
Lessons 39 - 44 - Handbook 7: Color Theory
Lessons 45 - 51 - Handbook 8: Retouching Essentials
Lessons 52 - 59 - Handbook 9: Tools Panel
Lessons 60 - 64 - Handbook 10: Layer Blending Modes
Lessons 65 - 70 - Handbook 11: How to Use Filters
Lessons 71 - 74 - Handbook 12: Advanced Masks
Lessons 75 - 81 - Handbook 13: Using Smart Objects
Lessons 82 - 86 - Handbook 14: Photography for Photoshop
Lessons 87 - 93 - Handbook 15: Advanced Photo Retouching
Lessons 94 - 98 - Handbook 16: Warp, Blend, Liquify
Lessons 99 - 105 - Handbook 17: Advanced Layers
Lessons 106 - 112 - Handbook 18: Actions
Lessons 113 - 117 - Handbook 19: Troubleshooting Issues
Practice Images 1: Introduction to Adobe Photoshop
Practice Images 2: How to Use Camera Raw
Practice Images 3: Making Selections
Practice Images 4: Using Layers
Practice Images 5: Using Layer Masks
Practice Images 6: Using Adjustment Layers
Practice Images 7: Color Theory
Practice Images 8: Retouching Essentials
Practice Images 9: Tools Panel
Practice Images 10: Layer Blending Modes
Practice Images 11: How to Use Filters
Practice Images 12: Advanced Masks
Practice Images 13: Using Smart Objects
Practice Images 14: Photography for Photoshop
Practice Images 15: Advanced Photo Retouching
Practice Images 16: Warp, Blend, Liquify
Practice Images 17: Advanced Layers
Practice Images 18: Actions
Practice Images 19: Troubleshooting Issues
Ratings and Reviews
I am an avid reader of photoshop books, and an avid watcher of photoshop tutorials. I have attended (internet) several hundred of presentations. In the course of this endeavor, I have found my own favorite photoshop websites and instructors. Creative Live is probably the bargain out there as well as among the top three internet course sites. I have to say with great enthusiasm that the best Photoshop instructor is Ben Willmore. There are many great ones, but truly, he is the best I have come across, and, as indicated above, I have watched literally 100s of tutorials on Photoshop. I have seen all of Ben's courses, I think, and among them, this one is the best by far, and that is saying a lot, because that makes this course the best course on Photoshop to be found anywhere. I am going back and watching it twice. Not only is it comprehensive, but Ben is so familiar with his subject that he is able to explain it like no other. This is crème de la crème of Photoshop classes. I have been wanting to write this review for some time because I have been so thoroughly impressed with everything about this class!
Highly recommended if you want to take your Photoshop skills to the next level. Ben Willmore is clear, concise, and professional. He also has a good speaking voice that is not distracting but also keeps you engaged. Lastly, I would recommend that as you become more advanced, increasing the speed of the video (one of the options given on the menu)...especially if you've gone through the course once before and maybe want to watch it again. The double speed is very efficient as you become more advanced in Photoshop. Thanks for the help Ben!
Wow. I cannot communicate the value of this course!! The true value in this course is how the instructor identifies workflows you'll need before you'll ever realize it, repeats important information without it becoming annoying, and explains the "why" behind the techniques so well that even if you forget the exact method, you can figure it out via the principles learned. Excellent value, excellent material, excellent instructor!!!
Student Work