How To Use Camera Raw in Adobe Photoshop 2020
Ben Willmore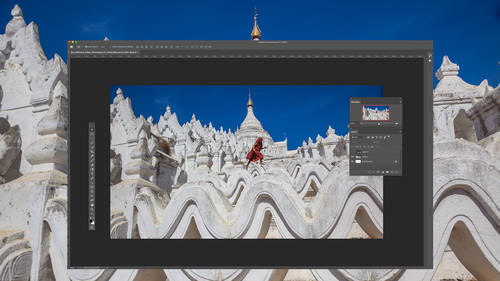 How To Use Camera Raw in Adobe Photoshop 2020
Ben Willmore
Lesson Info
7. How To Use Camera Raw in Adobe Photoshop 2020
Lesson Info
How To Use Camera Raw in Adobe Photoshop 2020
So in this session, we're going to cover Adobe camera. Raw Adobe camera is one of the most important parts of Photoshopped. In fact, it's not really even harder Photoshopped. It comes with photo shop, but it's a plug in. It's something that's used before. Your picture is actually opened where you can see all of photo shops interface. If you have a raw file and you double click on it, it automatically sends you to adobe camera. If you have a J peg or a tiff file, you can force it to go in there. But it is a one stop shop for adjusting your images and often times I can finish. I'd say 70 to 80% of my images using Onley, adobe camera raw and therefore the image never really needs to even get opened in the photo shop. What makes that nice? Well, it's one screen where I have all the controls I need, but the main thing is, when you make a change using adobe camera, it saves the changes you make. As what's known as meta data metadata is text on. Example of metadata is when you take a picture,...
the shutter speed you captured it with is attached to your picture as text. It's not part of the picture itself, it's attached to it. And that's known as metadata. Well, when I move a slider in adobe camera, it's instantly saved as text. The moment I click that I'm done, it gets saved in the file size on Lee goes up about maybe 15 kilobytes. That's about the size of a text email. Whereas if I open the same image into Photoshopped, then the file size is going to start getting big in. If I end up making changes and I want them to be non destructive where it can easily undo them later, then I have to use layers in as I do. My file size just exponentially gets larger and larger as I do that. But making changes using only Adobe camera makes it so. The file sizes state absolutely tiny, and everything happens relatively quickly. You don't the wait for progress bars to finish and things like that, so let's dive in and get started with using camera. Wrong. I'm gonna start here in bridge. That's just where I'm always gonna start to browse my pictures and the only thing I'm gonna deal here is hide the preview on the right just simply because I don't need it to hide the preview on the right. I'm gonna move my mouse to the edge of that area, the left edge, and just drag that edge all the way to the left to hide it. Then I'll bring up my thumbnail size here and we'll see some images. Now, all of these images have already been adjusted and they've been adjusted using Onley adobe camera. So I just want to show you before and after is saying see what type of transformation and image might go through as you go into camera. Because then hopefully you'll get more excited about learning how to truly understand the features that are available. So I'm gonna select all these images. I will do that by typing command A. It's the same as going to the edit menu and choosing select all. And then I'm gonna say here, opening camera rock, they'll show up this little thumbnails on the left side. That's what you get. Any time you see more than one picture in camera raw and here's what I'm gonna do, I'm going to just go near the right side of my screen where you see all these adjustments, sliders, and there's a little menu there. It looks like three little bars case you can't see it. It's right there. It's known as a hamburger menu, and I'm gonna click on it. And she's came a raw defaults that's gonna end up showing you what this image looked like right as it came out of the camera before any change had been made. So here is my original, then all type command Z controls and windows. That's just a shortcut for undo. Then therefore, you'll see the end result. And so there's what was captured. Here's how I interpret it using camera, go to another image and again I'll go to that same menu and choose Kamerad defaults. That's what my camera captured, but I wanted something different. Look at how dark those horses are. Just doesn't have that much interest in it. Afterwards, I really like the end result. A couple others just continue through them, so you get a better sense for what camera raw is capable of. So this is where your dull, boring pictures is, what you're starting with, and they're ending up looking really nice. And it's on Lee. When there's something that camera is incapable of doing that we're gonna head into photo shop for the things that it's just not capable of because it's limited in what you can do because of the way it saves its changes. Its changes are saved as metadata, which is just text. And so it's describing what was the position of a slider You moved exposure to plus two, and it just saved that in it. It's not saving a huge amount of data, so therefore it's limited in its functionality. But you can see how dramatic of changes are possible using just one screen, which is known as Adobe Camera.
Class Materials
Lessons 1 - 6 - Handbook 1: Introduction to Adobe Photoshop
Lessons 7 - 12 - Handbook 2: How to Use Camera Raw
Lessons 13 - 18 - Handbook 3: Making Selections
Lessons 19 - 24 - Handbook 4: Using Layers
Lessons 25 - 30 - Handbook 5: Using Layer Masks
Lessons 31 - 38 - Handbook 6: Using Adjustment Layers
Lessons 39 - 44 - Handbook 7: Color Theory
Lessons 45 - 51 - Handbook 8: Retouching Essentials
Lessons 52 - 59 - Handbook 9: Tools Panel
Lessons 60 - 64 - Handbook 10: Layer Blending Modes
Lessons 65 - 70 - Handbook 11: How to Use Filters
Lessons 71 - 74 - Handbook 12: Advanced Masks
Lessons 75 - 81 - Handbook 13: Using Smart Objects
Lessons 82 - 86 - Handbook 14: Photography for Photoshop
Lessons 87 - 93 - Handbook 15: Advanced Photo Retouching
Lessons 94 - 98 - Handbook 16: Warp, Blend, Liquify
Lessons 99 - 105 - Handbook 17: Advanced Layers
Lessons 106 - 112 - Handbook 18: Actions
Lessons 113 - 117 - Handbook 19: Troubleshooting Issues
Practice Images 1: Introduction to Adobe Photoshop
Practice Images 2: How to Use Camera Raw
Practice Images 3: Making Selections
Practice Images 4: Using Layers
Practice Images 5: Using Layer Masks
Practice Images 6: Using Adjustment Layers
Practice Images 7: Color Theory
Practice Images 8: Retouching Essentials
Practice Images 9: Tools Panel
Practice Images 10: Layer Blending Modes
Practice Images 11: How to Use Filters
Practice Images 12: Advanced Masks
Practice Images 13: Using Smart Objects
Practice Images 14: Photography for Photoshop
Practice Images 15: Advanced Photo Retouching
Practice Images 16: Warp, Blend, Liquify
Practice Images 17: Advanced Layers
Practice Images 18: Actions
Practice Images 19: Troubleshooting Issues
Ratings and Reviews
I am an avid reader of photoshop books, and an avid watcher of photoshop tutorials. I have attended (internet) several hundred of presentations. In the course of this endeavor, I have found my own favorite photoshop websites and instructors. Creative Live is probably the bargain out there as well as among the top three internet course sites. I have to say with great enthusiasm that the best Photoshop instructor is Ben Willmore. There are many great ones, but truly, he is the best I have come across, and, as indicated above, I have watched literally 100s of tutorials on Photoshop. I have seen all of Ben's courses, I think, and among them, this one is the best by far, and that is saying a lot, because that makes this course the best course on Photoshop to be found anywhere. I am going back and watching it twice. Not only is it comprehensive, but Ben is so familiar with his subject that he is able to explain it like no other. This is crème de la crème of Photoshop classes. I have been wanting to write this review for some time because I have been so thoroughly impressed with everything about this class!
Highly recommended if you want to take your Photoshop skills to the next level. Ben Willmore is clear, concise, and professional. He also has a good speaking voice that is not distracting but also keeps you engaged. Lastly, I would recommend that as you become more advanced, increasing the speed of the video (one of the options given on the menu)...especially if you've gone through the course once before and maybe want to watch it again. The double speed is very efficient as you become more advanced in Photoshop. Thanks for the help Ben!
Wow. I cannot communicate the value of this course!! The true value in this course is how the instructor identifies workflows you'll need before you'll ever realize it, repeats important information without it becoming annoying, and explains the "why" behind the techniques so well that even if you forget the exact method, you can figure it out via the principles learned. Excellent value, excellent material, excellent instructor!!!
Student Work