Scratch Disk Is Full
Ben Willmore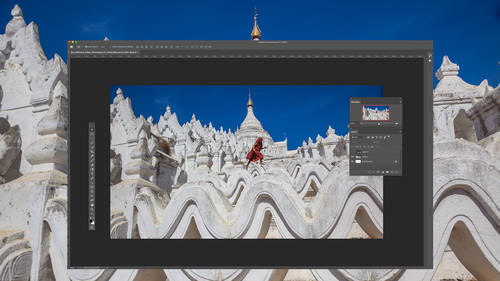 Scratch Disk Is Full
Ben Willmore
Lesson Info
117. Scratch Disk Is Full
Lesson Info
Scratch Disk Is Full
All right, then, on occasion you'll be working on a document, and you're gonna find that suddenly funder shops stops working in. What happens when you attempt to do something is whatever it is you're trying to do. It might be applying to filter. It might be moving a layer. Ah, warning will come up that says, Scratch discus full. What happens is Photoshopped needs to contain your picture in your computer's memory. Your computer only has so much memory, and if you start opening extremely complex images and you're running out of memory, you don't just don't have a huge amount of memory. Then it starts using your hard drive as a substitute for memory. And when it does, that's known as your scratch disk. Your hard drive is much slower than normal memory, so when that starts to happen, photo shop slows down, but it can still continue working. Well, you should. If you ever get that scratch, discuss full message, which I won't be ableto force to show up. It'll just happen when your hard drive ...
is close to full on. You're working on a big picture if you go to photo shop preferences performance. Actually, it's not there. It used to be, I think, uh, come on. No, scratch this. It now has its own section right here. It's going to tell you which hard drive photo shop is going to use when you start running low on memory. This is where it's going to start storing information temporarily as you work. And it's when that hard drive fills up that you're going to get a message that says you're scratches this full. I cannot complete what you asked for, where the problem is when that happens. If you attempt to save your picture, your hard drive's full and you won't be able to save your picture. So what if you did a bunch of stuff to it that took you a lot of time? And now you're tempting to save, and it says a your hard drive's full When you try to save you try to do something in photo shop, and it says your scratched trash disk is full was a few things you can do. The first thing you can do is here in your preferences on your scratch. This if you have more than one hard drive connected to your computer, then and here there'll be a list of more than one drive. I only have one drive at the moment, but if you have more than one, you could turn on the check box for the other drives that air here. You can also change the order of the list, and I would put your fastest drive at the top. Drives that are known as SSD drives will be much faster than spinning hard drives. And so if you happen to have any of those, I'd put it near the top of list. But if you always have more than one drive connected to your computer, I'd turn on the check box for the other drives. The only problem with that is this is only gonna start being used the next time you quit when you start photo shop again. So what can I do if I'm trying to save my image? And it's saying my hard drives full well, If it's saying your hard drive is full, you can go to the edit menu, and there's a choice in here. Believe it's an edit called Purge. Take me just a minute. Here it is, and under purge its listing, some of the things that it has to keep track of. That takes up memory that aren't always completely necessary. One of those things would be the clipboard. It's great out right now, because I haven't copied anything when you copy something that's stored in the clipboard. But if I had copied, let's say a huge image was a panorama really high resolution. I select all on copied and it did something with it. And now I come to this menu in clipboards available Well, if you choose it, it would clear out was on your clipboard, freeing up some memory. The other thing you could dio is purge your histories. That means don't allow me to undo what I've done. Up until now, we still have the end result sitting there. We still have the layers that it's made from, but we could clear out the undue list, which is what's found in the history panel, and that would free up a lot of memory as well. And that memory might be using up your scratched this. Therefore, it would free up some of your scratch disks, base or weaken, purge all, which is everything that's in this list and Therefore, that's one thing that could be done. If that doesn't clear up enough space where you can save your image yet, then go over to bridge in Enbridge. It'll take me in my moment to find it's not often you go here. But if you got a bridge and choose preferences, there should be an area in here called Cash in a Cash is where bridge will store a bunch of previews for the images that you've browsed recently so that if you return to the same folder again in the future, it doesn't have to inspect the images in create new previews instead already has thumb on hand. And so that means there is a file on your hard drive that's hidden from your view that bridge is using to keep track of the, um, thumbnails in the previews that it has. And if you choose this section Enbridge Preferences called cash management, Then right here is a button called Purge All Local Cache files. This means get rid of all those previews that I'm storing eso that the next time I view a folder, it's gonna have to create the previous fresh, which will make it take just a little bit longer to preview images, but it will free up a lot of space on your hard drive. You can find out how much by going up here to cash and seeing how high this number is set. The higher it is, the more space it's going to take up. The other thing I would do if he still can't save is I would simply empty the trash if you have anything in your trash or recycle Bryn when it comes to windows, Empty the trash Philip More to free up more space.
Class Materials
Lessons 1 - 6 - Handbook 1: Introduction to Adobe Photoshop
Lessons 7 - 12 - Handbook 2: How to Use Camera Raw
Lessons 13 - 18 - Handbook 3: Making Selections
Lessons 19 - 24 - Handbook 4: Using Layers
Lessons 25 - 30 - Handbook 5: Using Layer Masks
Lessons 31 - 38 - Handbook 6: Using Adjustment Layers
Lessons 39 - 44 - Handbook 7: Color Theory
Lessons 45 - 51 - Handbook 8: Retouching Essentials
Lessons 52 - 59 - Handbook 9: Tools Panel
Lessons 60 - 64 - Handbook 10: Layer Blending Modes
Lessons 65 - 70 - Handbook 11: How to Use Filters
Lessons 71 - 74 - Handbook 12: Advanced Masks
Lessons 75 - 81 - Handbook 13: Using Smart Objects
Lessons 82 - 86 - Handbook 14: Photography for Photoshop
Lessons 87 - 93 - Handbook 15: Advanced Photo Retouching
Lessons 94 - 98 - Handbook 16: Warp, Blend, Liquify
Lessons 99 - 105 - Handbook 17: Advanced Layers
Lessons 106 - 112 - Handbook 18: Actions
Lessons 113 - 117 - Handbook 19: Troubleshooting Issues
Practice Images 1: Introduction to Adobe Photoshop
Practice Images 2: How to Use Camera Raw
Practice Images 3: Making Selections
Practice Images 4: Using Layers
Practice Images 5: Using Layer Masks
Practice Images 6: Using Adjustment Layers
Practice Images 7: Color Theory
Practice Images 8: Retouching Essentials
Practice Images 9: Tools Panel
Practice Images 10: Layer Blending Modes
Practice Images 11: How to Use Filters
Practice Images 12: Advanced Masks
Practice Images 13: Using Smart Objects
Practice Images 14: Photography for Photoshop
Practice Images 15: Advanced Photo Retouching
Practice Images 16: Warp, Blend, Liquify
Practice Images 17: Advanced Layers
Practice Images 18: Actions
Practice Images 19: Troubleshooting Issues
Ratings and Reviews
I am an avid reader of photoshop books, and an avid watcher of photoshop tutorials. I have attended (internet) several hundred of presentations. In the course of this endeavor, I have found my own favorite photoshop websites and instructors. Creative Live is probably the bargain out there as well as among the top three internet course sites. I have to say with great enthusiasm that the best Photoshop instructor is Ben Willmore. There are many great ones, but truly, he is the best I have come across, and, as indicated above, I have watched literally 100s of tutorials on Photoshop. I have seen all of Ben's courses, I think, and among them, this one is the best by far, and that is saying a lot, because that makes this course the best course on Photoshop to be found anywhere. I am going back and watching it twice. Not only is it comprehensive, but Ben is so familiar with his subject that he is able to explain it like no other. This is crème de la crème of Photoshop classes. I have been wanting to write this review for some time because I have been so thoroughly impressed with everything about this class!
Highly recommended if you want to take your Photoshop skills to the next level. Ben Willmore is clear, concise, and professional. He also has a good speaking voice that is not distracting but also keeps you engaged. Lastly, I would recommend that as you become more advanced, increasing the speed of the video (one of the options given on the menu)...especially if you've gone through the course once before and maybe want to watch it again. The double speed is very efficient as you become more advanced in Photoshop. Thanks for the help Ben!
Wow. I cannot communicate the value of this course!! The true value in this course is how the instructor identifies workflows you'll need before you'll ever realize it, repeats important information without it becoming annoying, and explains the "why" behind the techniques so well that even if you forget the exact method, you can figure it out via the principles learned. Excellent value, excellent material, excellent instructor!!!
Student Work