Make a Polished Image Background
Set Design and Prop Placement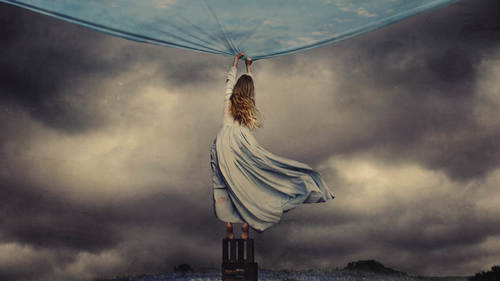 Make a Polished Image Background
Set Design and Prop Placement
Lesson Info
Set Design and Prop Placement
The next thing that you want to think about is proper placement when it comes to designing your set or even compositing. Of course, if you're compositing, you don't yet have to decide exactly where everything is going to go, because you can shoot everything separately. So if you had a teddy bear, you shoot the teddy bear separately. If you have a person, you shoot that person separately and then you choose later. But it has to be a consideration at some point how you're going to pair everything together. So in this case, we've got a number of props that we're going to use as well as wardrobe. And let's just bring everything together and see if we can create a set that's believable and also tells a story. So when I'm thinking about set design, I'm thinking about a number of things 1st 1 being the backdrop. So we've got this red backdrop up right now, and that could be a really good option for us in this case because the room that I'm going to move myself into actually has a red wall in ...
the background, so that could be perfect in terms of just dulling this down, letting this color eventually through photo shop, match the background of the scene that we're moving it to. So that's one option that we might go with. But we have, of course, these other options that we've been looking at. We have black, which might not be suitable if the wall that we're moving the subject against is going to be read and then we have white, which again, if the background is not white and yet my skin and hair is very light, that's probably not going to be a good option. And then we have Grey, which is always a decent option for photographing somebody against, because it's nice and neutral and you can often get it out pretty easily from the background. But I think that we're going to go a little bit bolder and actually choose the red backdrop for this one, and we'll see how that goes in terms of the challenges that we face with erasing the background or blending into the new background. We also have dresses and I have to make a choice now of which one I want. So like I said, we have the option of choosing a really bold color dress and then changing that color later, which is a really good option for this particular shoot, seeing as I'm not sure exactly the color that I might want yet for the final an inch so my options would be the blue or the maroon. This option would be quite nice for this image because of the fact that I'm doing a sort of Alison Wonderland type of theme, so this would be really good. However, I'm very conscious of color theory and how the different colors will play against each other in the scene. So if I have a blue dress and a red wall in the background, probably going to want to make a choice between those two. So either change the color of the blue dress or change the color of the Red wall. And that's just a personal choice. You might love those to contrast in colors, but I tend to like my images to have just one main color that will steal the focus. So because of those options that we have, I think I'm actually going to go with this dress, which is very Alison Wonderland. It's white, it's poofy. It has a childlike feel to it. You can ignore the paint. That was a mistake from the other day. And I think we're going to go with this dress. I think it's simply going to be the most neutral, the most storytelling of all of them. It has a lot of wear and tear, which I really like. And I think overall it's gonna work really well for an hour. Alison Wonderland feel so that brings me to the props. And I've got a few props here that we're going to use these being the main ones. So we've got a teddy bear, which is nice, neutral, easy. One solid color looks pretty timeless. And I've got this teacup, which is going to be really fun, because if we have an Alice in Wonderland theme, you can't go without a teacup, in my opinion. So I'm going to use this teacup and all, photographed the teacup close up and then make it look much larger in the actual picture. So the goal here is to sort of be like a broken run down little girl who's just been on this long journey, and golly, all she wants is just a cup of tea. But the teacup is much too big for her, and it's sitting on the floor, sort of on its side, rejected as I sit there like a little broken down doll. That's gonna be the final image in our room that we have to photograph with our props. So how do we place our props? First of all, I'm thinking about how is it going to look in the actual image when we finally have this composite finished? What will be the set up? I might photograph this bear, but I don't know for going to use it yet. That's going to depend on how much space we have in the room that we're moving everything into. So a photograph the bear will photograph the teacup, and my plan is to have them on either side of me, and I'll be sitting on the floor so the composition will be teddy bear person teacup. But the teacup will be much, much larger than it is right now, and that's what we're going to shoot next
Class Description
Learn how to source, put together and polish backgrounds for your images by utilizing everyday objects, set design, and compositing. Award-winning and fine art photographer Brooke Shaden, shares her secrets to creating the magic behind her subjects. Not having a big budget or a great location should never stop someone from creating images that look expensive and refined.
You'll Learn:
How to create and use bedsheets as backdrops so that your images have a painterly background.
How to effectively and inexpensively use color theory and prop placement to create a set in your own home.
How to shoot backgrounds for subjects you will composite in later, and top tricks for being able to create smooth composites.
This class has been edited in partnership with Adobe
Reviews
I started to use Photoshop just for two months now, and I just came to this fruitful tutorial from the Adobe Photoshop official page for beginner tutorials. And I can say that it was amazing. For me that had already learned the basics of software, her amazing lessons were a chance to dig even way deeper into the color theory and light/shadow/color aspects of photo editing/compositing. Besides from that, it was a real inspiration on how we can use our simplest tools and options we have even at "home" to just start building our little home-studio and start photo shooting, compositing and eventually CREATING inspiring, mesmerizing artworks. HAVE FUN CREATIVES! =)
Great, great to watch, great to listen and great to learn from, loved the instructor.
Fantastic, super helpful. I love her creativity and imagination. Her technical explanation is spot on. Thank you Brooke.