Advanced Layers in Adobe Photoshop
Blending Options: Colorize Black and White Image
Ben Willmore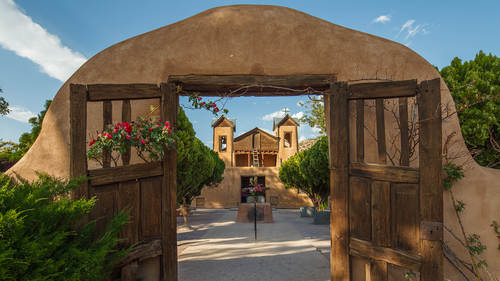 Advanced Layers in Adobe Photoshop
Ben Willmore
Get access to this class +2000 more taught by the world's top experts
24/7 access via desktop, mobile, or TV

New classes added every month

Download lessons for offline viewing

Exclusive content for subscribers
Lesson Info
5. Blending Options: Colorize Black and White Image
Lesson Info
Blending Options: Colorize Black and White Image
Well, here. Got another picture, Karen. This time we're in Brazil, and sometimes I end up with a black and white photo that I want to colorize. And in this case, let's see here, the color you're seeing in my wife's skin is completely fake right now. I made it using these adjustment layers. And if I turn off the adjustment layers, you'll see, there's her original skin, and here's my fake skin. Original. Fake. I'm gonna make it so it's half and half. Right now, she's split right down the middle, right here, and half of it's fake, half of it's real. Lemme show you how blending sliders are used and how it wouldn't look good had I not used them. I'm gonna turn off the blending sliders. With them turned off, right now, I have the colorizing applying to all of Karen. Look in her eye sockets and it doesn't look natural. It shouldn't be that colorful in those areas. I'll click OK, so this is just what we're applying and I'll describe what's here, and we'll see if we can learn how to use it. Fir...
st, let's turn off all adjustment layers and look at the original version of Karen. With the original version of Karen, look at how colorful the dark areas are. The shadowy areas in her eye sockets. That's nowhere near as colorful as the cheek that's right out here. If you look at the shadowy area in here, that's nowhere near as colorful as the area that is here. And if you also look at the bright area, look at the highlight on her forehead. That's nowhere near as colorful as the area directly below it. If you look at the highlight right there, the highlight coming across here, the highlight right there. It contains less color than the areas that are not highlights. So, what I did here is I masked Karen so that I just isolated her skin, and I threw in a black and white adjustment layer to pull all the color out, just so I could experiment. Then, above that, I created what's called a solid color layer, which I'll do right now. I go to the Adjustment Layer icon, I choose Solid Color, and I can choose any color I want. And for now, I'll choose a terrible color. Then, I can change the blending mode of that layer, and if I change the blending mode to a choice called color, it means apply the color from this layer to the brightness that's underneath. And, when I do, look at how colorful those areas are I was pointing out. The shady areas near her eyes, the shady area down in here, it's got a lotta color in it. Also, if you look at the bright areas of the picture, these highlights and things, they're very colorful. If you wanted to add color to a black and white picture and you don't want it to look fake, then you need to use the blending sliders. What you do is you come down here, choose FX, Blending Options. And it doesn't matter which of these two you use because the brightness of this layer and the brightness of what's underneath are about the same. And what you wanna do is say, let's get this colorizing off of the darkest part of the picture, and so you pull this in until you see the colorizing effect start to disappear. It might take a little while. Might have to pull it over quite a distance, but eventually, you should, whoop, there it happened, instantaneously. Oh, I thought of something different. (laughs) I was thinking this was an adjustment layer and it's not, we can't use this layer's sliders because this layer contains a single color. It's as if you painted it with a paintbrush tool with an exact color. So, at a certain point, you'll get to the point where it will just disappear. So, I misspoke. We need to use the underlying image sliders because that's where the image varies in brightness. So now, this'll work a little better if I pull this in. Watch the dark portion of the image and eventually, the colorizing effect should start disappearing. I see it starting to go away now. So, I'm gonna bring that in until it just starts to go away, then I'll hold on the option key to split the slider and I'll continue pulling it in. And I'll pull it in quite a distance and therefore it's not gonna be anywhere near as strong in the dark part of the picture. Then, in the bright part of the picture, I could start pulling this over until it disappears in the bright areas, but I think I can just start splitting it from the beginning. Pull this over, pull it over, until we've limited it in the bright portion of the image. Now, the only thing is, we have a terrible color being used. It's a vivid orange and it should be a better skin tone. So I'm gonna throw that layer away, 'cause I already have one below it that was a better color. And, the only thing I need to do is get the blending sliders to be in there. In order to get 'em to be in there, I'm actually gonna choose Revert to get me back to the original, 'cause I had the sliders applied, and I'll just turn 'em on here, take me just a sec. Okay, There we go. And, let's see where they were. Here, we're saying fade out in the dark part of the picture, only the tiniest bit brighter than black is where we should completely remove it. And then, fade out, keep doin' it less and less and less, until you get to here, and do the same thing near the bright areas. So you could copy my sliders if you want to. I'll put 'em back to nothing so we can compare before and after. Here's with the sliders. Here's without. Look at the dark portion of the image and the bright. I find that's essential to realistically adding color to a black and white image, is limiting it so you don't get as much color in the highlights and you don't get as much color in the shadows. I mean, just look at the yellow doors that are here, and look at how much less colorful it is in the shadowy areas, and as you get towards black, the color pretty much disappears.
Class Description
AFTER THIS CLASS YOU'LL BE ABLE TO:
Add dimension and shadows using Layer Styles
Link multiple layers so they will always be scaled and transformed at the same time
Organize complex documents using Groups
Quickly remove the background on clouds, lightning, and logos
Cause bright or dark areas to disappear using the Blend If sliders
WHO THIS CLASS IS FOR:
Beginner, intermediate, and advanced users of Adobe Photoshop.
Those who want to gain confidence in Adobe Photoshop and learn new features to help edit photos.
Students who'd like to take ordinary images and make them look extraordinary with some image editing or Photoshop fixes.
SOFTWARE USED:
Adobe Photoshop 2020 (V21)