Fourth Fashion Look
Matthew Jordan Smith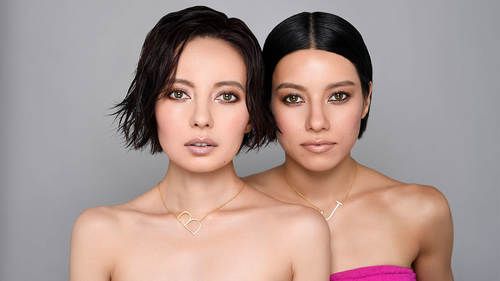 Fourth Fashion Look
Matthew Jordan Smith
Lesson Info
33. Fourth Fashion Look
Lesson Info
Fourth Fashion Look
So we have ah hat now gonna be cognizant of the hat and shadows so do our test first and see if you guys change the hat until two up whatever but we do a test first to see where we land way meant like cheap that had back more to the yeah a little bit a little bit of your eyes that would be better so if you're doing this you have the hat I want sure I don't see this beautiful face so take your head up mohr yeah that's what I want so as you doing everything keep ahead hi that's perfect this is so cool cassie a profile again as well and the back okay okay let's go to work straight to me let's go to work or two you could get a lot of movement in the sheepskin let's do that so let's go full on the fan and keep it moving I think we've got still like tilted cheated even more extreme just so I see at least one eye fully that's cool so take a look at this shot here or make sure I could see your face you got take that head but just a little bit more year right in there right in there that's cool...
that's what we want that way let's go to work again beautiful that's the energy keep it coming keep it coming nice nice beautiful beautiful beautiful head high head high that's nice love it love it fast great great great great that was a great kick nice nice beautiful beautiful there we are there we are great great this is wonderful head high head high for me you know what let me see the opposite the missing head down quite a bit you see where's the heads down quite a bit it's almost like in shadow let's see that see that so what's this one image to see how that looks was tilted down quite a bit that could be interesting play with both ways so if you go down looks way down if you go hide away high absolutely that's nice nice beautiful beautiful that's it you've got a deer fantastic and beckett was a little bit nice nice yeah beautiful beautiful fantastic fantastic hit high they're lovely there there hold on hold on because one hundred macro okay I may have lost my connection I think yeah turn the camera what you doing just now like that with a hand there I want that I want that it's reminiscent of michael jackson I want that we'll bring you back a tad destruction yeah now cross that's it so you made a variation here where the buy and almost like this you're changing your head give me different very just ahead as you're doing that because this looks wicked thanks man thank you weathering on our tethering I may have stepped on a quarter something also possibly good I'm going back to the eighty five also sorry about that o neg I'm switching lenses and turn off sorry man I'm changing back and forth but I just saw this and I got to get the full thing cameras back on yeah thank you thanks man let's go show me their that's nice beautiful beautiful that's that's the shot that's the shot that's the shot fantastic lovely, lovely, beautiful, beautiful way have that you don't need a lot of that that's fantastic and that's the way to break and go to lunch any questions before we go to lunch on this campus stepping down her hand there I have a question from my kay who's from ontario, canada he asked with so many photographers out there how do you know you're doing something unique or that hasn't been done before? Everything under the sun has been done before but there's a spin on it and the spin is you doing your unique vision of it nobody can copy how you feel nobody can copy how you feel nobody can copy your inspiration you can find a picture in a magazine and try to copy that picture and that's style but you're copying the surface under that picture is the inspiration and that comes from you so you find out what makes you feel alive what makes you feel good when you shoot you find um your inspiration through travel, throwing a book through a movie, and that inspires your story. So as you putting your storybook to getyou, storyboard together, that's from your inspiration, that's, not a copy, and that cannot be copied is you work as you worked as an assistant, and we're for dozens of photographers. You see them work every single day as a photo assistant. You, with, um, almost night and day, traveling around the world, working on the cits, setting up the lights, put in the camp together, saying, the f stop the shutter speed, and then we go to do your own thing. You can't copy what they do, because the source of the inspiration comes from here. You can't copy that. Your inspiration comes from your life from your life. You can't copy that.
Class Materials
MJS Storyboard Concepts.pdf
Ratings and Reviews
Thanks Matthew for the super informative courses. I'm from Thailand and I'm very impress with the way you speak. It is super clear and very easy to understand. Your answers to each questions are extremely inspirational. I think you are the best teacher on photographing so far on Creative Live. Each of your answers and information are very motivational and very thoughtful. Thanks again for this great Live broadcast. You are a great teacher and a very nice warm person as well.
Thanks Matthew this two days have been amazing, and I am looking forward for the last day,,in which you will be talking aobut the photography i would like to do, since is my dream to be a fashion photographer i have learn a lot from you, and this expirience has been amazing, if i only lived in L.A. and not mexico city, i would definitely write you a letter and try to be your assistant to learn as much as possible from such and amazing photogrpher and person; once angain thanks for everything. Thamks creativelive for bringing this amazing photographers, and letting us learn more and more about the amazing world of photogrphy.
This course has been an awesome experience. I have learned so much about the process of beauty and fashion photography. Matthew takes the viewer through the preliminary thought process. He not only covers the technical aspects but also the importance of the photographic team itself--the stylist, makeup artist, model and photo assistants. The photographer plus the team equals magic. I do not use the term amazing lightly. This man is AMAZING and INSPIRING! Thanks to Matthew, I feel confident that I will find my own vision.
Student Work