Sixth Fashion Look
Matthew Jordan Smith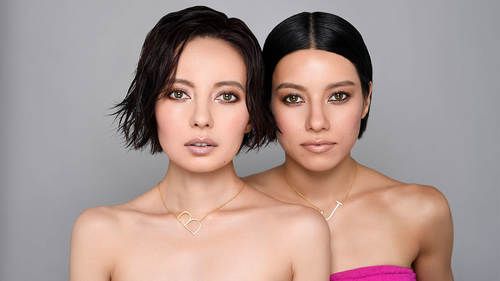 Sixth Fashion Look
Matthew Jordan Smith
Lesson Info
43. Sixth Fashion Look
Lesson Info
Sixth Fashion Look
Oh man I've been dying to shoot this outfit also start here and we'll end here come on up so we have all of this detail in this amazing outfit that we've been dying to shoot it's beautiful we have a brand new mouth new hair style I want to see how the light looks when this turns a little bit he turned you buy three quarters for me in the other way as well and straight on again cassie the hands up so I prickett bring the hands of too much it starts pulling too much it's better when they fall down this first start straight on and the other is so strong you know I can't do too much moving but you could see I wanted the bending that's nice that's nice we'll play around there for first this is the back of theirs anything the back I should be aware of we'll start here straight on this is beautiful this is beautiful can I have one hand up I want to see that I don't want to block any of this apart at all if it's off to the side that's kind of cool you're gonna do so for you even like pulling l...
ike that's kind of cool that we can see all this detail is well in here there's a lot that's still beauty let's start thank you thank you thank you said make sure the pocket wizards on perfect are you ready dear let's see this let's see this one fast test first make sure we're fine cool perfect do me a favor wants to your knees come to give a four second there totally straight holy strength there absolutely you know what I like the idea of almost being like a soldier and direct give me that because of the shape of this I want that attitude erect and straight and serious like that then it's quite nice all the pockets is well in here it was that a pocket also you have yeah we have that so I can see the pockets and try this one hand so tribal version like one hand two hands so it's not pulling too much let's go to work check your battery here oh yes and theirs out extra berries in there if you open in the middle here change my barry for a second and it's right on this side I put out for you I haven't hit it up that's it yes thank you sir can your battery turning back on wafer to come back up initializing so anything very rigid straight that's not like that that's nice beautiful that's nice beautiful come back to a straight onto me again I think it's better that way so give it to me that there that's nice strong face very strong there we are beautiful that's nice that's nice great turned the feet in for me even more that's nice and now straight there we are there we are keep that torso straight for me again nice nice that's great perfect there we are come in a little closer last eyes go totally straight again for me actually let me see that do that keep it down keep it down let's see that let's see that? Nice there we are careful there careful they're they're nice pass it pass it give me extreme bending do me a favor turn your by profile going that direction and I give the extreme been backwards but staying high now reverse that we occur of kong caved in yeah see that's for second I don't like it we'll go back to just straight up and down there there let's see that they're there come back to me little by little nice nice give me one hand in the pocket eyes toward me that's nice whoop and straight up and down right there now again from this angle hands both straight again just like that that's nice keep the buy like that and just the eyes the intensity in the eyes for the next ten shots the body just like that and changing your eyes she's in the face but only from here up changes uh yes yes thanks man for a second right there what you did just now we would like that that was kind of cool, so if you do that whole thing give me some version of that here and get me like all those different versions from here see that great basin nick line I want all that beautiful way there we are that's nice the intensity is nice beautiful hold off one second silver sound crazy I want you toys stiff in the scream absolutely fake screen by white like ten different versions of the fake screen was like I want that that's it that's it there we are nice keep it all that same scream but keep it all expressing like still stiff but letting it out nice that's the screen I want to really feel it great great nice beautiful lies nice same thing again but turned the feed in more now and now give me that going full body that the same thing you just did that's it great nice that's it that's it beautiful now very tall very tall same thing that's it nice nice turn by three quarters for me now that same thing again beautiful beautiful with the fingers when you do it that the fingers go nice there we are now that same thing again and take a step take a step take a step there we are that's it nice nice scream to the world there we are scream online beautiful now back to me again there just like that now let it go yes same thing again with the face high that's it beautiful lovely we have that way to scream. That's. Fantastic. Those a great, those are great.
Class Materials
MJS Storyboard Concepts.pdf
Ratings and Reviews
Thanks Matthew for the super informative courses. I'm from Thailand and I'm very impress with the way you speak. It is super clear and very easy to understand. Your answers to each questions are extremely inspirational. I think you are the best teacher on photographing so far on Creative Live. Each of your answers and information are very motivational and very thoughtful. Thanks again for this great Live broadcast. You are a great teacher and a very nice warm person as well.
Thanks Matthew this two days have been amazing, and I am looking forward for the last day,,in which you will be talking aobut the photography i would like to do, since is my dream to be a fashion photographer i have learn a lot from you, and this expirience has been amazing, if i only lived in L.A. and not mexico city, i would definitely write you a letter and try to be your assistant to learn as much as possible from such and amazing photogrpher and person; once angain thanks for everything. Thamks creativelive for bringing this amazing photographers, and letting us learn more and more about the amazing world of photogrphy.
This course has been an awesome experience. I have learned so much about the process of beauty and fashion photography. Matthew takes the viewer through the preliminary thought process. He not only covers the technical aspects but also the importance of the photographic team itself--the stylist, makeup artist, model and photo assistants. The photographer plus the team equals magic. I do not use the term amazing lightly. This man is AMAZING and INSPIRING! Thanks to Matthew, I feel confident that I will find my own vision.
Student Work