Student Shoot (Ben)
Matthew Jordan Smith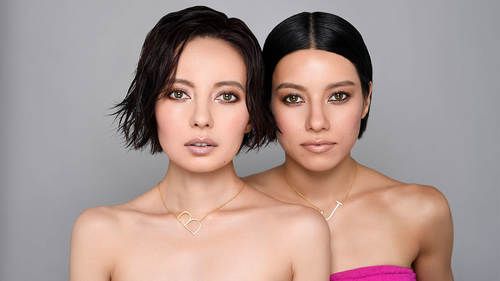 Student Shoot (Ben)
Matthew Jordan Smith
Lesson Info
36. Student Shoot (Ben)
Lesson Info
Student Shoot (Ben)
Don't be shy man you some kind of feeling the structure you know this jacket really you know for going for the whole architecture things so I kind of want you tall strong you know keep the lines more straight thank you alright help me out here john I just talked to her just you know let her know that is moving along fine and everything's going good if you lose your way this is your guy if you lose your way this is your guide your story board helps you helps the models gives you direction if you lose your way it's very easy excited when you're shooting a great girl and great clothes great hair and makeup you just want to shoot but this keeps you grounded and is your guide the storyboard is your guide direct yeah you're doing great great so you don't mind turn the fan and I'm gonna be kind of spend like forty five degrees that way there we go there just eyes right back to me help we could get some moon in that jacket yeah all right this is not still, you know, a little more fun a little ...
foreplay alright, so don't do anything without the jacket or we had absolutely you that you're the director you could have it all yeah let's see without a doubt here okay, so think about going tight going through her look at her accessories see howyou khun break up the shot because you have a full here but you have a lot of options you can shoot elements of her type with just uh jewelry you should just our silhouette he shoot her from the side she had these great shoes you anything you want to am I shooting too tightly if we're no no that was good that's fine I like to give myself a room what I'm doing this so I have like sure have room to crop my client wants to do anything differently if I shoot it exact in camera it may be too tight for my client to do anything with it so I rather give them more space and even showing my set more I don't mind that is what I give more space my client to move in and crop if I give them a very tight shot have new crop they're stuck so I give them more than less and if he climbs on set they'll tell you oh can you be more space because they want us thinking about how is gonna fit into their magazine or their bilbo or whatever you since they're using for for the internet there thinking about how is gonna lay out they usually tell you why I need more space on the left, right top or bottom so you'll get used to giving more space for the layout or the magazine or the internet or whatever usage that's coming in the future all right so for the next year I think I'm gonna shoot you a little tighter and I kind of would like to see you know your got these great bracelets on kind of hands up you know, close around the face that's a nice way to get both hands out parrot thank you terry and this way we don't get that hand right over that shoulder all right they were good thank you so much, man so I won't talk for a second about what you can and can't do and she came out with the jacket on fully dressed and it looks great on the hanger and sometimes the entire outfit looks amazing on the hangar and then she puts it on as beautiful but it's not quite right I loved it as an entire outfit by things stronger when the jacket came off and shot like this and I shoot both variations but I shoot maur this way because I felt this is stronger so don't be scared to change put on take away change add props that bag's whatever as you're shooting it's your show you are the director don't be scared there was a question early about things that you wish you had done when you were starting out and in the beginning I was scared to say how I felt on set had to evolve into that point, so now I don't know. I don't like that bag. I don't like that hair. I was just thinking about photography there, jaime just to do photography no, they're hiring you for your vision, for your vision. Anybody could push the button cam can do almost everything today they hire you for your vision a picture just show just sold recently for four point three million dollars one picture it wasn't just pushing the button clients hire you for your vision for your vision cindy sherman's work if you don't overwork, look it up cindy sherman, I think whatever have you sold two years ago for, like, three million dollars and she does portrait of herself self portrait it's cindy sherman people hire you for your vision that's the magic you're not ignition, your visionary and their hire you for that for your vision don't forget that. Yes, we all want the best cameras, the best lights and all the great toys, but they're hiring you for your vision, your unique vision, how you see the world, what affects you, what influences you, how you feel about fashion or beauty or weddings or children or land scapes or the earth they're hiring you for how you feel your vision, your take your special sauce don't forget it
Class Materials
MJS Storyboard Concepts.pdf
Ratings and Reviews
Thanks Matthew for the super informative courses. I'm from Thailand and I'm very impress with the way you speak. It is super clear and very easy to understand. Your answers to each questions are extremely inspirational. I think you are the best teacher on photographing so far on Creative Live. Each of your answers and information are very motivational and very thoughtful. Thanks again for this great Live broadcast. You are a great teacher and a very nice warm person as well.
Thanks Matthew this two days have been amazing, and I am looking forward for the last day,,in which you will be talking aobut the photography i would like to do, since is my dream to be a fashion photographer i have learn a lot from you, and this expirience has been amazing, if i only lived in L.A. and not mexico city, i would definitely write you a letter and try to be your assistant to learn as much as possible from such and amazing photogrpher and person; once angain thanks for everything. Thamks creativelive for bringing this amazing photographers, and letting us learn more and more about the amazing world of photogrphy.
This course has been an awesome experience. I have learned so much about the process of beauty and fashion photography. Matthew takes the viewer through the preliminary thought process. He not only covers the technical aspects but also the importance of the photographic team itself--the stylist, makeup artist, model and photo assistants. The photographer plus the team equals magic. I do not use the term amazing lightly. This man is AMAZING and INSPIRING! Thanks to Matthew, I feel confident that I will find my own vision.
Student Work