Beginner Drone Photography
Class Introduction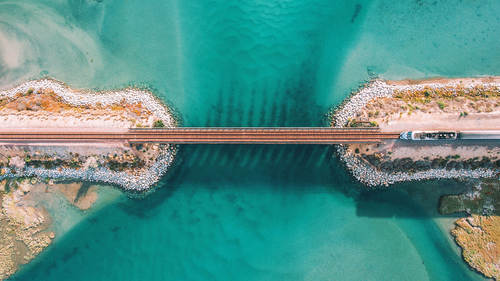 Beginner Drone Photography
Class Introduction
Lesson Info
Class Introduction
Well thank you so much for being here, seriously means a lot, I'm super honored to be here with Creative Live and I think we're gonna have a great time today, I'm gonna talk to you a little about my story. I'm gonna talk to you about drones, settings, rules. Hopefully help you feel more comfortable with flying, for those of you who are a little afraid or nervous. You still have your drone in that box. And maybe for those of you that, you know, you already know a little bit of stuff, maybe you're gonna learn a few more things to take you to that next level. So that's my goal today. So welcome, thank you so much for joining me. This is gonna be a class focused on a beginner. So that is where I'm coming from, but there'll be things for you to take away no matter what your level is, alright. So I just wanted to start off and tell you a little about who I am. Online I'm @Dirka, so you can find me on Instagram, you can find me on Twitter, @Dirka. And my website is fromwhereidrone.com And tha...
t is where you can find where I'm writing, where I'm doing my videos, my tutorials, so please check out those resources to connect with me online. So, who am I? I am a guy that loves to take photos, I am a professor, I'm a designer. My background's in graphic design. I'm a space nerd, I'm a husband, I'm a father of four, and of course I'm a drone pilot. And one of the things that has just really changed by life is just within the last few years, the drone world has like taken me in a whole new direction. And it's exciting, things are always changing, but really it opened up a whole new way for me to see the world. And that's what I wanted to share with you guys today. Is how it's changed how I see the world. So some of my work has been featured in publications like Time Magazine, I've been featured on CNN, The Huffington Post, Nat Geo. I've had my work in art galleries, I've won several Addy Awards, so this is just a little bit about me. Just to give you guys a little bit of background of how I got to where I am today. I wanted to share with you some of my work. And just share with you a few of my favorite pieces. So I've gotten to do a couple projects with Hurley. They are a surf brand based out of Southern California. And I got to shoot some surfers and some new board shorts. And I actually got to have one of my own images on a pair of board shorts. So this was just super rad, it was just such a great collaboration, and I'm just showing you a couple angles here of my shorts. And again, this is just like, I never, like, thought that this was possible. I never pursued this. And you know, my passion has taken me down an interesting path where I have my own board shorts essentially, right? This is pretty cool. I've gotten to do a project with Google, back when the first pixel phone came out. I actually took the phone before it was released, and I mounted it on my drone, and we got some aerial shots with it, so pretty cool. And that was all before the phone actually got announced. And, there's one of my images from that, so super cool. Love that project. And I've gotten to work with Mini. I took some images all across the U.S. This is one taken in New York. And basically what we were trying to do with this campaign is show the scale of the car. The Mini car. And really just let it get lost in the landscape. And you know, make it seem like it's, you know, in this world, and it's so much smaller than, you know, the world around it. And I've gotten to work with the golf company Callaway. And for this image, we specifically wanted to do some work with shadow play, and I thought it was really interesting because when we first took it and we looked at it in the monitor, it almost looked like someone was playing baseball. And it was like, I never saw the sport look like that, and it was super interesting, and, you know, you can still see the little ball in the shadow, and it just became a really interesting image. So we did a few of these. Took some shots at a golf course as well. Got, one thing that was cool about this is they shut down, the whole golf course was shut down, and it's like, we had all 18 holes to shoot, and it was pretty cool. I'll show you a little clip of a video I did for that, and this was for social, for their social channels. (golfer taps ball) (rock music) I got to work on a really cool project with General Electric, with GE. This was a project that took me to Switzerland, and Dubai, and I created some social content, did some behind the scenes as well for their Droneweek. And, this was over in Switzerland, at a big dam that's up there. And it was really cool because some of my work then got to get put around, and this is like the subway tunnel in New York, and help promote the tv show. And that show's just so interesting because it talks all about the cutting edge technology in the world of drones, and how people are using drones, not just to take pictures, but to do really interesting things. So really cool, and it aired on Viceland, so that was really exciting.
Class Description
AFTER THIS CLASS YOU'LL BE ABLE TO:
Confidently fly a drone
Understand basic legal requirements
Execute simple to intermediate drone maneuvers
Adjust settings for aerial photography
Simultaneously adjust the drone and the camera
Use drones to capture a variety of still and video perspectives
Edit aerial photography and aerial videography
ABOUT DIRK'S CLASS:
Sure, drone photography looks just like playing a video game, but controlling an unmanned aerial vehicle while simultaneously working a camera takes essential know-how and practiced skills. Take off with confidence and capture aerial photography and videography at angles you never thought possible. In this beginner's class, learn essentials like safe drone flight, essential photography settings, and basic post-processing.
Work with award-winning aerial photographer Dirk Dallas as you learn to control your drone. Whether your drone is collecting dust or you've just opened the box, this class provides the essentials to fall in love with drone photography and videography. From legal restrictions to selecting and operating a drone and accessories, this class covers all the basics of aerial photography with a drone.
Explore a drone's controls, then learn exercises to help hone your flight skills. Flag potential legal restrictions in the United States. Learn settings and tips for capturing great aerial photography, then incorporate motion with video. Finally, work in image processing and video editing to fine-tune your captures. Whether you want to capture aerial images for real estate, environmental studies, commercial advertising, independent movie production, land-use planning or simply creative photography, start flying with confidence.
WHO THIS CLASS IS FOR:
Any user new to drone flight
Photographers looking to expand to aerial photography
Videographers eager to add a new angle with drones
Drone newbies that want to learn new moves and tricks
ABOUT YOUR INSTRUCTOR:
FAA licensed drone pilot Dirk Dallas uses drones to capture new angles in his commercial photography and filmmaking. Also a speaker and professor, Dirk is the founder of FromWhereIDrone.com and the host of the AdoramaTV series From Where I Drone With Dirk Dallas. Along with his creative work, he enjoys teaching and inspiring new drone pilots.
Reviews
Dirk really did a nice job taking new students thru exercises to gain confidence. The work in Lightroom and Photoshop was helpful, but I wish more time could have been focused on flying or tips. Dirk has presets that he offers. It would have been helpful to see the results using those presets. Looking forward to the free which Drone to buy class and the advanced class
I definitely recommend this course if you are thinking about getting into drone photography looking for the fundamentals. I now feel pretty confident I can get started and that my learning curve will be greatly shortened thanks to the technology available today and a great roadmap of getting started. If you are already started... follow up with his advanced topics... I know I will.
Super class. As a beginner I had little idea what to expect and never got started because of all the talk of people crashing drones right and left and losing a fortune. Dallas made it seem simple. So I bought a Tello beginners drone (great starter by the way), got hooked and am now flying a DJI Mavic Pro 2 and studying for a commercial license. Not sure, this is a great class to start with.