Beginner Drone Photography
DJI Go App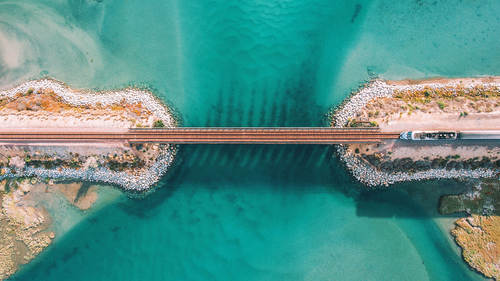 Beginner Drone Photography
DJI Go App
Lesson Info
DJI Go App
The DJI Go App, though. This is what really makes the drone magical. DJI came out with an app that you can download on your phone or if you have the Phantom, it's built in. And this lets you then control your drone, and change settings on the camera. All that fun stuff. That's how you get to the smart flying features. You can see where it is, on a map, so really cool feature. I want to walk you through the DJI Go App real quick, and just point out some of the main settings. If you were to first open the app, right now. You guys all open the app. This is the screen that you'd be presented with. And I just wanna walk you through it, because at first it looks really daunting. But if you just hang with it, it's really not too shabby. So, if we click up there on the DJI, left hand side, we can go back to the main menu. So, if you have multiple drones, the DJI Go App is going to say, "What drone are you using today?", right? If you have one, it's not a big deal. Green always means good. This...
just lets you know, your drone is good to go. It's connected to GPS satellites. This lets you know what mode you're in. GPS is probably the mode most of you guys will be flying in. But, there's another mode where you can say, "Don't worry about GPS", and when wind comes, it will slowly go with the wind. So, some pilots like that for when they're filming. I'm just letting you know though, that this is probably the most common mode. This lets us know how many satellites we're connected to, GPS. This lets us know, the sensors, if they're working. All those obstacle avoidance sensors, I was talking about. This lets you know how your signal is with your remote controller. So, if you see this signal down, that means, that maybe your drone is a little too far. Start bringing it back. Full bars is like, it has a strong connection. There's no interference. This lets you know your image signal. So, what you're seeing here on the screen. What the camera is seeing, will show up here on your screen. This just lets you know how powerful that signal is. This lets you know your battery power. So again, green is good. When you start getting low on battery, this turns yellow and when you're really low, it turns red. So, just simple cues, really easy. And then a settings menu, if you click in here, there's a ton of settings that you can go down a rabbit hole. I actually have on my website, one of my most popular posts, is all about this app. Its like 25 minutes long. I just went through every setting. You could check it out. Next, on the side we have a take off button, so you can click that, and it would automatically take off. We have a return to home button. It's a peace of mind, if you're ever just freaking out, you could hit that return to home button. The drone will come automatically back to where it took off. Really cool feature that was not on the first drones. So definitely, it's a nice peace of mind. We can get to some of the smart flying features down there. The intelligent flight modes. So, if you want your drone to automatically track you, that's where you get to settings like that. This lets us know our gimbals position. So, if your gimbal is pointed down, it'll be down. If it's pointed up, it'll be up. This lets you switch between photo and video, so you can switch back and forth. Your record button or your shutter button, if you're on photo mode. This is your camera settings, where you can adjust aperture, if you have a drone that has aperture. But for sure, ISO, shutter, stuff like that. And this is where you can actually check out what you shot and you can play that back. So pretty cool. I'm gonna punch now into that section, and just break down this whole screen for you. That is your radar. The red arrow is letting you know which way you're pointed. You can see, there's north. So, that can be really handy. This lets you know the distance the drone is from you. This lets you know the height. So, one of the things we'll talk about is, one of the drone rules is you can't fly over 400 feet. How do you know? You can look right there. This lets you know the distance to the ground. (cough) This lets you know your horizontal speed and your vertical speed. So, these settings are helpful, but probably for me, like, I'm usually looking at this one, when I'm looking down there. And maybe looking at where my drone is pointed.
Class Description
AFTER THIS CLASS YOU'LL BE ABLE TO:
Confidently fly a drone
Understand basic legal requirements
Execute simple to intermediate drone maneuvers
Adjust settings for aerial photography
Simultaneously adjust the drone and the camera
Use drones to capture a variety of still and video perspectives
Edit aerial photography and aerial videography
ABOUT DIRK'S CLASS:
Sure, drone photography looks just like playing a video game, but controlling an unmanned aerial vehicle while simultaneously working a camera takes essential know-how and practiced skills. Take off with confidence and capture aerial photography and videography at angles you never thought possible. In this beginner's class, learn essentials like safe drone flight, essential photography settings, and basic post-processing.
Work with award-winning aerial photographer Dirk Dallas as you learn to control your drone. Whether your drone is collecting dust or you've just opened the box, this class provides the essentials to fall in love with drone photography and videography. From legal restrictions to selecting and operating a drone and accessories, this class covers all the basics of aerial photography with a drone.
Explore a drone's controls, then learn exercises to help hone your flight skills. Flag potential legal restrictions in the United States. Learn settings and tips for capturing great aerial photography, then incorporate motion with video. Finally, work in image processing and video editing to fine-tune your captures. Whether you want to capture aerial images for real estate, environmental studies, commercial advertising, independent movie production, land-use planning or simply creative photography, start flying with confidence.
WHO THIS CLASS IS FOR:
Any user new to drone flight
Photographers looking to expand to aerial photography
Videographers eager to add a new angle with drones
Drone newbies that want to learn new moves and tricks
ABOUT YOUR INSTRUCTOR:
FAA licensed drone pilot Dirk Dallas uses drones to capture new angles in his commercial photography and filmmaking. Also a speaker and professor, Dirk is the founder of FromWhereIDrone.com and the host of the AdoramaTV series From Where I Drone With Dirk Dallas. Along with his creative work, he enjoys teaching and inspiring new drone pilots.
Reviews
Dirk really did a nice job taking new students thru exercises to gain confidence. The work in Lightroom and Photoshop was helpful, but I wish more time could have been focused on flying or tips. Dirk has presets that he offers. It would have been helpful to see the results using those presets. Looking forward to the free which Drone to buy class and the advanced class
I definitely recommend this course if you are thinking about getting into drone photography looking for the fundamentals. I now feel pretty confident I can get started and that my learning curve will be greatly shortened thanks to the technology available today and a great roadmap of getting started. If you are already started... follow up with his advanced topics... I know I will.
Super class. As a beginner I had little idea what to expect and never got started because of all the talk of people crashing drones right and left and losing a fortune. Dallas made it seem simple. So I bought a Tello beginners drone (great starter by the way), got hooked and am now flying a DJI Mavic Pro 2 and studying for a commercial license. Not sure, this is a great class to start with.