Beginner Drone Photography
Drawing Shapes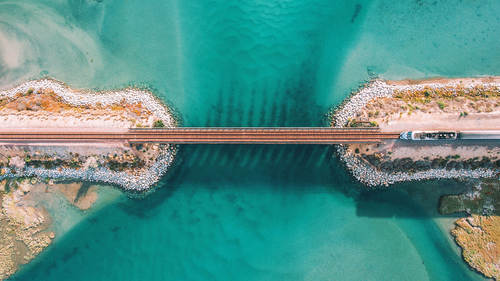 Beginner Drone Photography
Drawing Shapes
Lesson Info
Drawing Shapes
From there, maybe what you could start to try to do is to just start drawing shapes. So, try to draw the triangle. You fly out, you do a yaw. But instead of doing the straight line, which that's easy, you're now doing a diagonal, right? So try to get back to right where you took off. That's the key. So if you're like, this is easy, well then challenge yourself. Do it a little faster, and try to nail right where you took off, or right where you were starting from, right? Try to nail that. And if you feel like that's easy, try it the opposite way. Practice your yaw the other direction, right? I find that I'll tend to favor one side sometimes of my yawing, right? Try the other way to get comfortable. So, let's check it out, out in the field. All I've been doing up until this point is drawing simple shapes, right? So we're gonna move on to the triangle. And I'm gonna draw a triangle yawing the drone a little bit to the right. And I'm gonna fly it forward with the right stick. I'll then yaw...
the drone to the left. I'll fly forward with the right stick. I'm gonna yaw the drone again, and then go forward with the right stick. So that's how you draw a triangle using the right stick and the left stick. So again, you're flying now in a diagonal line, then you'd fly back to your starting point. Okay, the circle. Now, this is where you're gonna start to feel a little bit more like you know what's going on, like you're getting to a much more comfortable point because it's now about doing both sticks at the same time but like easing on them. It's not just like one, okay all the way, turn. You're gonna try to ride both of them at the same time. So, what we need to do is we need to do the circle is we need to fly it forward, but we need to yaw a little bit. We have to have a little bit of a twist. So as we're flying forward and we're twisting a little bit, we're getting that arc, right? So, check out the remote down here. You'll see that we'll fly forward, and we have some yaw, And really, it's about you finding the right balance. It's never jerking one, one way or the other. It's just soft movements on both of them. And so, to find the perfect balance is really the secret. And what I encourage you guys to do for this one, is you know, fly that, get comfortable, and then try to fly it the other way so you're not just favoring one side. So let's check it out in the field. So up until this point, using the right stick and left stick can be done one after the other. But drawing a circle now incorporates using both sticks at the same time. So this is where I need to really pay attention to how I'm giving inputs on both the right and the left at the same time. So to draw my circle, I need to first get into a little bit of a movement. So I'm gonna go forward, and with the left stick I'm slowly going to give it some yaw. And I'm still going forward with the right stick. And I can make this circle bigger or smaller depending on how much yaw I give it. So that's how you draw a circle using the right stick and the left stick. Oh, sorry. I skipped ahead. It was the drone angle, though. I went around. Sorry, I skipped ahead on that one. So the circle again, this one is really just about the perfect balance, right? And again, I said try it the other way and then after that what I encourage you to do when you really feel like you're comfortable with it, you're gonna be able to do really small circles. Like, we're talking perfect circles. Not like lopsided, right? Do perfect circles and then go wide. Try to match that same path, and then try to go small and do a small one. And then you're feeling like a pro, try to do a spiral out, right? Try to get that spiral going. This one's fun to practice because it's about getting that groove. Where is that sweet spot where you're just turning and it's nice and perfect? Where's that sweet spot? You're gonna have to find that out. All right, next the figure eight. So if you know how to fly, you feel good. You're like the box psh, the 180 psh, whatever. Drone pilots will be like, I know how to fly. I'll be like, oh show me your figure eight real quick. Right? Try the figure eight, right, because we're going around the clock in one direction and then we're going around it in the other direction. Right, 'cause we're switching. So, this is about you swapping movement on the yaw. So if I go forward and I'm yawing, once I get to that center point I need to switch my yaw, right? And it's not a stop and switch, it's a get right to it and smooth it, right? And one of the things that you'll find out is there is a moment of a straight line. So you let off the yaw just a little bit and then you get right into the other yaw, right? So it's all about being smooth, right, being consistent. Providing a constant yaw on the sticks. So let's check it out in the field. All right, so next one I'm gonna do, is I'm going to draw a figure eight. And this means I need to give constant input on the left and the right stick at the same time. I'm going forward with the right stick, and I'm yawing with the left stick. I'm gonna start to let off the left stick a little bit, go forward more. Then I'll give some left stick some more input. I'll start to let off, I'll go forward. I'll give the left stick some input. I'll let off, and that's how you draw a figure eight. You see how I'm getting a little bigger? So you see that's all real. I've never had anyone checking out my figure eight, right? So my pilot's like, you're off. I'm like, what are you talking about? Looked good to me, right? But the key is, is maybe in that case you saw that I had my landing pad there. That was kinda my center point. You can use that as a marker. I'm gonna play it again because I want you guys to this time, focus on my sticks, how I'm doing the sticks. And watch how I'm switching back on that. All right, so next what I'm gonna do is I'm going to draw a figure eight. And this means I need to give constant input on the left and the right stick at the same time. I'm going forward with the right stick, and I'm yawing with the left stick. I'm gonna start to let off the left stick a little bit. Go forward more. Then I'll give some left stick some more input. I'll start to let off, I'll go forward. I'll give the left stick some input. I'll let off, and that's how you draw a figure eight. So, the thing I wanna point out about the figure eight is it's not too hard to do it really big. It's pretty hard to do it really small. So that's what you wanna really get mastering at. And if you can kind of just like, (mimicking revving) like whippin' it? I'm gonna be like, you're feeling pretty good. You're ready, you're feeling good. (laughs) Okay, exercise nine, the orbit. So the key for this is you have a subject in the middle. And we're drawing a circle, yes. But what we're gonna do is we're gonna face the camera at the subject for this one. So we'll face at the subject. And what we'll do is we'll then move the drone around that and trying to be nice and consistent the whole time. It's actually harder than it might sound. So, look at the configuration of my sticks. And then, I'll also show it to you in the field. But my drone is going sideways, right, 'cause I'm technically going sideways but I'm also yawing. I have a little yaw on there. So I'm moving sideways, but as soon as I introduce some yaw it twists a little bit. Right? So, this is the key is finding the prefect balance with the two sticks. That's really the key. So let's check it out in the field. So for the orbit, it's similar to a circle but maybe a little bit harder because we're gonna try to keep something in the center of the frame at all times. In this example I'm gonna try to use the helipad. So for this one I'm having to constantly ride the right stick and the left stick to balance how much I'm yawing, and how much I'm moving to the side. You wanna try to do wider orbits at first, and then as you get more comfortable try to do closer orbits as that will be a little bit harder. And that's how you do an orbit. So, here I'm focusing on the helipad. I went wide, I'm trying to make it a little smaller now. So again, what you could do is if you feel like you really got this one down, is you can try doing a bigger circle and then really zero in on your subject and a smaller one and then vise versa. And again, try it the opposite direction. Make sure you're not just favoring one yaw. You wanna try out the other side too, right? I want to encourage you guys, like with these exercises, it really is about quantity. The quantity of these is gonna lead to the quality. So, often times I hear people are afraid to fly over water. Right? Like, I'm afraid to fly over water. And, really if you're comfortable with flying, it's just like flying over land, right, at the end of the day. So if you need to bring the drone back, you bring it back. And you know, the scenario it doesn't necessarily matter. It's just about how you fly. And when you're really high up it's the same as when you're really low down. So, if you wanted to practice these now, try doing it where you go really high up, 'cause I'm pretty low, angle then your camera down and then try doing the orbit that way. You'll see in a little bit when I show you guys, some slides in the video section you'll see I have specifically one shot where I did an orbit around one of my friends out in the desert. And she's really tiny 'cause I'm really far away and I'm pretty high up. And I'm sweeping past her, and it looks kind of like a NatGeo special or something like that. Right, and it's really just the orbit. I'm not filming the whole entire circle, I'm cutting from 12 o'clock to six o'clock and I'm just using one of the arcs, right? So, this is the orbit. I'm going sideways, and I'm introducing some yaw, and it's all around my subject. And again, the figure eight, the orbit, if you're feeling really good with flying, those are the two I encourage you to really practice 'cause those are the most difficult. Practice them small, practice them big.
Class Description
AFTER THIS CLASS YOU'LL BE ABLE TO:
Confidently fly a drone
Understand basic legal requirements
Execute simple to intermediate drone maneuvers
Adjust settings for aerial photography
Simultaneously adjust the drone and the camera
Use drones to capture a variety of still and video perspectives
Edit aerial photography and aerial videography
ABOUT DIRK'S CLASS:
Sure, drone photography looks just like playing a video game, but controlling an unmanned aerial vehicle while simultaneously working a camera takes essential know-how and practiced skills. Take off with confidence and capture aerial photography and videography at angles you never thought possible. In this beginner's class, learn essentials like safe drone flight, essential photography settings, and basic post-processing.
Work with award-winning aerial photographer Dirk Dallas as you learn to control your drone. Whether your drone is collecting dust or you've just opened the box, this class provides the essentials to fall in love with drone photography and videography. From legal restrictions to selecting and operating a drone and accessories, this class covers all the basics of aerial photography with a drone.
Explore a drone's controls, then learn exercises to help hone your flight skills. Flag potential legal restrictions in the United States. Learn settings and tips for capturing great aerial photography, then incorporate motion with video. Finally, work in image processing and video editing to fine-tune your captures. Whether you want to capture aerial images for real estate, environmental studies, commercial advertising, independent movie production, land-use planning or simply creative photography, start flying with confidence.
WHO THIS CLASS IS FOR:
Any user new to drone flight
Photographers looking to expand to aerial photography
Videographers eager to add a new angle with drones
Drone newbies that want to learn new moves and tricks
ABOUT YOUR INSTRUCTOR:
FAA licensed drone pilot Dirk Dallas uses drones to capture new angles in his commercial photography and filmmaking. Also a speaker and professor, Dirk is the founder of FromWhereIDrone.com and the host of the AdoramaTV series From Where I Drone With Dirk Dallas. Along with his creative work, he enjoys teaching and inspiring new drone pilots.
Reviews
Dirk really did a nice job taking new students thru exercises to gain confidence. The work in Lightroom and Photoshop was helpful, but I wish more time could have been focused on flying or tips. Dirk has presets that he offers. It would have been helpful to see the results using those presets. Looking forward to the free which Drone to buy class and the advanced class
I definitely recommend this course if you are thinking about getting into drone photography looking for the fundamentals. I now feel pretty confident I can get started and that my learning curve will be greatly shortened thanks to the technology available today and a great roadmap of getting started. If you are already started... follow up with his advanced topics... I know I will.
Super class. As a beginner I had little idea what to expect and never got started because of all the talk of people crashing drones right and left and losing a fortune. Dallas made it seem simple. So I bought a Tello beginners drone (great starter by the way), got hooked and am now flying a DJI Mavic Pro 2 and studying for a commercial license. Not sure, this is a great class to start with.