Real World Teeth Whitening in Photoshop
Khara Plicanic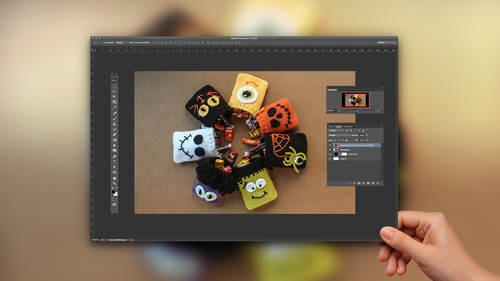 Real World Teeth Whitening in Photoshop
Khara Plicanic
Lesson Info
6. Real World Teeth Whitening in Photoshop
Lesson Info
Real World Teeth Whitening in Photoshop
and let's take a minute and talk about how to whiten teeth. So I call this RIA world teeth whitening because there's more than one way to do this to, and some of them leave much to be desired. So let's take a look. We'll work on my teeth here. So this is a not the best quick IPhone grab. But, um, let's say we want a white in my teeth. Sometimes people will say, Oh, well, just dodge them. We just learned about dodging. So we're so excited to use it. Let's put it to use Not so fast, because if we just dodged the teeth, they're just they're lightning. They're not whitening. They are lightning. And that means that the spaces between the teeth, which should be dark there's shadow there. They will also lighten. That also means, if you, you know, get me gum area, it will lighten. And also, teeth are not light. We don't need them to be like glowing. We need them to just not be stained is really what it boils down to. So if I grab the Dodge tool and I'm gonna exaggerate this but if I just start...
doing this, I mean eventually. Now it's like Barbie teeth, and by that I mean, she just had, like, a solid white, at least in my days, growing up and ready, like coloring books and stuff. I think it was just like a white, almost like an orange peel. It was not teeth. It was just so that's what we have now I've I've destroyed the lines between the teeth. They're no longer individual teeth there like a Barbie smile, so that's not good. So I'm gonna undo that. We'll go back in the history panel to the beginning and instead I'm going to show you my preferred way. Um, other people will lighten it with levels, but it's essentially the same thing because you're lightning. The shadows to what I would want to do is just unstained it basically. So the easiest way I think to do it is to grab the, uh, marquee or the lasso tool here, just the freehand lasso, and you don't have to be perfect about this. So I'm just gonna I'm zoomed in so I can see what I'm doing. I'm just going to make like a super not careful selection because you know what? It's nice when you don't have to be super careful. I guess I could have also grabbed the quick selection brush. Uh, could have done that just now, but for whatever reason, I didn't. So I had the last. So I made a really not great selection. That's okay. Let's feather the selection just a smidge so that it's soft. We don't want it to look like I applied crest white strips with, you know, Ah, hard edge or something. We want to soften that. So I'm gonna go to select menu and I'll choose were fine edge. And I'm gonna come down to feather And I can see in this mask view as I dragged the feather slider it it gets softer, so I don't want it so hard. But I also don't want it like that blurry. So we'll just feather it, Really, Just like to pixels, I think is plenty. So click OK. And now what I'm gonna do is add an adjustment layer and I'm gonna grab something called, uh, where's it? Selective color. It's very bottom. And selective color is gonna let me select certain colors that I can then fine tune the recipe of basically so teeth are often when we go to fix us, they're often yellowed is a common situation. Uh, this case, they look orange, but we'll go with yellow and I'm going to come down here and drag the yellow slider to the left. You can see it's very subtle. What's happening if I drag it to the right, it's more yellow. Hopefully, you can see that and hopefully it's coming across. So I'm gonna drag it all the way to the left and it whitened them. Actually, a little bit can also play with this black slider. If I drag that to their right, they almost turned a little blue. So you'll notice I'm mixing the scion magenta, yellow and black that is coming together to make the yellow basically. So I'm just gonna tweak this stuff, and I'm going to do that for the yellows. I might do it. Let's try the whites and pull the yellow out of there. You have to be careful. You don't go too far and the black so I'm basically going to go through yellows, whites, maybe neutrals and blacks, and I'm going to just the yellow sliders and the black sliders. Let's see what happens in neutrals. That's not gonna be good. Look at that. Now we're getting purple. So no diess. Let's see about the black there. Yes, but look, Barbie teeth again. So if you do this, let's keep it really, like, minimal. And then let's try the blacks. Not a big change, really. It's just affecting this tooth back here, so I'm not gonna really do that either. Okay? So if we need to make a big change to the brightness or something, it's in the neutrals with this black. But just be aware that you're dancing on the edge of Barbie teeth, so be careful, all right, Once we're happy with it, we can see if we toddle this on and off. It made a change, but it's not over the top. Like, I don't think anyone would look at this image now and be like, Whoa, what did you do to your teeth? Right. You want to keep it subtle? Let's see, in context, I'd probably dial that down. Still still is even a lot. So, um, it's really subtle. And sometimes I found I don't do a lot of teeth whitening because it just I don't know I'm more of a natural kind of gal. But there have been cases where I ended up doing it, not because their teeth were stained, but because I think I had done some other treatments to the image that falsely stained their teeth in my post production. So I went back in and clean it up. The reason that I make the selection before I click on the adjustment layer is because that will add the mask. It will already be black. So if we can see if I alter option, click on the mask, we can see it here. So by putting the little marching ants around the teeth before I click the adjustment layer, um, it will masked them for me. So instead of getting the white mask and then having to turn it black and then painting the teeth, I just select the teeth, make the adjustment and stuff I can still find, tune it. So if I realize after the fact that I had missed and, uh, you know, painted somewhere else and have all these, it's hard to see because we've toned this down. Let me turn it back up. They're Rio. If I had somehow colored outside the lines. Probably not that badly. But sometimes if I get sloppy, you know, I might see gums or something weird showing up here. Or even more common, I suppose, would be, Oh, I forgot to do the bottom teeth. So now I could just take the white paint and just paint in the bottoms toe, add them, so this is still edit herbal.
Class Materials
Beginner Photo Retouching Actions
Ratings and Reviews
I am glad I got this course. There was a lot of really good information, and it was really helpful to be able to rewind, pause and be able to study her screen at various points to see what was going on as I was worked on an image simultaneously on another screen.
Student Work